Samsung Galaxy Fold Special Edition- It will be the Cheapest Foldable Phone in Just $1100
According to the new leaks, Korean Tech Giant is working on a new model Foldable Phone. That expectedly would be named as Samsung Galaxy Fold Special Edition. Other names like Galaxy Fold Lite and Galaxy old E are also circulating in Industry. but the CEO of Display Supply Chain Consultants, Ross Young reveals Special Edition as a confirmed name to this new Model by Samsung.
On the other end, Samsung is also working on Galaxy Fold 2 that is expected to release this July. While Samsung Galaxy Fold Special Edition is expected to release earlier than Galaxy Fold 2. The company will launch Fold Lite with 55000 units in stock. seems to be much limited as compared to demand. Let's have a look at the specs of this upcoming device.
Read Also: Future Smartphones – How Phones will Look Like in the Next 10 Years.?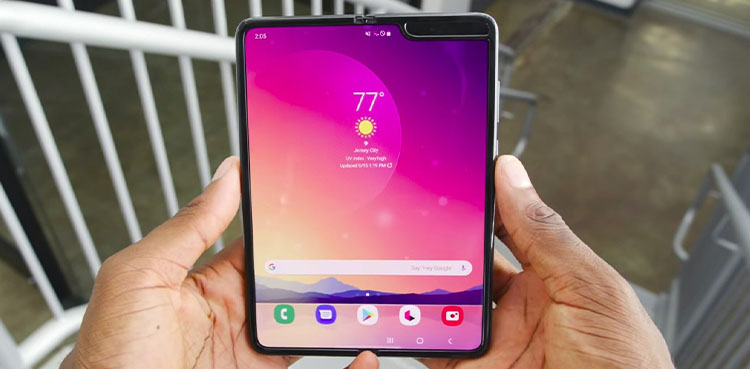 Expected Specs of Samsung Galaxy Fold Special Edition
| | |
| --- | --- |
| Brand | Samsung |
| Type | Foldable |
| CPU | Snapdragon 865 |
| Storage | 256 GB |
| Available Colors | Mirror Black, Mirror Purple |
| Built Material | Aluminum & Glass |
| Release Date | July 2020 (expectedly) |
| Price | $1100 |
To clear out Galaxy Fold 1 inventory before the Galaxy Fold 2 is launched, Samsung will announce the Galaxy Fold Special Edition in July at a price of around $1099. Quantities will be limited to ~55K worldwide. It should look just like the Galaxy Fold 1. Great price!

Ross Young
That was some limited set of information related to expected specs we could gather. We are waiting for more official announcements, specifically detailed specifications. Then the same post will be updated accordingly. Featuring the flagship chip Snapdragon 865 is suggesting that the rest of other specs would also be decent.
Well, keep in mind one more thing that, this Foldable Model will not feature the UTG (Ultra-Thin Glass) as we have already seen on Galaxy Z Flip. So, the quality of the screen will not be that reliable as compared to those models. Moreover, this Special Edition does not support 5th Generation Network (5G) and will operate on 4G LTE only.
There will be a concept of inner (main) and external display too in Samsung Galaxy Fold Special Edition. That external display will also be the same in size as Samsung Galaxy Flip Z. Updates about Cameras, Operating System, Ram, and exact Design of the phone is still unknown. Keep in touch with Maticstoday for more information about this phone.
Read Also: Samsung stops Syncing Keyboard Data between Smartphones