Best Windows 10 PC Stick You Can Buy in 2021
NOTE: The affiliate link for each model of best PC stick is mentioned below the product image. If you want to purchase any of them, directly click on that link to place your order. In return, we will get some percentage of the commission from Amazon.
You know what.? Pc stick is just a computer nothing else but a computer placed in your pocket, not on a desk. As the modern machines have become smaller and advanced, so PC Sticks we buy will not be more than the size of a normal USB drive. Just plug the stick into the HDMI port of your display and start using it as a full computer or laptop.
Read Also: Best Portable Monitor For Laptop You Can Buy in 2021
You will not feel any difference between using a normal desktop computer and a PC stick. But the computer stick is more convenient, portable, and space-friendly. Nobody can neglect these features that make both life & work easier. Today, I have shortlisted some best model PC Sticks you can buy this year. Have a look at them and choose yours,
Best Pc Stick 2021
1: Guzila Fanless Mini Pc Stick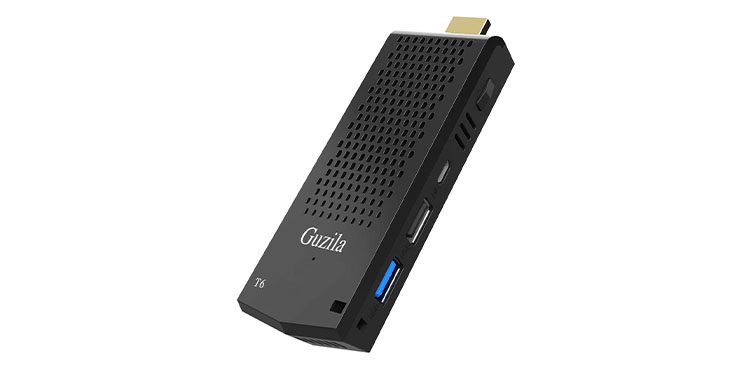 View on Amazon
Guzila has manufactured this Fanless Mini PC Stick pretty feature-rich. It offers a Pre-installed Windows 10 Pro (64-bit), Quad-Core Intel Atom x5-Z8350 Processor, Intel HD Graphics 400, 8 GB of DDR3 Ram, and 120GB of Storage.
If we talk about the connectivity options, it features 2.4G/5G WiFi, Bluetooth 4.2, 2 USB ports (3.0 & 2.0), and TF Card Slot. The display port (HDMI Male) supports a resolution of up to 4K which presents a pretty decent picture quality.
Moreover, you can expand the storage space up to 128 GB using a memory card. While can also use an HDMI to another source converter for display options. So, in a decent budget range, you can get this small machine that can perform tremendously bigger.
Pros
Expandable Storage

Auto Power On

4K Resolution Support

Small & Decent Size
2: Awow Mini Computer Stick
This Mini Computer comes with pre-installed Windows 10 Pro (64-bit), Intel Celeron N4000 processor, Intel UHD 600 Graphics, 4GB DDR4 Ram, and 64GB eMMC storage. Its storage can be further expanded up to 512 GB through a Micro SDHC & up to 2 TB through a USB3.0 port.
Apart from that, it features HDMI 2.0 output, 1 USB 3.0, 1 Type-C for data transfer, Bluetooth 5.0, and 2.4G/5G WiFi. HDMI 2.0 along with Intel HD 600 Graphics easily support UHD 4K resolution. Picture quality is just tremendous from every angle utilizing UHD features.
Similarly, this tiny device also includes an internal cooling fan that keeps the device temperature under control. It also keeps the noise level in balance. AWOW AR40S with a number of upgradeable specs is no doubt a decent machine to go with.
Pros
Cooling Fan

Auto Power On

UHD 4K Resolution

Upgradeable Storage
3: Azulle Access4 Pro Fanless Mini PC Stick
The company made this device keeping in mind its usage for both professional and entertainment purposes. It comes with Windows 10 Pro (64 Bit), Pentium G4400 Processor, 4 GB, and 64 GB storage.
You can expand the storage up to 512 GB using an external memory card. It features a true 4K resolution and solid 60 Fps that made your entertainment and professional work more quality-oriented.
If we talk about the network connectivity, Access4 Pro Mini Stick offers Dual-band WiFi & a Gigabit Ethernet port. Similarly, there is one USB Port & USB-C Port. You can connect the external USB Hard-Drive through this port as well as can utilize the Type-C for transferring the data. So,
Pros
Both For Professional and Entertainment

Expandable Storage

Ethernet Port

4K & 60 FPS
Cons
WiFi Latency Issues (depends on Your Internet Speed)
Check out the Other Gadgets Too
Read Also: Best Samsung Computer Monitors You Can Buy in 2021
Best Modem & Router For Gaming You Can Buy In 2021
Best Gaming Keyboard Under 50 Dollars You Can Buy in 2021
Budget PC Cases Under $100 You Can Buy in 2021
The Smart Desk Lamp You Can Buy This Year
We hope you people liked this post about the best PC Stick of 2021. Share the post in your social circle and leave feedback for us in the comments section below. Stay tuned for getting more updates on a daily basis.