Best Samsung Computer Monitors You Can Buy in 2021
4 min read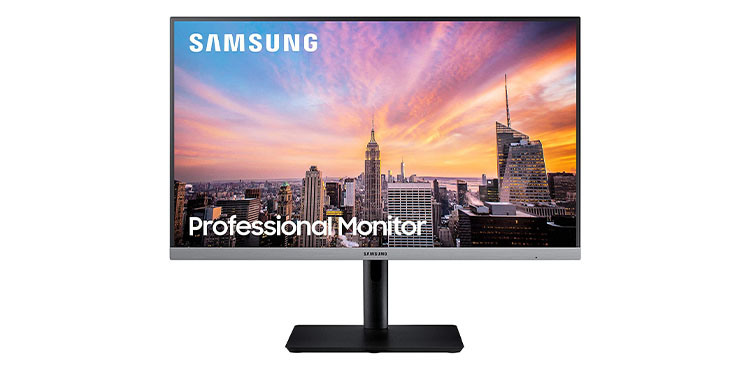 Samsung no doubt owns an exceptional reputation in the monitors category. You will never regret buying its products as they feature each & everything a customer can expect. Similarly, if you are planning to upgrade your computer monitor and searching out for available options. There is no better option than buying Samsung Computer Monitors.
Samsung Monitors are available in a huge variety offering different screen sizes, display technology, and features. You can choose these monitors for gaming, office use, and other professional tasks. Today, I have prepared a list of best-performing Samsung monitors in market that feature different screen sizes, design, display technology, & specs.
Read Also: Best Buy Ethernet Cable in 2020 for Online Gaming
Samsung Computer Monitors 2021
Note: Affiliate links for each monitor are mentioned below the product image. If you want to purchase any of them directly click on that affiliate link. As a reward, we will earn some percentage of commission from Amazon.
1: SAMSUNG 23.5 Inches Curved Monitor
You will hardly find a curved monitor in 24 inch screen size, but Samsung did so. CF396 is a Full HD 1080p LED monitor with a 1800R curved screen. This monitor features a 4ms response time, 60Hz screen refresh rate, and compatibility with AMD FreeSync. It also included the Eco-Saving Plus feature to maintain power consumption at an appropriate level.
Display quality is totally brilliant where its wide viewing angle along with 3000:1 contrast ratio doubles the worth of monitor. If we talk about the design of this monitor, it is pretty attractive and slim with a unique bottom stand and black color metallic finish. Moreover, Samsung also added eye saver mode to adjust the most comfortable viewing angles.
Pros
Decent Picture Quality

1800R Curved Screen

3000:1 contrast ratio

Eco-Saving Plus Feature

FHD 1080p

4ms Response Time

Eye Saver Mode

Compatible with AMD FreeSync
2: SAMSUNG Business Series 24 Inch Computer Monitor
Samsung Business Series monitors meet the requirement of professionals in a great way. You can use SR650 at your office for staff, at home for professional use, and also for general use. It is a 24 inch Full HD 1080p IPS monitor. The screen refresh rate is 75Hz along with a 178° wide viewing angle. You can adjust it in various horizontal and vertical positions.
The picture quality is just amazing with a combination of true colors. If we talk about the available ports SR650 features a lot like 2 x USB-3.0, 2 x USB-2.0, USB-3.0 B, DP, HDMI, VGA, Audio & Headphone Jack. The design of this monitor is tremendous and eye-catchy with ultra-minimal bezels. This display also offers an eye saver and energy saver feature to keep things in balance.
Pros
IPS 1080p Display

75Hz

Eye Saver Mode

Energy Saving Mode

A lot of Connectivity Ports
Cons
Questions on Picture Quality
3: Samsung 27 Inch CR50 Frameless Curved Monitor 
Among the best Samsung computer monitors, this monitor is my favorite to go with. CR50 is a 27-inch frameless curved computer monitor suitable both for gaming and other professional use. It features Full HD 1080p resolution, 60Hz screen refresh rate, 1800R curved design, and 4ms response time. Moreover, it is also compatible with AMD FreeSync features.
Apart from that, the overall picture quality is pretty rich and up to standard. Eye Saver Mode is also included in the features list to keep your eyes relaxed while using the screen. The contrast ratio of the screen is 3000:1 and the brightness level is 250cd/m2. If we talk about the design, it looks very premium with zero bezels and a nice angled Y-Shaped bottom stand.
Pros
Frameless Curved Monitor

FHD 1080p

4ms Response Time

Attractive Design

Excellent Picture Quality

HDMI Port
4: Samsung Business CH890 34 inch Ultrawide Curved Desktop Monitor
This one is the best buy PC monitor you will find in the market with a number of premium features and the most beautiful design. It is a 34-inch Ultrawide Curved WQHD 3440 x 1440 resolution screen. It features a 100Hz screen refresh rate, 4ms response time, and outclass display quality. It is also compatible with AMD FreeSync, USB-C connections, HDMI, and DP.
Other than that, the design of the monitor is everything in terms of beauty, quality, and minimal bezels frame. Which in return features picture by picture and picture in picture features. It also includes eye saver mode and flickers free technology to keep your eyes totally relaxed while using this huge and wide display.
Pros
3000: 1 Contrast Ratio

WQHD 3440 x 1440

34 Inch Screen Size

100Hz Screen Refresh Rate

Unique Curved Design

Ultrawide Viewing Angle
Also Check Out the Following Gadgets
Best Corsair 120mm RGB Cooling Fans You can Buy in 2021
You May Like: Budget PC Cases Under $100 You Can Buy in 2021
Read Also: Best RGB Led Strip Lights You Can Buy This Year
You May Like: Best Portable DVD Player You Can Buy in Year 2020
ASUS TUF Gaming VG259QM – The Best 240Hz Gaming Monitor
I hope the topic about the Samsung Computer Monitors remained informative for you people. If you have decided to go with any of the above mentioned model, do let us know in comments section below. Stay tuned for getting more updates on a daily basis.
The author behind @maticstoday, working as a Digital Marketing Specialist in Codematics Inc. Writing tech-related stuff and delivering solid reviews is in his keen interest. In his free time, You will find Uzair playing video games & that's why most of the topics he writes are based on game-related stuff.