The Smart Desk Lamp You Can Buy This Year
Desk or Table Lamp still owns a valuable existence as a lighting gadget in our home and workplace. But with more advanced and tremendous upgrades, as now we can call a traditional desk lamp a smart desk lamp. These desk lamps are available in both wired and wireless form, have USB fast charging support, LED lights, adjustable positions, and many other features.
So among the several, everybody wants to choose the best. Best in terms of brand, specification, features, and price range. But due to lack of time or information, some people don't go into deep before buying a product. Here, the real role of Maticstoday takes start, our team time to time review different products & gadgets for our readers. Just read, choose, and place order for the one you want to buy.
Read Also: Best Thermal Paste for PC/Laptop to Buy in 2020
Smart Desk Lamp 2020
1: COZOO LED Desk Lamp
When you will come to know about the tremendous features of Cozo wired LED Desk Lamp. It will be hard for you to ignore it. That's why I thought to place it on number Ist in the list.
Cozoo manufactured this futuristic lamp offering multiple functionalities. Like adjustable brightness in 3 modes, 3 USB charging ports operating on 5V/4.5A, and 2 AC power outlets.
Moreover, there is a 60 minutes timer and touch control system in this smart lamp. You can adjust the position of lamp according to your comfort level. The company also included eye protection features to avoid the direct impact of LED lights on eyes.
So overall, whether you are reading writing, or just relaxing, Cozoo LED Desk Lamp can serve you pretty well.
Pros
Decent Design

600 LM Brightness
USB Charging Ports
AC Power Outlets
Eye Protection
Adjustable Positions
Quality LED Lights
2: Hokone LED Desk Lamp
It's absolutely a great idea to clamp the lamp on the table side for a more stronger grip. While the Hokone LED Lamp features this quality as it is a gooseneck lamp with 360 degrees flexible neck angles.
Apart from that, the lamp's lighting quality is pretty decent. It contains 90 LEDs along with 3 color modes (touch-controlled) and 10 brightness levels. There is also an inclusion of soft light without a flicker to keep your eyes protected from harmful impact.
If we talk about the clamp material, it is made up of metal and silicone pads are also attached to serve as scratch-resistant stuff. So don't worry, it will not leave any scratch on your table.
Pros
Gooseneck Lamp

Flexible Neck

Space Friendly

10 Brightness Levels

3000-6000k Color Temperature
Cons
Power Button Issue (Rare)
3: COZOO Smart RGB Desk Lamp
If you are a gaming enthusiast, then Cozoo RGB Lamp will easily make a place on your gaming table. Otherwise, it is also suitable to use at home or the workplace as a smart table lamp.
Cozoo RGB lamp features 3 USB charging ports, 2 AC power outlets, and quality lights with adjustable brightness levels. Moreover, there is support for a Bluetooth connection, along with a mobile application to sync RGB colors according to music sound.
Another notable point of this smart desk lamp is its covering material which is a fireproof plastic shaded with fabrics. You will rarely find this fireproof feature in other desk lamps. So overall, this combination of RGB colored lamp is a decent option to go with.
Pros
Mobile Application

RGB Features

Fireproof Plastic

Fast Charging USB Ports

Music Synced RGB
Cons
No Multiple Colors Configuration
4: XZN LED Wireless Lamp 
This desk lamp made by XZN is unique looking among the other wireless charging lamps. It also features an LCD screen that displays time, date, alarm, and, temperature.
Moreover, there includes a QI wireless charger at the bottom of this lamp. You can charge your wireless charging supported phones over it. Not only that, but it also offers a USB charging port.
The Control system of this lamp is operating on a touch system while the lamp offers 3 color modes and 5 brightness levels. Like the other desk lamps of today's list. This lamp also provides eye caring protection as it is anti-glare & anti-flicker.
Pros
Foldable Lamp

Eyes Protection

Wireless Charging Support

LCD Screen

3000K-4500K-6000K Brightness Mode
5: AUKEY Smart Table Lamp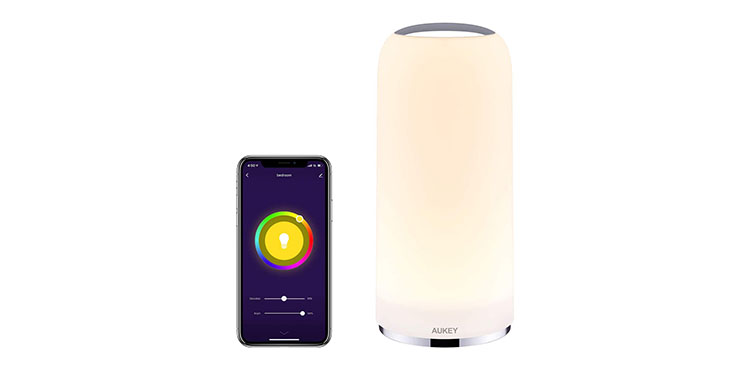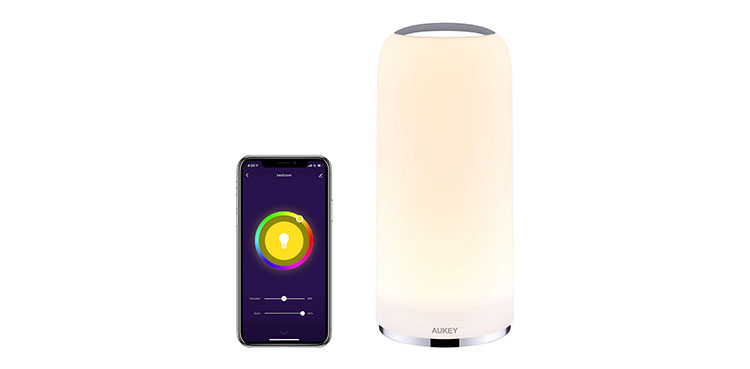 View on Amazon
This small smart desk lamp is a close friend of Alexa & Google Home. You can integrate its settings with both of them to feature the voice enabled commands.
Using Aukey's mobile application you can control each of every functionality of lamp from your smartphone. As it provides various lighting modes relevant to reading, writing, sleeping, and romance.
Its memory storage option keeps the record of previously used lighting mode. So it will be easy to set them for the next time accordingly.
As a conclusion, Aukey Smart Lamp is a great option for your living or bedroom to use with full ease under your finger control.
Pros
Compatible Alexa & Google Home

WiFi

Mobile Application

Several Lighting Mode

Bunch of Colors
More Related Gadgets
Best Pet Monitoring Camera You Can Buy This Year
The Adjustable Ergonomic Laptop Stand You Can Buy This Year
The Best RGB Mouse Pad You Can Buy This Year
Read Also: Best PC Case Fans 2020 – Keep Your Gaming PC Super Cool
Best Fast Charger to Buy for Android Phones or iPhone
You May Like: Best Smart & Multi Pressure Cooker You Can Buy in 2020
Limited Time Offer: Best Smart Backpack You can Buy in Year 2020
I hope you liked this topic about the Smart LED Desk Lamp. I have mentioned the Affiliate links for each model of Lamps, If you will buy through the links we will have some percentage of commission from Amazon. Leave feedback for us in the comments section below. Stay connected with Maticstoday for getting more updates on a daily basis.