Human Headphones – A New Concept of Design
There are multiple numbers of headphones by multiple brands available in today's market. Some of them are earphones while some of them are headphones both in wired and wireless form. Decent quality headphones no doubt doubles the taste of sound for music lovers, serial fans and many other entertainment activities. But few days ago, headphones with a unique concept of design has made an entry in the market as Human Headphones.
These headphones by Human Inc are something new having an admirable quality of sound with various advanced features. The most exceptional thing in this invention is its unique kind of design. Imagine your ears covered with something but actually they are headphones. So, without any wait, lets directly move toward the specifications and features of these headphones.
Specifications of Human Headphones:
Brand: Human Inc.
Chip Technology: Airoha AB 1528.
Bluetooth: 4.2 version.
Range of Bluetooth: 130 Feet or 39 Meters.
Speaker: Ole Wolff.
Microphone: Knowles Omnidirectional Digital Mics.
Battery Life: 9 Hours.
Battery: 280 mAh. (Dual)
Weight: 104 Grams.
Dimension: 82.55mm x 50.8mm x 69.85mm
Charging Cable: USB-C with 1.2 Meter Length.
Warranty: 1 Year.
Price: $259 (offer) & $399.
Read Also: Latest Smartwatches worth buying 2019 – Top 3
Inside the box, you will get a charger, travel pouch, magnetic attachment pads, and a guide book for installation purposes. Other than that, you may visit their official website for more information.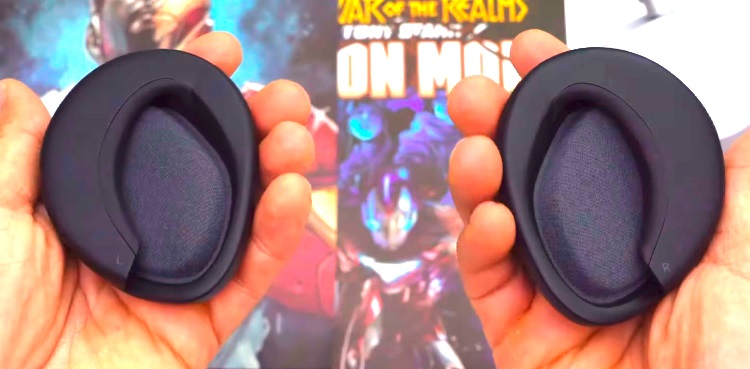 Features of Human Headphones:
3 in 1 Combo:
Human Headphones are basically 3 in 1 Combo. Means, we can use them as Headphones, Earbuds, and Portable Speakers. This convenience allows user to use them as they want.
Design:
The design concept of these headphones has much resemblance to human ears. Structured in a pretty unique way ensuring comfort and safety of ears.
Bluetooth Range:
Bluetooth range is excellent and more than enough. You can get full fledged signals inside an area of 130 feet.
Language Translation:
Headphones have the capability of translating a sentence in more than 11 languages. This feature can be used in both headphone & speaker mode.
Blend Mode:
Blend Mode of these headphones allows listening to music in both headphones and the surrounding area through external microphones.
Auto Pass:
Headphones will pause the music when you remove them from ears and will automatically shut down after some time of inactivity.
Noise Cancelation:
Noise Cancelation features work pretty well in these headphones, it only picks your voice and excludes surrounding noise accordingly during calls.
Touch Gestures:
As I discussed earlier that Human headphones have various touch gestures. Which helps to control music, media and digital assistant of your phone in a more prominent form.
Mobile Application:
You can download their relevant application available on Google Play Store & Apple Store. This app will help in accessing all related features of headphones.
Drawbacks:
Price is a bit expensive (may not for some people)
The portable speaker has really bad sound quality. Even not comparable with low end smartphones.
Bass power of these headphones is not much ideal. So, keep in mind this thing before the decision.
Points for Skim Readers:
Human Headphones are basically wireless headphones also work as earphones and external speakers.
Advanced features like touch gestures, noise cancellation, and translation of several languages.
Excellent Bluetooth Range and battery Timing.
Have a mobile application to utilize all features.
Expensive as compared to sound quality.