Best RGB Led Strip Lights You Can Buy This Year
If you really want to make the environment color-rich. There is no better option than RGB Led Strip Lights. These lights offer various features like wireless control, voice command control, different brightness levels, and lighting patterns. While you can set them up for the decorating living room, gaming room, gaming desk, studio, TVs back, and even the kitchen.
Moreover, these light strips are available in an affordable price range. By spending dollars under 50, you can get a decent RGB LED Strip Light. Multiple brands have manufactured these light strips offering unique functionalities. So, I have chosen the best among them in terms of price range and features to share with you people. Let's move towards the in-depth detail,
NOTE: Each of the below mentioned Led Light Strip is available on Amazon along with its affiliate link. If you will make any purchase through that link, we will have some percentage of commission from Amazon.
Read Also: Best Wired & Wireless LED Lights You Can Buy in 2020
Best WiFi RGB Led Strip Lights
1: Govee RGB Led Strip Light
Govee Lights are ranked top among the list of best RGB Lights. While this specific model offered by Govee features 32.8 feet long led strip, a brightness level of 1,080 LM, and WiFi-enabled functionalities. It is also compatible with Alexa and Google Assistant to utilize the voice control commands.
Apart from that, the Govee Mobile App lets you control the brightness, color modes, and various other options. You can also sync the RGB features with Music settings, where lights will glow according to the rhythm of the music.
These led strip lights require 12 volts & 36 watts of power to function accordingly well. So when it's a matter of decorating a room, kitchen, or studio, there is no better option available than Govee RGB Led Strip Light.
Pros
Flexible LED Strips

Google & Alexa Compatible

WiFi Enabled

Mobile Application

Unique Color Modes
Cons
Connection Problem With Alexa
2: Nexillumi LED Strip Lights
A 50 feet long quality Led Strip Light manufactured by Nexillumi having a bunch of amazing features to experience the vivid lights where you want them to glow. Its 3-way controlled mechanism makes it easy to use the gadget.
You can control these lights either through a mobile app, remote control, or a power switch. The remote control offers 44 function keys, 4 music modes, and IR (Infrared) too. While the Mobile App provides control over brightness level, lighting pattern, and on/off buttons.
If we talk about switch buttons, you can use them to on/off the lights, brightness control, and music mode. Moreover, the switch also includes a mic to integrate the music rhythm with color changing led lights.
Pros
Includes Related Accessories ( Hooks, Pin Connectors, Straps & Screws)

Decent Brightness Level and Color Modes

Mobile App

Remote Control IR

Built-In Mic
Cons
Remote Control Does Not Work Properly (Rare)
3: WenTop Led Strip Lights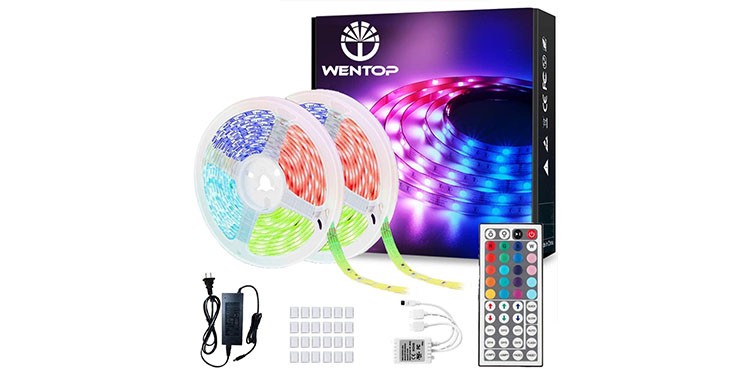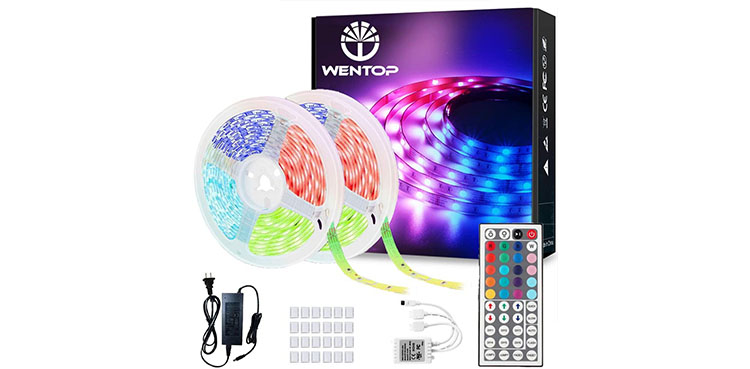 View on Amazon
Well, these RGB Led Strip Lights by WenTop come in 2 roles each having 32.8 feet in length. This means it is a total of 65 feet long led strip light. You will get RGB color modes controlled through remote control.
The remote control features on/off, brightness adjustment, and change in color modes. Moreover, these strips can be used anywhere like bedrooms, living rooms, and even at parties.
There are more than 50000 hours life of these light strips. While the color experience is absolutely tremendous. Several related accessories are included in the box to keep everything smooth while installing the lights.
Pros
Comes in 2 Roles (each 32.8 feet long)

16 RGB Colors Mode

Remote Control Functionalities

Accessories Included in the Box
4: Gusodor RGB Led Strip Lights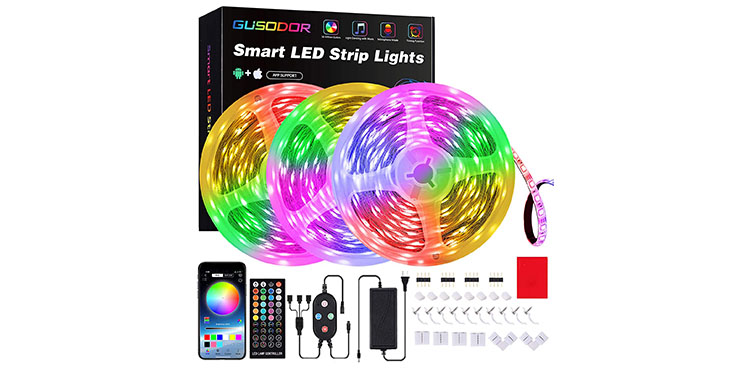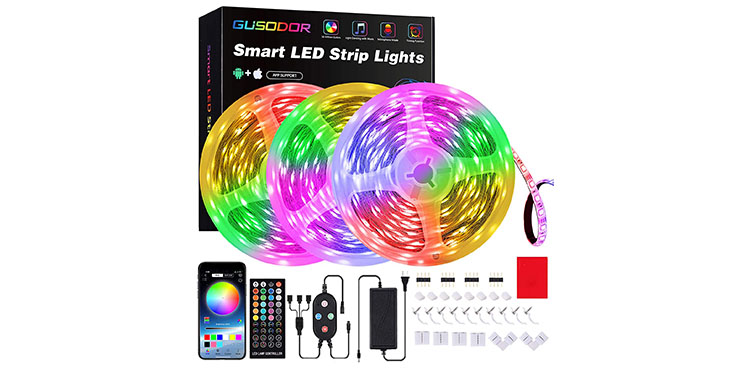 View on Amazon
In terms of features, A bit similar to Nexillumi LED Strip Lights. But as every brand has its own identity and customer loyalty. So, I decided to include Gusodor Smart Lights too in the chosen list.
These strip lights come with a 50 feet long strip, 40 functions button on the remote control, and a switch control along with a built-in mic. The company included 29 dynamic modes featured through 16 million colors. Apart from that, you can also sync the color modes with music rhythm.
The switch Control button also includes options for on/off, brightness adjustment, color modes, and music mode. DIY Mode and Timer feature is also a part of features in these strip lights. You can also download Gusodor's official mobile app to further enhance the control of these lights through a mobile.
Pros
Official Mobile App

Remote Control

Switch Control

Music Synced

29 Dynamic Modes
5: Phopollo Waterproof Color Changing Led Strip Lights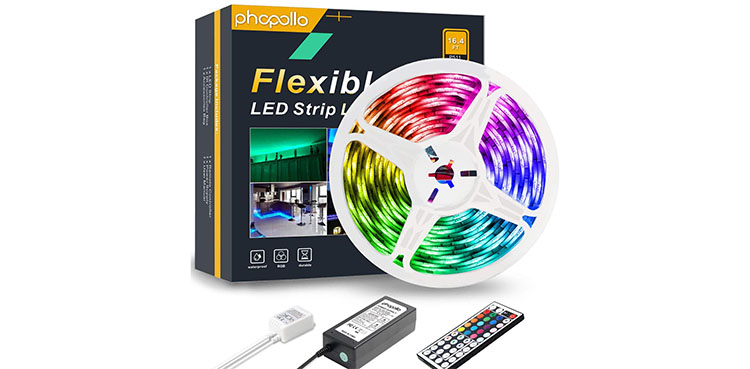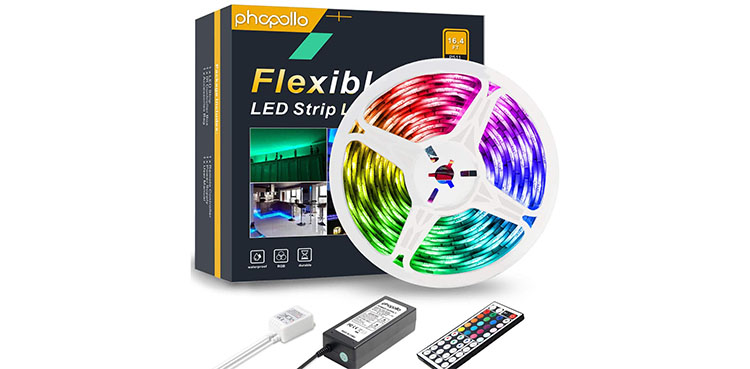 View on Amazon
Totally an affordable lighting gadget, but still offers a number of decent features. Yup, Phopollo Strip Lights are waterproof (IP65 level), come in 16.4 feet length. Offer 8 dynamic modes, 16 static colors, and 6 custom colors.
Note that, its remote control and power supply are not water-resistant. So keep in mind the precautionary measure before rough use of these items. These lights are well suited to be installed at the back of the TV, under the Kitchen Cabs, and Bar Clubs etc.
You can use them in rooms or studios too. For a proper and durable installment, there is an extra 3M double-sided adhesive included in the strip. It requires 12 volts and 27 watts of power to function smoothly.
Pros
Waterproof

Various Lighting Modes

Remote Control

Affordable
Read about the Following Gadgets Too
The Best USB Power Strip Surge Protector You Can Buy
Best Smart Backpack You can Buy in Year 2020
You May Like: Best Buy Gaming Chair For Year 2020
Best Projector for Gaming You Can Buy in 2020
Best Headphone Stand You Can Buy This Year
So that was some stuff related to the best RGB Led Strip Lights. I hope you liked this post, if so then do share it in your social circle with friends and others. Stay connected with us for getting more updates on a daily basis.