Apple Macbook Pro 16 Inch – Full Specs & New Features
Apple's latest addition to its MacBook Pro line in 2019, the 16 inch Apple MacBook Pro is finally here. There were two minor updates of MacBook Pro this year, with the MacBook Pro 13 inch and MacBook Pro 15 inch. However, these models lacked innovations –specifically when it came to their designs, which were the same as the previous year's models. Unlike other modern MacBook keyboards that were Apple's biggest blunders in recent memory, finally, the company has decided to rectify the mistakes.
The latest 16 inch Apple MacBook Pro announced on 11th November has a whole new keyboard. Those butterfly keys are completely gone. The new Apple MacBook Pro, with a totally new keyboard, a bigger display with thinner bezels, and gobs of power with up to an 8-core Corei9 CPU, 8GB of video RAM and 8TB of storage is totally a beast. But its improved typing experience is winning the internet over so far.
Specifications Of The Apple Macbook Pro 16 Inch:
Some of the specifications of Apple MacBook Pro 16 inch are given below:
Price: From $2399
CPU: 9th gen Core i7, 9th gen Core i9
RAM: 16 GB (up to 64 GB)
Storage: 512GB to 8TB
GPU: AMD Radeon Pro 5300M (4GB), Radeon Pro 5500M (up to 8GB)
Display: 16 inches (2072 x 1920 pixels)
Battery: 100-watt-hour up to 11 hours
Size: 14.1 x 9.7 x 0.64 inches
Weight: 4.3 pounds
Apple Macbook Pro 16 Inch Release Date & Price:
The MacBook Pro 16 inch is available to order from 13th November 2019 online at apple.com and will be available on stores from Friday 15th November 2019. It will be available on other online retailers shortly.
The MacBook Pro 16 inch starts at $2,399 for the standard model with a 9th gen Core i7 CPU, AMD Radeon 5300M GPU and 512 GB SSD. This model replaces the 15 inch MacBook Pro model which released earlier this year. The faster 9th gen, Core i9 CPU, faster Radeon Pro 5500M and 1TB SSD model steps up the MacBook Pro game with the price of $2,799.
Read Also: Dell XPS 13 2-in-1 (2019) Review – Is it the Ultimate Laptop?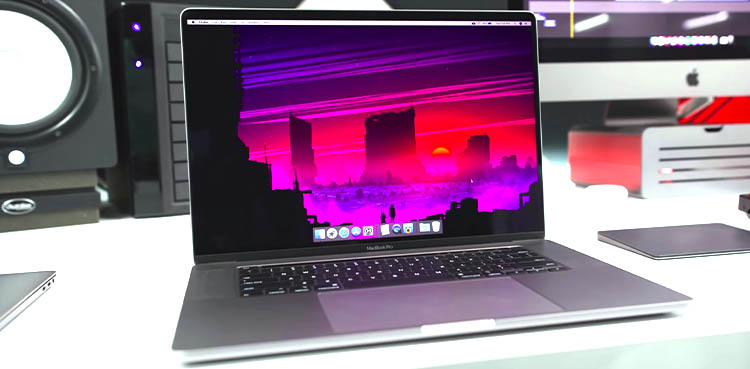 Improved Features:
Some of the new and improved features of MacBook Pro 16 inch are briefed below:
Magic Keyboard:
The first thing that you'll notice in the Apple MacBook Pro is its new Magic Keyboard. Thankfully, Apple has ditched the controversial Butterfly keyboard on this laptop for a scissor mechanism. It has also added a new keycap structure that's more concave and a rubber dome underneath for support. The result is a much improved Magical keyboard delivering a better 1mm of travel unlike the 0.8mm travel before.
More Pixels, Larger Display:
Interestingly, MacBook Pro 16 inch is one of the brightest and most colorful panels around. It has a resolution of 3072×1920 and a high brightness of 500 nits. The slimmer borders and the larger display makes the content feel more immersive, whether you're editing a video or watching videos.
6 Speakers:
Apple Company has boosted up the audio even better than the visuals this time. There's a 6-speaker sound system on board with force-canceling woofers. The sound quality is amazing without the distortion or vibration that can plague other laptops.
Faster Performance:
Apple MacBook Pro 16 inch is one of the most powerful laptops with your choice of 6-core Core i7 processor or an 8–core Core i9 CPU. You get 16-64 GB of RAM and SSD storage of 512-8 TB. Now that's if we say, more than enough. Looking on the graphics side, the MacBook Pro 16 inch can handle any workload with ease because of its AMD Radeon 5300M GPU which can be upgraded up to 8 GB of VRAM. In short, Apple expects 80 percent of faster performance with the highest-end option.
Increased Battery Life:
With a 100–watt-hour battery, the 16 inch MacBook Pro provides plenty of endurance. Apple says that this MacBook will provide up to 11 hours of web surfing time, which is due to the additional 16-watt-hours than before.
Overall, looking at the specs and features, the Apple MacBook Pro 16 inch is turning out to be a very satisfying laptop for power users who are waiting for a better typing experience. Here's a short video for the Apple MacBook Pro 16 inch.
You May Like Pc Build Guide – 9th Gen Mid Budget Gaming Pc for $700