Dell XPS 13 2-in-1 (2019) Review – Is it the Ultimate Laptop?
Dell's XPS laptop line is quite famous in the industry for its beautiful display and high-performance. At IFA Berlin (Sept. 2019), Dell revealed the second-gen XPS 13 2-in-1, with quite a few changes. The model comes with Intel's new 10 gen processors, MagLev keyboard and above all a better look than the initial model.
The 2-in-1 model took the design of the standard XPS and added 360° rotation ability to it, thus making it easier to switch between laptop and tablet mode. However, this alternative model replaced USB-A ports with USB-C ports.
The laptop starts with a base price of USD $999.99. Users are able to customize the laptop according to their needs, with the price increasing if any changes are made.
Dell XPS 13 Features
Display
The 2-in-1 machine offers a 13.4-inch screen, with 16:10 screen to bezel ratio, and touch-screen display at 1920 x 1200 pixels. After switching to a touch-screen laptop in 2015, I haven't looked back since then. A touch-screen laptop has proven to be very effective when collaborating with co-workers or presenting ideas to managers.
Design, ports, weight
The XPS 13 2-in-1 looks like its regular XPS 13 (2019) counterpart. But, with the slimmer design, it can only fit 2 Thunderbolt 3 ports, 1 microSD-card reader, and 1 audio jack into the design. Whereas, the 13-inch Macbook Pro only has 2 Thunderbolt 3 ports. A USB Type-C-to-Type-A adapter will come with the system.
The laptop has a platinum silver finish, with options to choose between black or white interior. The edges and hinges are coated in silver, giving an expensive overall effect.
Users have come to expect Dell machines to be on the heavier side, and the XPS 13 2-in-1 is no exception. The all-metal build is 1.33 kg and 8.17in x 11.67in x 0.51 inches, allowing it to fit into any laptop sleeve.
Keyboard, touchpad
The keyboard got completely revamped. Compared to the original model, the keyboard now stretches all the way to the left and right of the computer. The power button doubles as a fingerprint reader and sits above the backspace key. The most noticeable change is the fact that the keyboard is now MagLev. In other words, when a key is pressed you won't hear as much noise and the key moves less because of the thin keyboard. If you like the newer MacBooks, then this keyboard will be right up your alley. If not, you will need some time to get used to it.
The touchpad got larger and now covers 4.4 x 2.6 inches. It is made of glass and uses Microsoft Windows Precision drivers. Windows 10 gestures, such as swiping three fingers up to view all open windows, are supported.
Memory, performance, storage
RAM can go up to 32GB, with 16GB, 8GB, and 4GB options also available. Running Windows 10 on 4GB will make the OS slow, but 8GB is a good choice if you just use your laptop to email and browse the internet. If you are using heavy programs such as Photoshop, Illustrator, AutoCAD or Maya upgrading to 16GB will allow these programs to run smoothly without any problems.
Inside, the new 10th-gen Intel processor is quite powerful.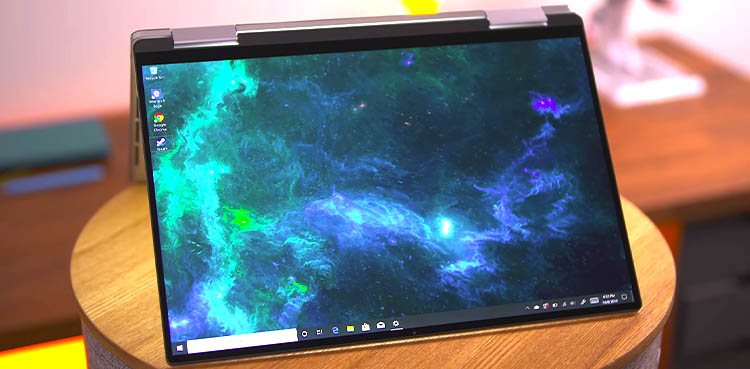 Intel Core i7-1065G7 processor and 16GB of RAM, the XPS 13 2-in-1 had no problem tearing through 40 Google Chrome tabs and five 1080p YouTube videos while I blasted Spotify in the background.

Laptop Mag
Its integrated graphics are even powerful enough to handle 4K video editing in a pinch.

The Verge
Related: Razer Blade Stealth 13 – 10th Gen Gaming Ultrabook
Storage comes in 256GB, 512GB and 1TB. The drive is a PCIe NVMe x4 Solid State Drive. If you store documents locally, upgrading to 512GB or 1Tb is a good choice. However, if you store documents on the cloud 256GB should prove to be sufficient.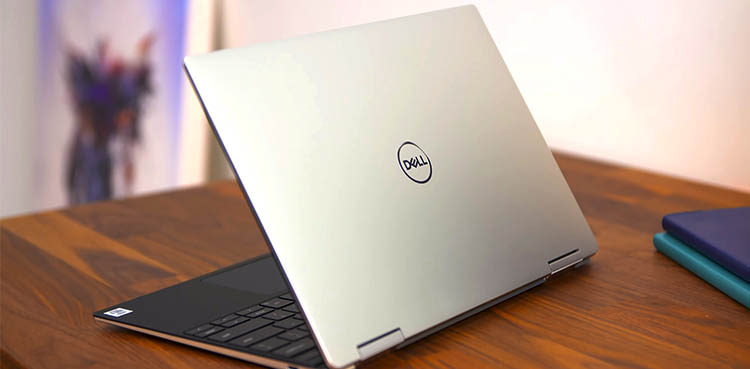 Summary of Dell XPS 13 2-in-1 Specifications
| | |
| --- | --- |
| Operating System | Windows 10 Home or Windows 10 Pro |
| Storage | Up to 1TB SSD |
| Memory | Up to 32GB RAM |
| Processor | Up to 10th Generation Intel Core i7 |
| Video Card | Up to Intel Iris Plus |
| Wireless | Wi-Fi 6, Bluetooth 5.0 |
| Battery | 51WHr |
| Audio | Stereo speakers with Waves MaxxAudio Pro |
| Display | Up to 13.4-inch touch display |
| Size and Weight | Height: 8.17 inch, Width: 11.67 inch, Weight: 1.33 kg |
| Camera | Integrated widescreen HD (720p) |
| Keyboard | Full size, backlit MagLev keyboard |
| Touchpad | Precision touchpad |
| Color | Platinum Silver, Black or White interior |
In short, the Dell XPS 13 2-in-1 is a very beautiful machine. If you like the standard XPS model, but wanted the ability to convert it into a tablet, then look no further. The changes Dell has made on the design make the user experience better, even if everyone doesn't like the MagLev keyboard.
Read Also: Wifi 6 GHz – Boost Internet Speed into Next Generation