WhatsApp Rolls out Call Waiting Feature for Android
WhatsApp has now been updated on Android and iOS with an important new feature: call waiting. This feature is common on traditional phones, but VoIP technologies, such as Messenger and Viber lack this feature.
Now, if users are on call, they will get an alert if another call is incoming. They can then choose to decline it or disconnect the ongoing call and accept the incoming call. Before this update, WhatsApp would automatically decline the second incoming call. Only after finishing the first call, the user would realize that they had received a second call.
However, this new feature is not similar to putting a call on hold. WhatsApp won't allow you to put the first call on hold and receive the second call. You can't be on call with two users on the same line simultaneously. You will either have to choose to decline the incoming call, disconnect with the ongoing call to accept the incoming call or continue with the ongoing call. The new feature is now available for Android and iOS with version 2.19.362.
The new UI for iOS now shows a red Decline button on the left and blue End and Accept button on the right. On the Android UI, there is a red Decline button on the left and green End and Accept button on the right.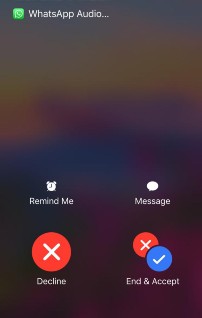 Read Also: WhatsApp Ban – UAE is Planning to lift Ban on WhatsApp
Other Features
The update also brings enhanced group privacy settings, updated chat screen design and the ability to quickly send your messages directly from the Braille keyboard when using VoiceOver mode.
The new group privacy feature allows users to control who can add them to groups. Group admins will have the option to send users a private request instead. To change the setting, go to Settings > Account > Privacy > Groups.
You May Like: Whatsapp Account – It will be Available on Multiple Devices
Is the new WhatsApp call waiting feature something you wanted? Were you annoyed by the fact that no alerts were sent when a second call was incoming? Let us know your thoughts in the comments below!
Continue to check out Maticstoday for the latest news items, product reviews, security practices, and video game discussions.
---
Source: WhatsApp Blog