Google Downloads have crossed Facebook For the First Time
US-based multinational technology company Google has, for the first time in five years, left behind Facebook as the publisher of mobile apps in Q4 2019. In the last quarter of 2019, Google downloads were close to 850 million as compared to Facebook's nearly 800 million. This analysis was confirmed by the Sense Tower firm recently.
However, when it comes to overall downloads for the year, Google still lags behind Facebook. While Google downloads were nearly 2.3 billion, Facebook gained over 3 billion downloads over the past 12 months.
See: TikTok Downloads hit 1.5B, Leaving Facebook & Instagram
As everyone knows, Facebook owns four of the top five downloaded apps worldwide. It includes WhatsApp, Facebook, Instagram, and Messenger. So fairly, it does not come as a surprise at all that Facebook leads the downloads game every single time.
Sense Tower Analytics for Google Downloads
The image showing the graphical statistics of various downloaded apps in 2019 is given below. The firm working at the back end that gives these statistics is Sense Tower. Sense Tower is basically an organic user acquisition service. It uses App Store Optimization and app marketplace intelligence to help app developers grow their audiences.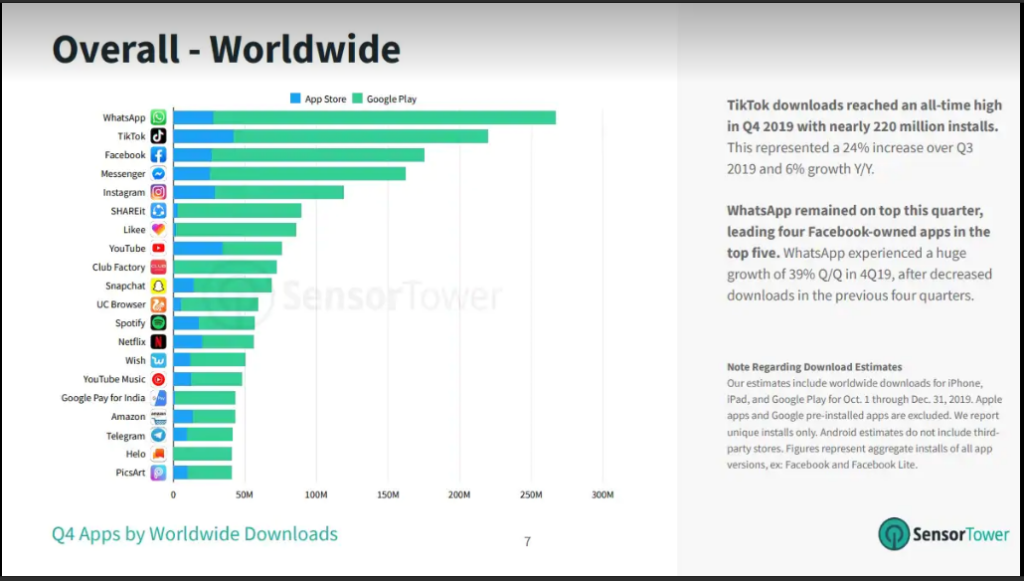 Most Downloaded Apps and Games
TikTok – a video sharing apps owned by ByteDance is the World's second-most downloaded app in 2019. The above figure shows that TikTok downloads reached nearly 220 million installs, the highest in the fourth quarter (Q4) of 2019. Q4 includes three months of a year that starts from October 1 and lasts till December 31. This amount of downloads represented a 24 percent increase over the Q3 (July 1-September 30) 2019.
Sense Tower also states that TikTok's revenue grew by a massive 540 percent in Q4 2019 year-on-year.
You may like: Top 10 Apps and Games of the Decade
Call of Duty Mobile – a first-person shooter video game franchise was the most downloaded game in the last quarter (Q4) of 2019.
In addition, Disney+ was downloaded more than 30 million times in Q4 2019 in the US. It is more than double of its next nearest competitor, TikTok.
Disney+ grossed more than $50 million in its first 30 days in terms of revenue. It means Disney+ beats out other subscription videos on demand (SVOD) rivals, like HBO NOW and Showtime.
Via: Every Update