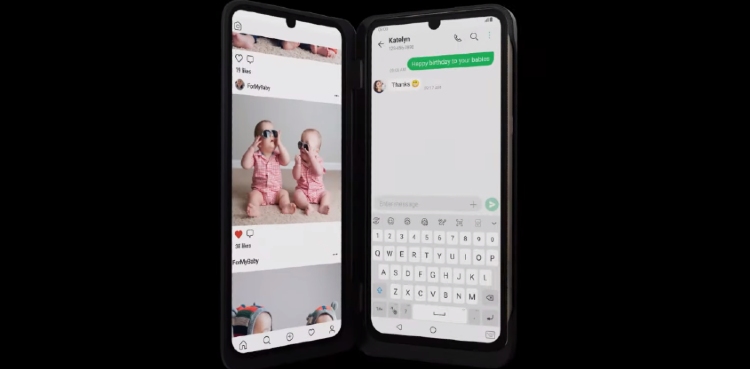 Yesterday, LG announced its third dual-screen phone, the LG V60 ThinQ that also has many other interesting specifications and features. The most exciting feature of the smartphone is that it offers 5G connectivity, has a 64 MP camera, records 8K videos, and holds the Voice Bokeh feature. LG would surely have announced this phone on the MWC but the event was canceled due to the Coronavirus outbreak. Apart from these features, a distinct feature of LG V60 ThinQ is that the second display is part of a case and it can be separated from the main display of the phone whenever you don't want to carry the extra weight.
Features of LG V60 ThinQ
Now, let's move on to discuss some of the key features of the LG V60 ThinQ that makes it different and attractive from other smartphones available in the market.
Large OLED Dual Screen
The LG V60 ThinQ has a 6.8-inch FHD+ (2460 x 1080) OLED display, which is quite larger as compared to last year's V50, which had a 6.4-inch display. The refresh rate is the same as before i.e. 60 Hz. The large 6.8-inch display screen is a good option when you really need to watch a video of YouTube or just feel like browsing the internet.
Read: Samsung Galaxy S20 Ultra -Best Cameras, 120Hz, 5G & beast Specs
The most convenient fact is that you can separate the second screen from the first one whenever you feel to. It's not that you have to carry it always along with you, but with the separable screen, you can also use both the screens separately. Also, the smartphone has bright and vibrant colors that make the user experience even more satisfying. The classy white and classy blue finishes of the smartphone are quite soothing yet attractive but I guess there should've been a more bold color for those who like it that way.
The display also holds a 10MP selfie camera and possesses a built-in fingerprint reader and Gorilla Glass 5 protection. it also sports a dedicated Google Assitant key on the left side and it runs on Android 10 with LG UX 9.0 on top.
5G Connectivity
LG V60 ThinQ is powered by Qualcomm's latest Snapdragon 865 chipset alongside Qualcomm's X55 modem which supports both versions of 5G i.e. mmWave and sub-6GHZ. Most of the V60 smartphones will only support sub-6GHz, while a special and more expensive model will be designed for the higher bandwidth mmWave data speeds.
Advanced Rear Cameras of LG V60 ThinQ
The LG V60 ThinQ has two rear cameras: a 64 MP f/1.98 main camera and a 13 MP ultra-wide camera. It also contains a time of flight (ToF) sensor array. The rear camera game of V60 is not as mesmerizing as it should've been because of the lack of a telephoto lens. The main camera also packs a 'pixel-binning' tech to combine four pixels into one. This feature drops the lens down to taking 16 MP photos which is a drawback for the smartphone. It also has a 10 MP selfie camera placed at the front display of the phone.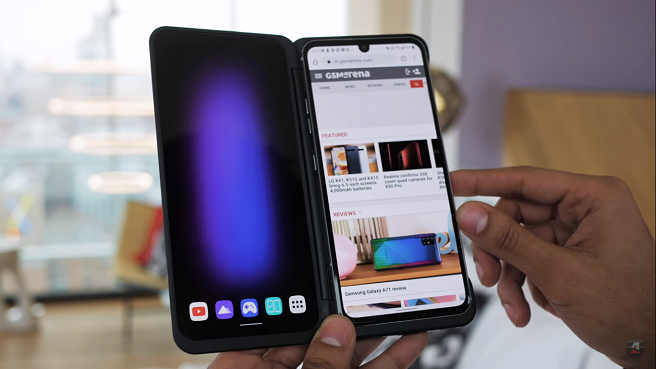 Improved Audio and Video
The video feature of the LG V60 ThinQ is greatly improved as it supports 8K video recording. It is the first time that the 8K video recording feature is brought into an LG phone. With this feature, you can capture videos in stunning 8K quality and jaw-dropping detail.
LG continues to provide the best audio performance by adding four brand-new performance microphones. These microphones allow recording sounds from various directions to deliver realistic audio experiences no matter the surrounding. Another most interesting feature brought into this phone is that it offers Voice Bokeh. Voice Bokeh is a feature that separates users' voices from background noise. Hence, it allows content creators to place more focus on the subject while reducing excess noise. The LG V60 ThinQ also includes the LD 3D Sound Engine, a technology that recognizes the type of content and optimizes the sound accordingly for more cinematic quality.
You may like: Microsoft confirms Xbox Series X will carry a 12 Teraflop GPU
Battery and Storage
Along with 5G connectivity and advanced audio and video features, the LG V60 ThinQ packs a 5,000mAh battery. This battery capacity is designed for the mobile because it will also support the second display that can't charge on its own as it doesn't have a charging slot. LG V60 is also Quick Charge 4.0 compliant which means it can recharge from 0% to 50% or an apparent 18 hours, in 30 minutes. It also has an 8 GB RAM and an internal memory of 128GB or 256GB, though you can boost it up to 2TB via microSD card.
Key Specifications
Some of the key specifications of the ultimate LG V60 ThinQ are given below:
Chipset
Qualcomm Snapdragon 865 Mobile Platform with Snapdragon X55 5G Modem
Display
6.8-inch 20.5:9 FHD+ P-OLED FullVision (2,460 x 1,080 / 395ppi)
Memory
8GB RAM / 128GB or 256GB RO1 / microSD (up to 2TB)
Camera
-Rear: 64MP Standard2 (F1.8 / 0.8μm / 78˚) / 13MP Super Wide (F1.9 / 1.0μm / 117˚) / Z Camera (ToF Receiver / Emitter)
-Front: 10MP Standard (F1.9 / 1.22μm / 72.5˚)
Battery
5,000mAh
Operating System
Android 10
Size
169.3 x 77.6 x 8.9mm
Weight
214g
Network
5G / LTE / 3G / 2G
Connectivity
Wi-Fi 802.11 a, b, g, n, ac, ax / Bluetooth 5.1 / NFC / USB Type-C (USB 3.1 Compatible)
Biometrics
In-Display Fingerprint Sensor
Colors
Classy Blue, Classy White
Other
Stereo Speaker / 4Ch Microphones / AI CAM / Google Lens / 32-bit Hi-Fi Quad DAC / LG 3D Sound Engine / HDR10+ / Qualcomm Quick Charge™ 4+ / MIL-STD 810G Compliance / IP68 Water and Dust Resistance / LG Pay / FM Radio
Price is yet not announced but it is expected that the LG V60 ThinQ will be less in price than the Samsung Galaxy S20. The video trailer of LG V60 ThinQ can be watched below:
Ayesha Khan is a Content Writer and Digital Marketer at Codematics Inc. She has done her BS in Electronic Engineering. In her free time, you can find her cooking meals, reading books or watching Kdramas. Search for her articles under the hashtag #AKArticle on LinkedIn and Twitter.