Apple iPad Keyboard with a built-in Trackpad to release in later 2020
Apple has announced that it is working to release a new iPad keyboard with a built-in trackpad later this year. This new report came from The Information on Thursday, 27th Feb 2020. According to the sources, the latest iPad Pro update will most probably get an update in the spring of 2020. Alongside an update, the accessory will also be released in later 2020.
Most of the iPad owners were requesting cursor support for years, but Apple hadn't paid attention to it. Apple thought to work on it when the users noted that there is a cursor feature present in the iPad, but Apple had turned it off by default. However, the cursor feature wasn't as perfect as everyone was hoping for.
See: Apple is planning to use its own 5G Antenna Technology for its 2020 iPhone
Initially, Apple was just planning for a new version of the Smart Keyboard. But, according to a report by The Information, Apple is working on something more. The report says;
The iPad Pro may soon be far more useful as a productivity device, at least if a new report is true. A leak alleges that Apple will release a new keyboard for the iPad that features a trackpad, adding the sorely needed functionality that would make the iPad Pro more useful as a laptop replacement. The new keyboard, if it is launched, will join Apple's existing — and trackpad-free — iPad keyboard.
iPad Keyboard Design
Apple well was working on a trackpad alongside a keyboard for years, but they didn't let anyone know about it. According to The Information, the design of the iPad keyboard will contain capacitive keys that "imitate the response of mechanical keys with sensors".
The new report also suggests that the trackpad will be made of similar materials as that of the Smart Keyboard. It means that the trackpad will feature a fabric design, likely with fabric-covered keys. The report also claims that Foxconn will be one of the main manufacturers of the new iPad keyboard. While some others say that the design would mimic the MacBook Air layout with a trackpad below the keyboard on the device.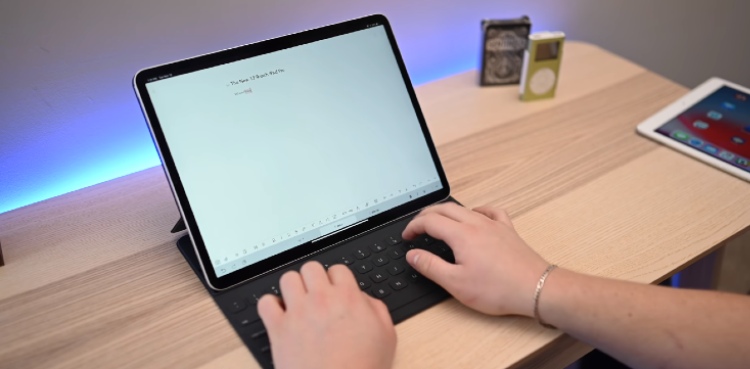 Digitimes reported that Apple is designing a backlit Smart Keyboard for iPad Pro which will release this year. The news was reported last month, however, still, there are no confirmations that whether there will be a trackpad along with a backlit keyboard or not.
You may like: Foldable iPhone – Apple filed a Patent having folding display
To sum up, if Apple officially releases this iPad keyboard with a built-in trackpad, users will be really satisfied because seriously, that's what everyone was waiting for a while now. However, Apple hasn't confirmed that when it's releasing the iPad keyboard. But still, we can have a guess that it will be somewhat around the end of 2020.
Source: Smash Gear