My Zong App is back with Some Exciting New Features
Zong 4G, Pakistan's leading cellular and digital service provider in a series to increase its customer experience has upgraded its self-service app. To reach the level of self-service apps of Pakistan's other leading cellular networks, Zong 4G has added several new features that make "My Zong App" more than just a self-service app. To satisfy the ever-changing needs of its customers, Zong has added several new and exciting offers to its app that will certainly make it a one-stop-shop for its customers.
Read: There will be no Ban on Social Media, Says PM Imran
Exciting Offers on My Zong App
There are following exciting offers that have been added by Zong into the upgraded version of the app.
My Zong App Partnership with GoLootlo: To ease the users and value them, Zong has added up a partnership of its app with GoLootlo. The partnership's basic advantage is that it lets Zong users get exclusive discounts on dozens of services and products through the app.
Win Free MBs: Another exciting feature added to the self-service app is that now users can win free MBs. The free MBs can be won by the addition of a daily rewards program in the app. Users have to play a game daily and win it to avail of the free MBs. This feature is exactly similar to the My Telenor App where they too give daily rewards programs to its users.
Postpaid Billing: The new update in the app is that it has introduced detailed postpaid billing. It wasn't available on the previous versions of the apps. And it was the most demanded feature from the users. But now thanks to the upgraded version, Zong is offering postpaid billing to its users.
Latest Menu: Another exciting feature of the app is that it now brings all recent app or company-related updates under the "Latest Menu". This makes it more convenient for the users to find all updates of the app in one place.
Infotainment and Islamic portal: For users to get more engaged in the app and for their learning, My Zong App has also added another feature. The feature is Infotainment and Islamic Portals that have been added within the app. This will increase the engagement and interest of the users in the self-service app.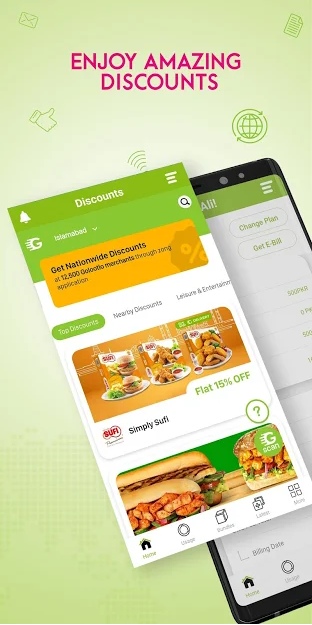 What Zong 4G has to say
A spokesperson of Zong 4G said:
Amid the pandemic, customers find it more convenient to use apps for paying bills, making purchases, and availing discounts. To ensure that Zong 4G customers enjoy all our services and products while practicing social distancing protocols. We have updated the MyZong app to cater to evolving customer needs. As a customer-centric company, we have not only added innovative features to the app. But have also improved the app based on customer feedback."
Also read: Gmail Redesign brings Chat, Meet, Tasks and Docs all at One Place
To conclude, Zong 4G is a company that believes in innovation and outstanding customer experience. And this time it has geared up to meet the needs of its users. Users who are spending most of their time indoor because of the ongoing COVID-19 pandemic. The company is quite confident this time that the new offers and features of the app will be more attractive for its customers. And that they will make their home time much better and productive.
Via: ProPakistani