Engineering Students in Karachi develop a "Burger Bot" that makes Burger in 1 minute
Today we're going to talk about another invention made in the field of food technology. The name of the invention made in this field is the "Burger Bot". As the name implies, we're talking about a robot that makes a burger in just a minute. Surprising right? But it's true, a group of engineering students in Karachi, Pakistan studying at the Usman Institute of Technology have developed a machine that can prepare different varieties of burgers in just one minute and twenty seconds.
Read: A Pakistani Little Martial Artist Fatima Naseem Breaks Indian World Record
One of the engineering students, Sabeeh Siddiqui while speaking to a Pakistan's private news channel said that he joined the Engineering college on his parents' demand but he always wanted to become a chef. Being a fast-food lover, he also often used to make burgers at his home, so he thought why not make a machine that makes burgers. In this way, the Burger Bot came into being.
Rs. 100,000 was Spent on Building the Burger Bot
The engineering students claim that the bot can make a burger in just one minute and twenty seconds. Not only this, but another student named Mubeen Fareed from the group said that the machine they invented also includes an HMI panel. With the help of this panel, customers can select from different options like Beef, Chicken, Cheese, and Vegetables to be placed in their burgers and the machine then makes it in the same way.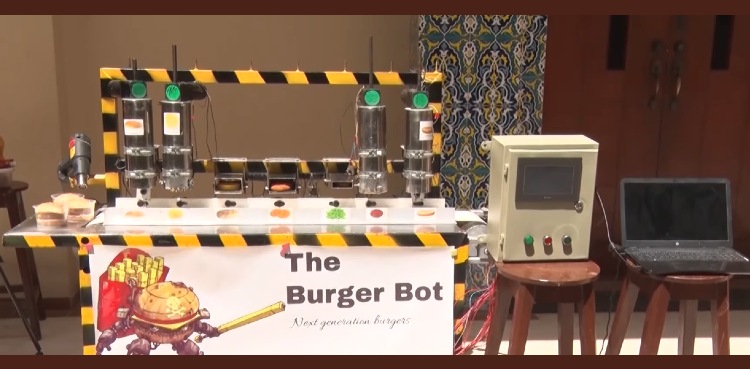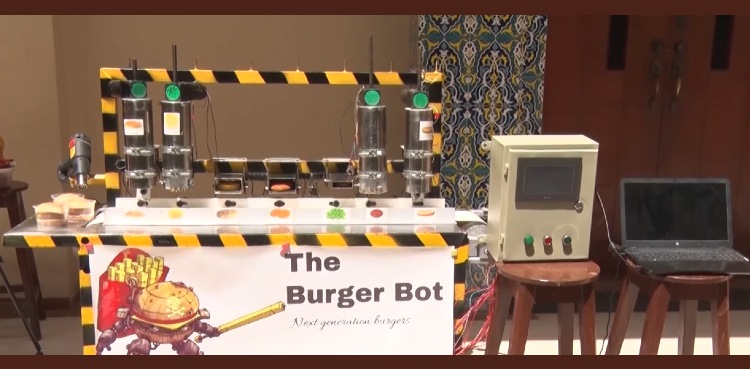 Also read: DetectNow is a local Startup that Uses AI to Detect COVID-19 through the sound of Cough
The engineering students from the Usman Institute of Technology, Karachi further said that more than Rs. 100,000 were spent on developing this Burger Bot. They believe that it'll soon be available for commercial use in the market. Speaking about it, if this Burger Bot and many other such machines get built in the food technology sector of Pakistan, soon human beings in the kitchens will be replaced by them.