Best Laptop Cooling Pads You Can Buy in 2020
Laptops normally don't have that much advanced cooling like Desktop PC's. Because they lack proper air-flow due to their compact & slim structure. Even some of the Gaming Laptops also lack in providing efficient cooling after a certain time period. Which is for sure not a good indication at all. So, you probably might be thinking of a relevant solution to this problem. While the only solution you will find is to get some best laptop cooling pads.
Yup, you need to have the best Laptop Cooler if you really want to save your laptop from burning out. Doing gaming or heavy tasks like video editing and 3D work on a laptop may lead its temperature to a certain degree higher than normal. Which in return causes CPU throttling, slow performance, and finally may lead components to permanent damage. But don't worry, I have a list of the best available cooling pads that might help to get rid of overheating.
Read Also: The Best 5 Gaming Mouse You can Buy in 2020
Best Laptop Cooling Pads
1: TopMate C5
TopMate has a good reputation in the market for providing the best and cheap laptop coolers. While their C5 model is also a decent choice to go with. It is best suitable for low to medium size laptops having a size from 12-15.6 inches. C5 provides efficient cooling with its 5 Powerful Fans running at 2400 Rpm. One fan is of size 120mm fitted at the center while the smaller 4 fans (65mm) are fitted around the big one.
Moreover, you can adjust TopMate C5 in 5 height levels according to the comfort level of your sitting position. As well as you can also set the speed of cooling fans in 6 speed modes. There is an LED Screen on front of the pad to keep eyes over the status of speed and cooling. TopMate features this cooling pad with a Blue LED Light to make it looks more attractive in combination with Black Body.
Not only for looks, but Blue LED Light also brightens more when the fans run at their full speed and vice versa. For connectivity, there are 2 USB Ports available to power the cooling pad. Other than that, the overall design of this cooling pad is pretty solid with the unique implementation of the air-flow system. It can bear the rising temperature of laptops tremendously on games, video editing, and other heavy tasks.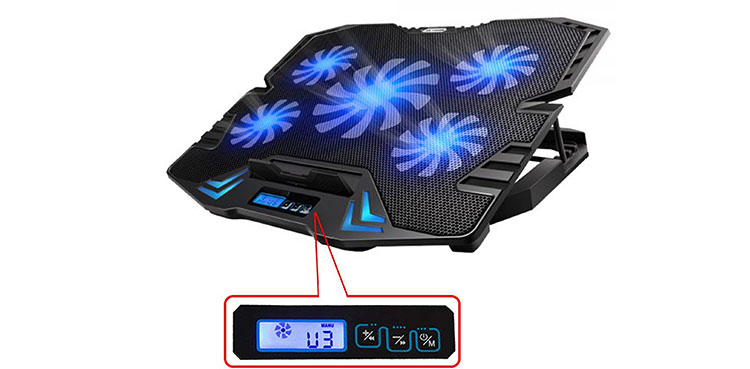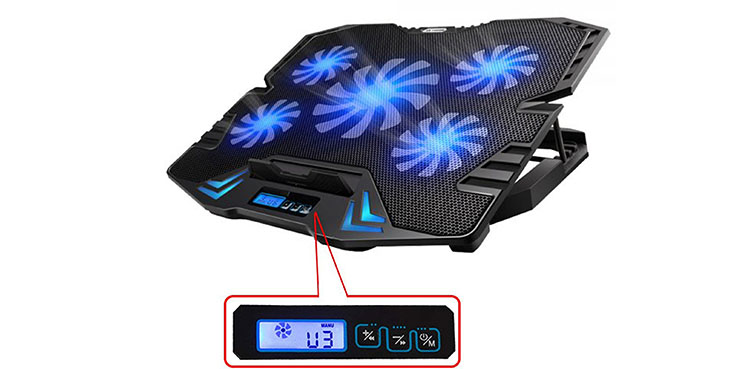 Pros
Budget Friendly
Display Screen
Adjustable Height
Solid Built
Cons
60mm Fans may prove to be much smaller
2: Thermaltake Masive 20 RGB
That is the one having premium looks and quality performance to keep your machine totally cool. Yup, Thermaltake Massive 20 RGB is among the list of best laptop cooling pads you may go with. It features a single 200mm fan but with a lot of functionalities in your control. You can adjust the fan speed of this laptop cooler accordingly from low to high. Fan speed is 600-800 Rpm along with a noise level of 30 dBA.
Apart from that, this cooling pad offers 256 Colors RGB LED-Lit that turns it into a unique looking pad. You can control color mode through a light control button at the upper side of the cooler. Thermaltake Massive 20 RGB supports 3 height positions up to an angle of 13 degrees. Moreover, it can support notebook or gaming laptops up to a size of 19 inches. So size compatibility is not a big deal here, especially for gamers.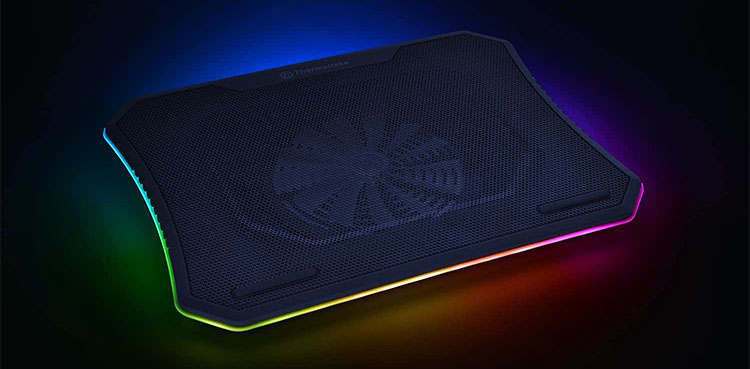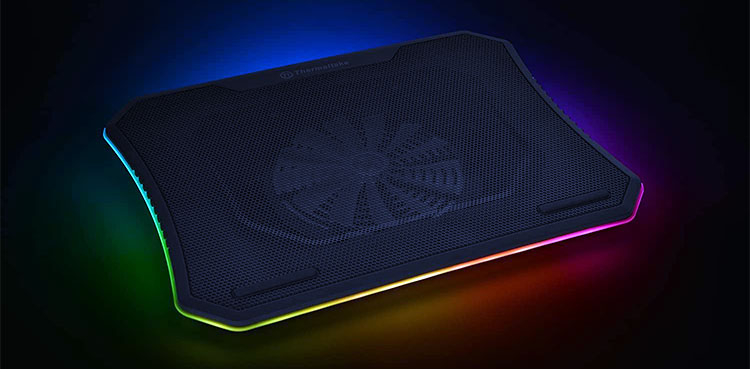 Pros
200 mm Fan
RGB Lighting
Big Laptop Size Support
3: Kootek Cooler Pad Chill Mat 5
Although the design of this Laptop Cooling Pad is simple. But the cooling features it offers are pretty impressive. Moreover, Its fans placement and number of fans, and blue light are similar to the TopMate cooling pad. But differs in size and Rpm, like Kootek has a single 120mm fan while the rest of the 4 are 70mm running at 2000 Rpm. Kootek also offers 6 height adjustment options and 12 to 17 inches size laptops compatibility.
If we talk about the other features, Chill Mat 5 has various user control options regarding cooler fans. You can control the speed of fans, can operate only one or all fans at the same time. It also has 2 hinge flaps at the lower side to make sure that Laptop is safe form slipping down. The only drawback which we found in this pad is its slow running bigger fan. Although they all have 2000 Rpm but still it feels a bit slower than others.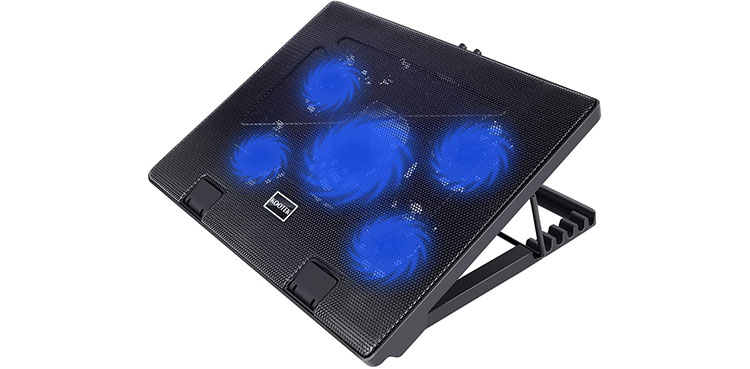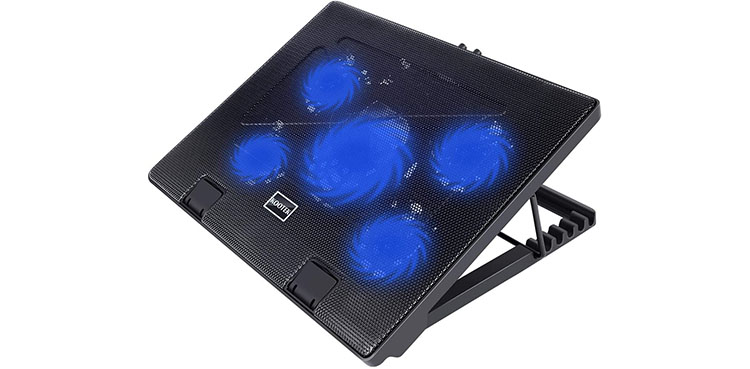 Pros
6 Height Adjustment Options
Blue Light
Fans Control Options
4: Havit HV-F2056
You can prefer Havit HV-F2056 laptop cooler over the other best cooling pads because of its user-friendly portability options, slim structure, and great features. Yup, Havit is a totally slim one with to the point features every user may want for its laptop cooling. Havit HV has 3 fans of size 110mm running at 1100 Rpm. These quality fans have the capability to perform a much quieter cooling operation.
It is compatible with a Laptop size of up to 17 inches. Serves for the temperature of both the normal as well as heavy usage. Manufactures also included the Blue Light to make the look of running fans more attractive. On the sides of this cooling pad, you will find multi-directional metal mesh to relieve your wrist ease after long usage of the laptop. Connectivity options are also in variety like the extra power switch and dual USB connectivity ports.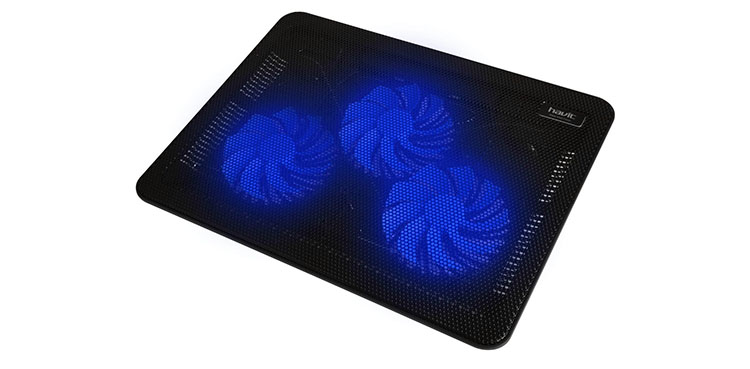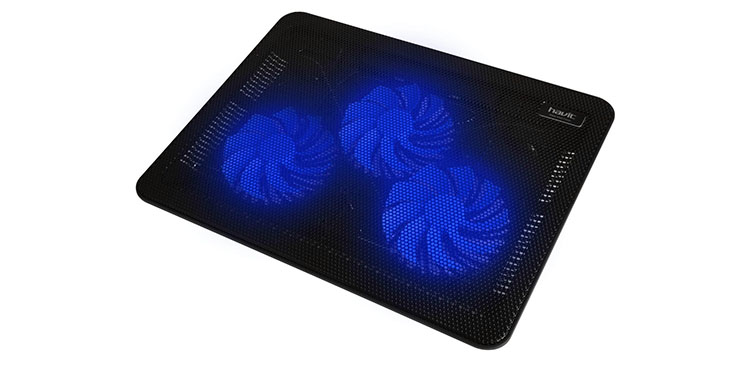 Pros
Slim Design
Light Weight
Low Noise Fans
Cons
Fewer Height Adjustment Options
5: Klim Ultimate
Going through the list of best laptop cooling pads, you will also find Klim Ultimate. Although I mentioned it on number 5th in the list, but don't just rely on this numbering. The features (according to my personal point of view) Klim Ultimate offers are a lot better than the other available options. It is a premium looking cooling pad with a huge 200mm quiet fan running at 750 Rpm. While on the sides of the pad, there is a beautiful RGB Rim that provides a tremendous feeling to the eyes.
Klim Ultimate is compatible with laptops sizes up to 19 inches. So don't worry about its size support. It is not compatible with laptops only, it can serve you for cooling the PS4 and Xbox One also. That's the main feature I like about it. Moreover, It has a metal base over the surface that provides a pretty strong grip to your laptop in any position or height you adjust. On the connectivity side, it has USB port supported fans and power options. Overall, it's a good gadget to grab it in a list of available variety.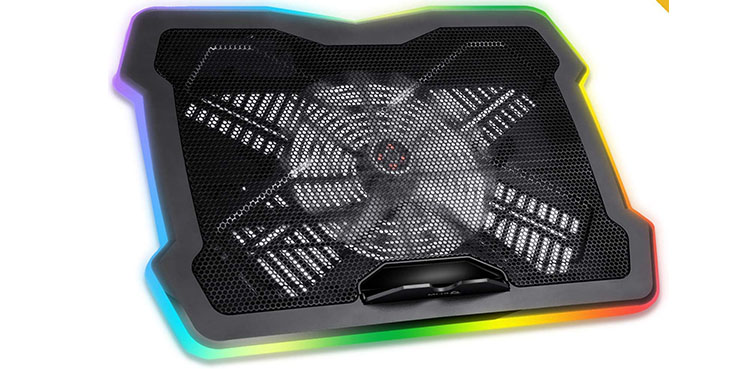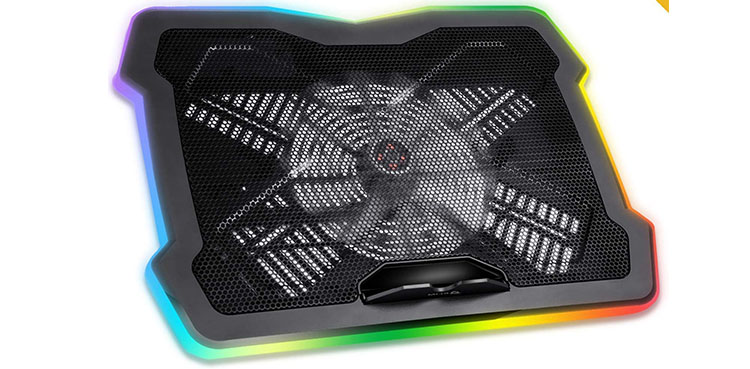 Pros
Beautiful Looking
Variety of Compatibility
Quiet Fan Operation
Cons
Lack of Height adjustment Options
Read Also: Best Webcams Available for Streaming & Video Conferencing in 2020
You can ask for further information regarding the list of best laptop cooling pads. If you make purchases through our link. We will get a little portion of the commission for bringing customers to Amazon. Stay tuned with us for getting more related posts about "Best 5" on a daily basis.