Best Gaming Sound Card You Can Buy in 2021
3 min read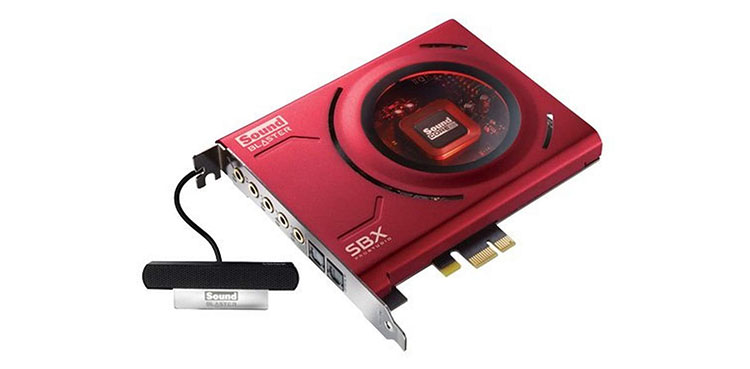 Does it really worth buying a Sound Card for Gaming.? You will hear this term most while searching for a sound card. While the only answer to this question is a big "Yes". Because if you really want to utilize 100% from something, it is mandatory to buy its related accessory or hardware. So, a sound card can be a decent option to go with if you are an entertainment enthusiast. Like music, movies, and video games, etc.
Sound Card is an external component we plug in computers to receive and send audio in a more advanced manner. It basically functions by converting digital audio to analog or DAC (Digital to Analog Converter). The external speakers, headphones, and mice we use utilize this format and renders sound accordingly. Today, I have prepared a detailed list of the best model sound cards for gaming and other entertainment. Lat's check them out,
Read Also: Budget PC Cases Under $100 You Can Buy in 2021
Best Gaming Sound Card
1: Sound BlasterX G6
Creative Store manufactured this sound card keeping in mind the real needs of gamers. The Sound BlasterX G6 features 130dB DNR (Digital Noise Reduction), 32-bit 384kHz DAC, 7.1 Virtual Surround Sound, Volume Balancing Scout Mode, and Dolby Digital. Apart from that, it also offers gaming-centric features to improve controls on sidetone volumes and easy-to-reach sound profiles. This sound card supports USB connectivity and is compatible with Pc, PS4, Xbox One, and Nintendo Switch.
Pros
130dB DNR

2-bit 384kHz DAC

7.1 Virtual Surround Sound

Scout Mode

Gaming-Centric Feature

Broad Compatibility
2: ASUS XONAR SE Sound Card
Xonar SE is considered to be the best gaming sound card manufactured by the world-famous Asus. It features 5.1 channel playback, 300ohm headphone amp, and 192kHz/24-bit. While if we talk about the dB level, it offers 116dB SNR (Signal to Noise Ratio). Download the official Xonar Audio Center Software if you further want to access some advanced features offered by the company. The sound card is an internal component and compatible with a PCIe slot for connectivity.
Pros
116dB SNR

5.1 Channel Playback

192kHz/24-bit

PCIe Slot Connectivity

Quality Sound

Official Software
Cons
Only Windows 10 Compatible
3: Sound Blaster Z Gaming Sound Card
This one is the most feature-rich sound card manufactured by Sound Blaster. It features 116dB SNR, audiophile-grade capacitors, gold-plated I/O, sound core3D audio processor, bit rate of 24/192 kHz, and advanced Stereo technology. Utilizing the SBX Pro Studio audio features, it also offers 3D effects for both the speakers and headphones. Moreover, this great sound card is compatible with most operating systems like Windows 7, 8, and Windows 10.
Pros
Sound Core 3D Audio Processor

116dB SNR

Gold-Plated I/O

SBX Pro Studio

24-bit 192 kHz
Check Out The Following Gadgets Too
Best FPS Gaming Mouse You Can Buy In 2021
Read Also: Best 750W Power Supply You Can Buy in 2021
Best Portable Monitor For Laptop You Can Buy in 2021
I hope you liked this post about the Best gaming Sound Card. Share the topic in your social circle with others. Stay connected for getting more updates on a daily basis.
The author behind @maticstoday, working as a Digital Marketing Specialist in Codematics Inc. Writing tech-related stuff and delivering solid reviews is in his keen interest. In his free time, You will find Uzair playing video games & that's why most of the topics he writes are based on game-related stuff.