Tencent Emulator settings for PUBG Mobile – Fix Lag
Tencent Emulator or Gameloop is one of the best emulators available for playing mobile versions of games like PUBG Mobile on desktop PCs. This emulator belongs to Tencent Games as an official emulator for the PUBG Mobile game. The real story began when survey reports illuminated some astonishing facts about game emulators. Showing that most of the users are playing mobile versions of games on their desktops by using various tools and emulators. So the Tencent games did not come slow in this race, they also launched "Tencent Gaming Buddy" for Player Unknown Battle Ground (PUBG) mobile game.
Currently PUBG Mobile has more than 50 million regular users per day, while a large number of people are using Tencent Emulator among them. It's surpassing other competitive titles like Fortnite and Call of Duty mobile in the gaming industry at a faster pace. In today's topic, I will put focus on optimized settings for Tencent to experience, smooth & lag-free gameplay. Because many PUBG lovers are facing frame drops and stuttering during gameplay even on high-end PCs. I will describe the best suitable settings for both High and Low-End PCs. Before moving forward, have a look at the basic and recommended requirements of this game.
Basic Requirements:
Operating System: Windows 7, 8, 8.1 & 10.
CPU: Intel Core i5 4500 / Amd Fx-4300 series.
Ram: 6 GB of Ram.
GPU: Nvidia GTX 950 / AMD R7 360
Storage: 10 GB minimum
Recommended Requirements:
Operating System: Windows 10 with 64 Bit.
CPU: Intel Core i5 7500 / Amd Ryzen5 1600.
Ram: 8 GB of Ram
GPU: Nvidia GTX 1060 / AMD Radeon Rx 480.
Storage: 15 GB minimum.
Tencent Emulator Settings:
Low-End PC's:
If you are using a low-end computer or laptop, don't worry you can still play this game at acceptable frame rates with some optimization. In this regard having a GPU is not mandatory.
Just follow these steps accordingly.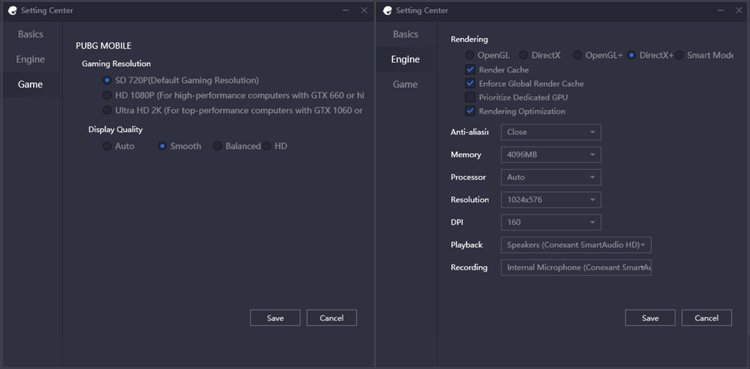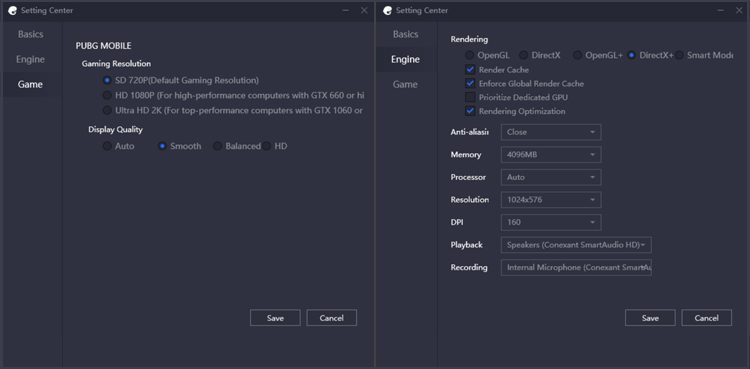 Download and Install Tencent Gaming Buddy on PC/Laptop.
Run emulator, At the right corner look for 3 lines icon & click on it.
Then go to settings from there, you will see Basics, Engine & Game option.
Leave basic option default & click on Engine.
Select DirectX+ and all 3 options below it, excluding "prioritizing dedicated GPU".
Keep Anti-Aliasing option Close.
For the memory portion, select ram according to specs of your PC/Laptop.
Leave processor portion to auto.
Set resolution at 1024×576 scale, if your display supports it.
Set DPI at the lowest value of 160.
Choose the relevant setting of playback & recording portion accordingly.
In the game option, choose default gaming resolution which is 720p.
At last, adjust display quality smooth from given options.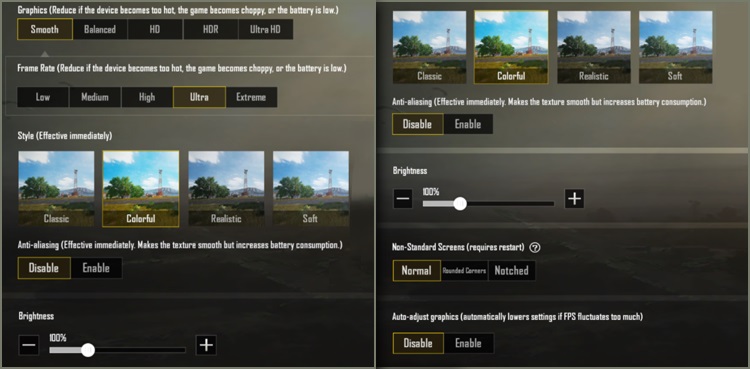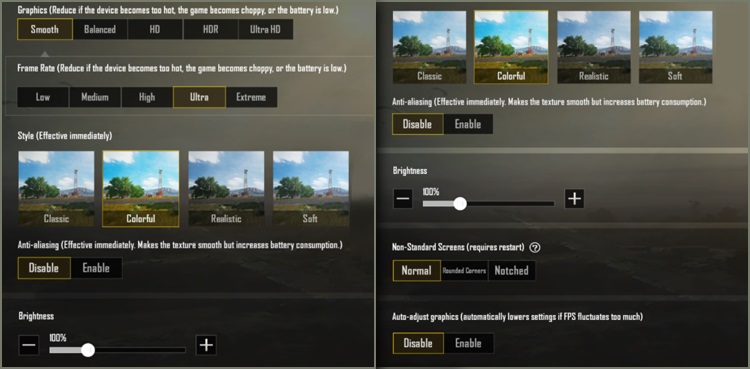 Save the implemented changes then restart Tencent Emulator, run PUBG and go to the settings option inside the game. There you will see the graphics option, click on it, and set the frame rate option to the ultra. Scroll down to the bottom and disable auto adjust graphics option. In case you are using a laptop, make sure to plug in the charging adaptor for better output.
High-End PC's:
A lot of people are complaining about a lack of performance in their games, even if they are using high-end gaming machines. So that's not a big deal to get panic about, they just need some adjustment in Tencent emulator settings for smooth gameplay.
Let's check out these specific settings in detail.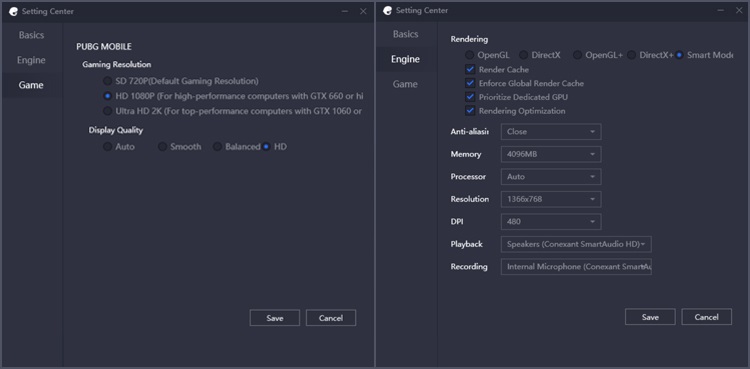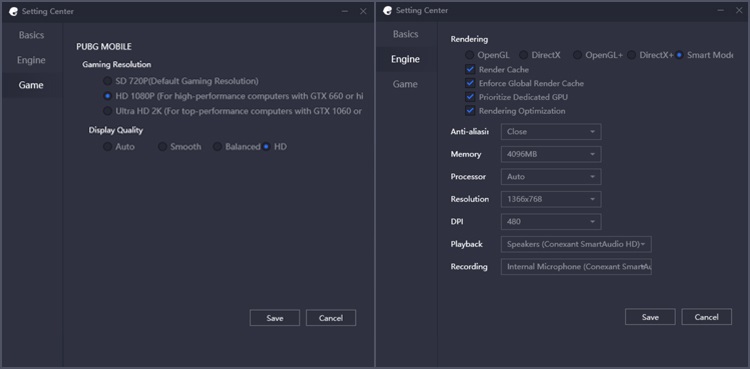 Open the emulator and go to settings following above-mentioned procedure.
Click on engine option, select smart mode and choose all 4 portions below it.
Choose Anti-Aliasing at balance.
Set memory according to Ram capacity of your PC/Laptop.
In the processor portion, keep it auto.
Adjust the resolution scale according to specs of your display panel.
Opt for DPI settings at the value 480.
Adopt playback and recording settings in consonance with your system's audio specs.
Afterward, click on game option and select gaming resolution in relevance to your display panel.
In the end, keep display quality HD to attain sharp texture quality.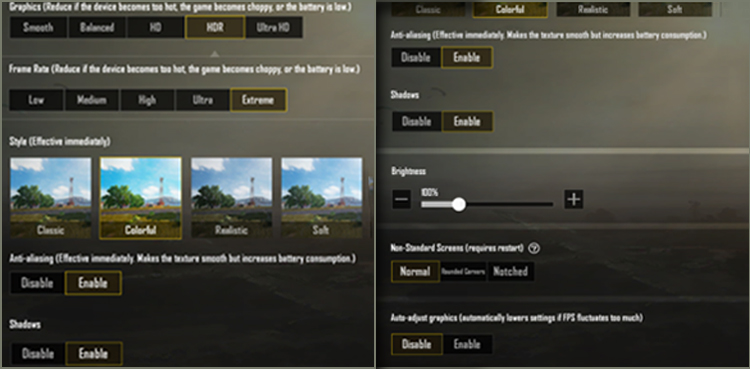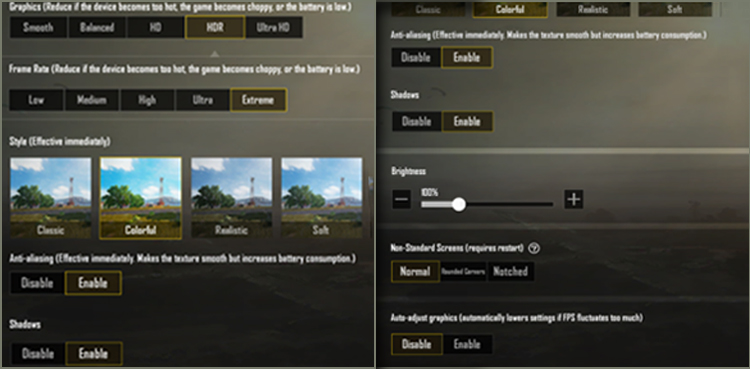 Similarly, save the changes and restart the Tencent emulator. Run PUBG Mobile and go to the graphics setting in the game. Set graphics to HD or HDR and frame rate to the extreme. Below that enable Anti-Aliasing and disable auto adjust graphics setting. Click on ok to implement changes, here you go the game is ready to play on superior FPS without any lag or stuttering.
So I hope these settings on Tencent Emulator for PUBG will assist you guys in acquiring decent gameplay without any problem.
Winner Winner Chicken Dinner.!