Universal TV Remote Control – Mobile Application
Just imagine those freaking moments of life, when you are searching for Tv Remote in the lounge and come to know that it's missing or broken. Especially when the time for your favorite Show is getting late. Obviously, you will not react like a decent guy there, but as an angry soldier for sure. Similarly, people often face this common issue in offices, hotels, and restaurants, etc. But there is an advanced solution to all this trouble, which I found very useful in all aspects. It's Universal Tv Remote Control, a mobile application serving as a remote control for your Tv device.
Universal TV Remote Control application is mainly developed by Codematics Inc. App has more than 70 million figure of downloads on play store while functioning in more than 100 countries around the globe. This application has a lot of convenient features supporting both Simple and Smart Tv models. So, keep your worries of lost or broken remote aside and download this app on the smartphone.
Let's have a deep look into the proper functionality of this Remote Control Application.
How Universal TV Remote Control app works?
Primarily, this remote control app works in two different ways. One is for simple Tv & other for Smart Tv. For an older or simple television, your smartphone is required to have an IR Blaster. This enables functionality between Tv devices and Smartphones with the help of infrared rays. That's all, Tv Remote is under your fingers now. Check out your smartphone whether it is featured with IR Blaster or not.?
While For a Smart TV device the only requirement user has to fulfill here is connecting both Smart Tv & Smartphone on same wifi network. This pairing will allow the application to function properly. It's an appropriate method for most users because nowadays almost everyone has Smart TV's in their apartments, offices, hotels, etc.
Make your experience more amazing with Universal Tv Remote Control application. Control Tv volume, channels list, pause & skip scene, utilize smart Tv apps, mouse navigation, keyboard, and much more prominent features just within a single mobile application.
You may also like: Latest Smartwatches worth buying 2019 – Top 3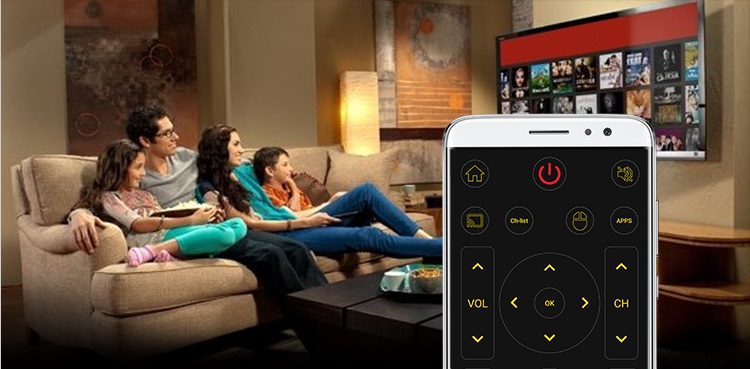 Supporting Tv Models:
Universal Tv Remote Control app is compatible with more than 200 Tv Brands. Major market brands relating to both IR & Smart Tv are mentioned below. While the rest of the list is available on application. Developers are constantly adding remaining Tv brands from time to time in app on demand. Note that, the Smartphones with Android 4.1 & higher can run this application smoothly.
IR TV Devices:
Samsung
Sharp
Sony
TCL
Toshiba
Polytron
Panasonic
Philips
LG
Haier
Smart TV Brands:
Sony Bravia TV-Android
LG Smart TV
TCL Smart TV
Sharp Aquos
Hisense Smart TV
Philips TV-Android
Apple TV
Google Nexus-Android
Nvidia Shield-Android
Xiomi Mi Box-Android
Utility apps are good to use, particularly when they create ease of living. While the Smartphone has become an important gadget at this stage of the modern era. So, having a utility app like Universal Tv Remote control is absolutely a great idea. I have personally checked this app on both Smart and Normal Tv. It functions superbly well with magnificent features, especially on Smart TV. I will surely recommend you all to try this once & forget worries about your other remotes.
As usual, don't forget to show your positive response on this topic. It motivates me to bring more interesting topics for you all.
You may also like: Github & Its Versioning – Complete Method