Best Thermal Paste for PC/Laptop to Buy in 2020
In order to keep the machines PC/Laptop super cool. One must own a quality Thermal Paste or Thermal Compound. Because after a tenure of a year or more, the older paste starts to decline in performance and needs to be replaced with a fresh one.
Here the actual story begins, where you have to decide for the brand or type of best Thermal Paste to go with. When there is a huge variety of similar products available, It is often difficult to choose a quality one performing up to the requirement.
So to overcome this trouble in decision making, I decided to write on some decent Thermal Compounds you can buy in year 2020. All of these pastes are available on Amazon with mentioned price tags. Check out your region options before placing the order.
Read Also: The Adjustable Ergonomic Laptop Stand You Can Buy This Year
Best Thermal Paste for PC/Laptop
1: Arctic Silver 5 AS5
Temperature Limit
Peak: 50°C to 180°C
Long-Term: 50°C to 130°C
Performance
3 to 12 degrees Lower at Full CPU Core Load
Volume
3.5 Grams
Particle Size
<0.49 micron <0.000020 inch
In the category of thermal pastes, you will find the name Arctic Silver on top. Yup, they have an existence in the market since a long with an excellent brand reputation serving the quality pastes for your PC and Laptops. AS5 is their top going thermal paste model, that contains up to 99.9% of pure silver & Micronized Silver in its ingredients.
AS5 efficiently controls the rising temperature of components in an appropriate manner (-50 to +130 Degree). It will never let the degrees to go above the recommended level of temperature. Moreover, it will last longer than the other model of thermal pastes available in the market. But note that, It's pure silver & zinc ingredients take some time to properly start cooling functions.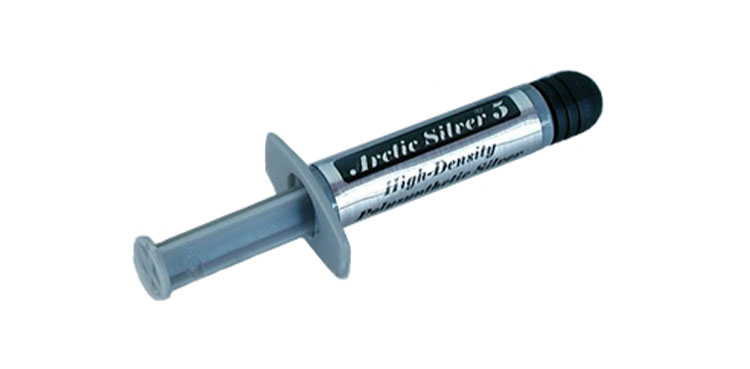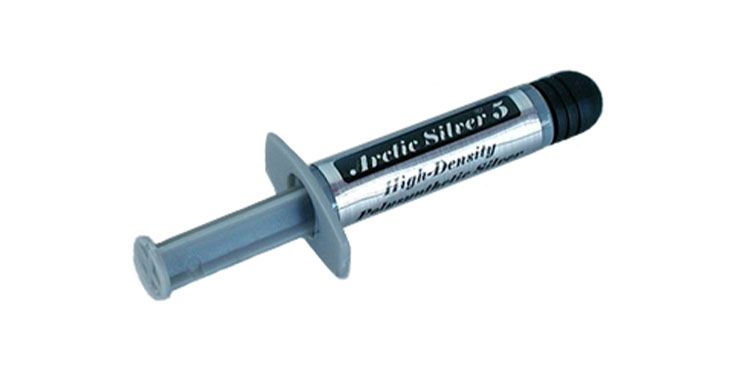 Pros
99.9% Pure Silver
Long-Lasting Performance
Affordable
Cons
Takes some time to start functioning properly
2: Noctua NT-H1 Pro-Grade
| | |
| --- | --- |
| Storage Duration | 3 years |
| Usage Life Span | 5 Years |
| Temperature Limit | -50 to 110°C |
| | |
You know what.? Noctua CPU Air Coolers are going on top in the table. While they did not miss the opportunity of manufacturing the Thermal Paste too. Noctua NT-H1 Pro Grade is the best thermal paste model to do overclocking on a low level (-50 to +110 Degree). It keeps the temperature of some degree below the recommended limit of overclocked components.
Its totally safe to use with no risk of short circuits, easy to use, as well as easy to remove just with a piece of paper. There is no need to use alcohol for cleaning its paste. Noctua Nt-H1 may last longer on your components for more than 3 years. This 3.5 grams tube may be used for nearly 20 times on different components.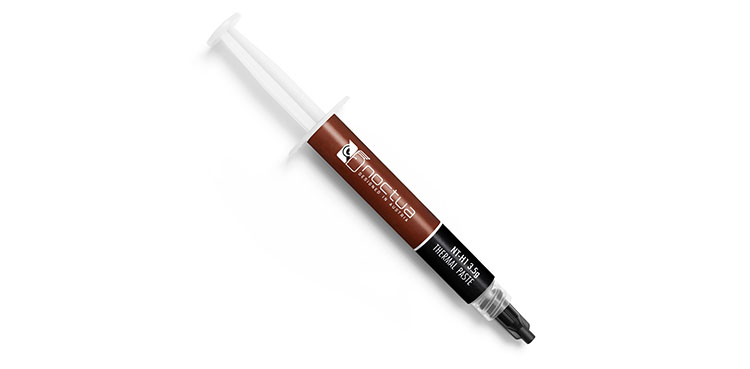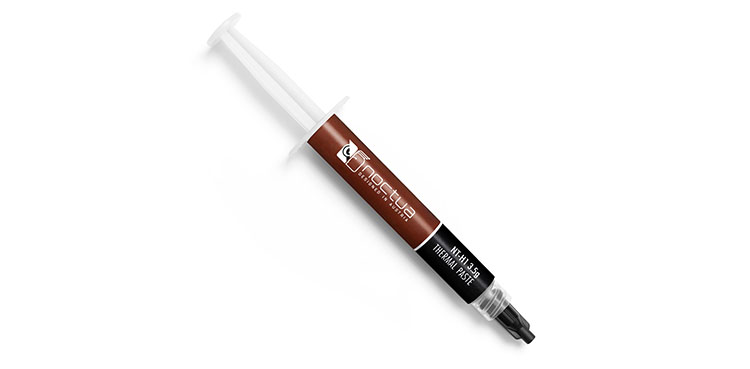 Pros
High Life Span
Easy to Apply
Easy to Clean
3: Arctic MX-4
| | |
| --- | --- |
| Thermal Conductivity | 8.5 W / mK |
| Viscosity | 870 Poise |
| Volume Resistivity | 3.8 x 10 Ω-cm |
| Net Weight | 2 g, 4 g, 8 g, 20 g, and 45 g |
Arctic MX-4 Thermal Paste is a quality item you could grab for your CPU or GPU cooling. As I said earlier, you will hardly miss the name Arctic Silver from the list of top-performing thermal pastes. It can efficiently serve PC components well for a long 8 years (Company Claims). Moreover, MX-4 is also non-electrical conducive to any sort of short circuits.
It's affordable, easy to use, and easy to remove. MX-4 does not require any time like Arctic Silver 5 after installation to start functioning. The moment you apply the paste and starts your machine, it will start functioning efficiently. To be honest, I personally prefer the Arctic MX-4 over many other thermal pastes. But keep in mind that it is not for the overclockers.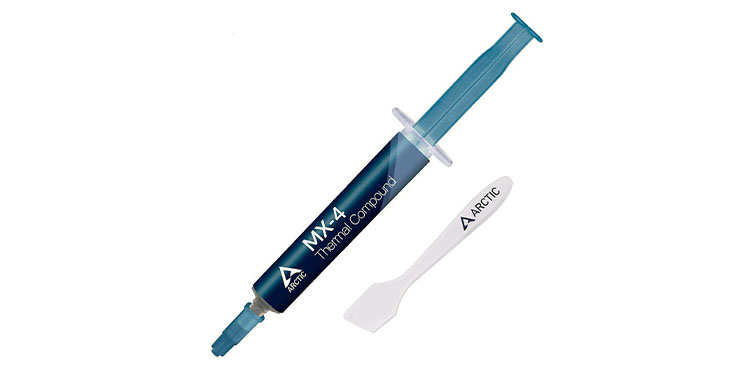 Pros
8 Years Life Span
Efficient Performance
Affordable
4: Thermal Grizzly Kryonaut
| | |
| --- | --- |
| Thermal Conductivity | 12.5 W / mk |
| Thermal Resistance | 0.0032 K / W |
| Viscosity | 120-170 pas |
| Temperature Limit | -250 ° C / +350 ° C |
Well, Thermal Grizzly Kryonaut got pretty much attention from professional users around the globe. Grizzly Kryonaut can serve users pretty well in providing efficient cooling to CPU and GPU of PC or Laptop. It is also compatible with overclocking the CPUs up to medium range. Overall performance is quite tremendous with a peak temperature range of -250 to +350 Degree.
The product is affordable, easy to apply, and with no extra time required for starting its function. Some users have complained about its availability problems, but it may depend on the region or location of that specific category of users. The rest of the other things are totally amazing in this thermal paste to keep the temperatures of your CPU and GPU super cooler.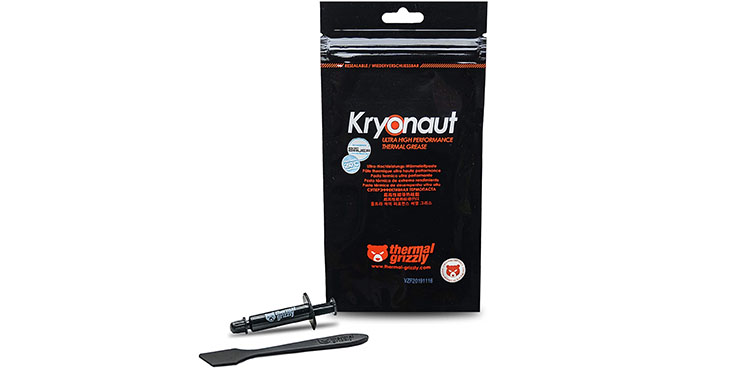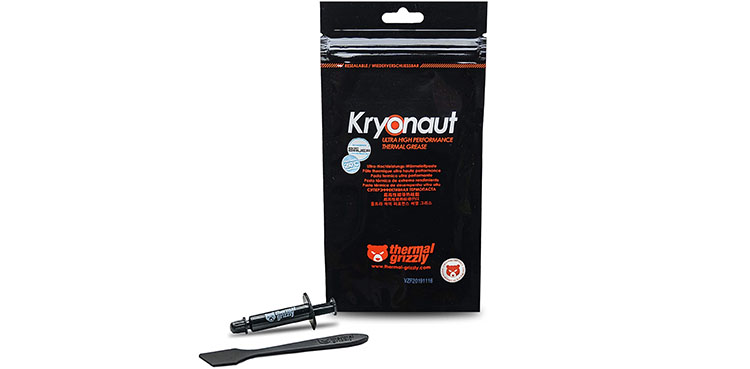 Pros
Quality Performance
Good for Overclocking
How to Apply Thermal Paste
Well, for some people it is just a game of kids, while for others it is pretty difficult to understand. Basically, it is not rocket science to apply a paste on any component. But some precautions make it extra sensitive during the procedure. Let's first discuss the precautions we should keep in mind before applying the thermal paste.
Make sure to unplug every cable plugged into an electric switch.
Keep the position of PC or Laptop in smooth and straight order.
Make sure to clean the component first having pre-applied paste.
Try to avoid paste spreading on other components.
Keep in mind the quantity of thermal paste you are going to apply.
So, that was some necessary steps that need to be in order before starting the application procedure. Now take the paste tube in your hand and apply it on the component in dot quantity. Yup, there is just a little amount of paste need to be applied on the component. For example up to the size of grain or rice. When you will put the cooler on it, it will spread on the overall area as needed. That's all,
Check out the Following Products too
Read : Best Drone Cameras You Can Buy in the Year 2020
Best PC Case Fans 2020 – Keep Your Gaming PC Super Cool
Best Projector for Gaming You Can Buy in 2020
I hope you people liked this post about the best Thermal Paste to buy in the year 2020. If you will buy any of the above products through our link from Amazon. We will be rewarded with some percentage of commission in return. Stay tuned with Maticstoday for more related posts on a daily basis.