Best Pc Cases 2019 – Mid to Full Tower
No matter how advanced Pc specs you own in terms of CPU, GPU & Mobo. But having a decent Pc case is mandatory for better airflow and an attractive look as well. It is also efficient in covering components against dust & physical damage. Other than that, keeps system components in a maintained form that improves the life span of the product. Currently, there is a huge variety of best Pc Cases available in market for hardcore gamers. Featured with an appealing look, better airflow, RGB effects, and quality built made by top brands.
A Real Gamer knows better the worth of Pc case for a battle station. Because gaming for long hours takes each & every core to its 100% usage. Which produces heat in large amount, that may affect system if it crosses the recommended limit. Obviously, no one wants to see his dream Pc being fried due to excessive heat & lack of airflow. There must be a proper space to intake fresh air and exhaust heat from the machine. This can be only possible with best pc cases, having potential to sustain appropriate airflow.
If you are planning to purchase a case for your Gaming Machine. Don't forget to consider these options from my side. It will surely assist you to pick a decent one. Affliate links are mentioned for each product, If you purchase through them. We will get some percentage of commission from Amazon.
Read Also: Best Thermal Paste for PC/Laptop to Buy in 2020
Best Pc Cases 2019
1: NZXT H700i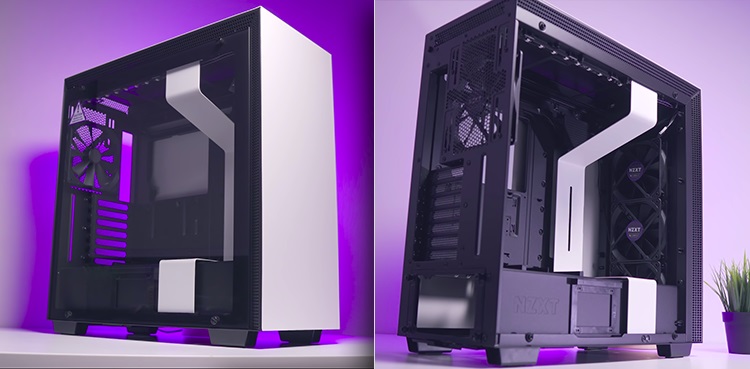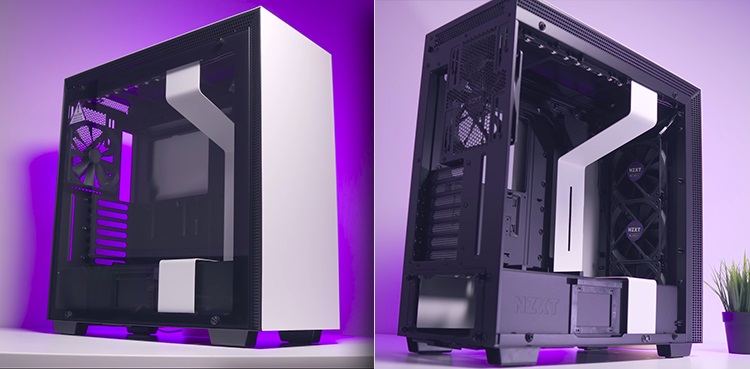 NZXT Cases are exclusively favored for their unique & attractive design among others. H700i is an ATX Mid-Tower Case with a steel constructed body and tempered glass panel on the left side. This edition is featured with CAM Smart Device providing efficient control over RGB effects and Fans. Available in four pleasing colors in combination with black, white, blue, and red.
Other than that, this model of H series supports both liquid & air cooling. Includes 4 pre-installed fans on the front, top and rear side with an RGB effect. While cable management option is pretty impressive with pre-loaded straps. PSU bracket on the bottom is totally covered giving a clean inside view of the case through the panel. So, let's have a look at some technical specifications of H700i.
Specifications:
Material: SGCC Steel.
Weight: 12.27 Kg.
Fans: Front-3 x 120mm or 2 x 140mm, Top-3 x 120mm or 2 x 140mm, Rear-1 x 120mm.
Radiator: Front-280mm, Top-360mm or 280mm.
Mobo Support: Mini-ITX, Micro-ATX, ATX & EATX
CPU Cooler Height:185mm.
GPU Length: 413mm.
PSU Length: 311mm
Filters: Front, PSU intake.
You may also like: The Adjustable Ergonomic Laptop Stand You Can Buy This Year
2: Thermaltake Core V21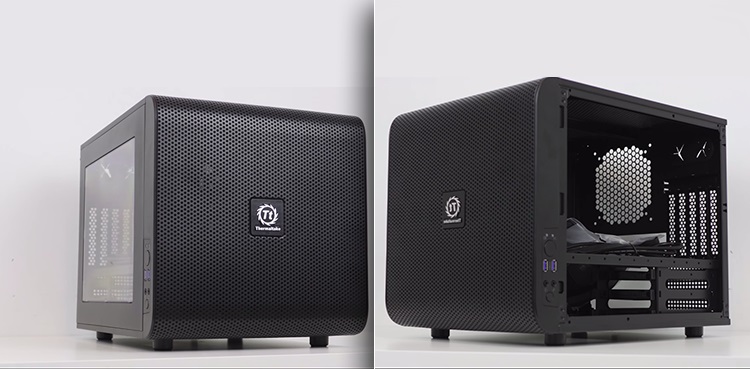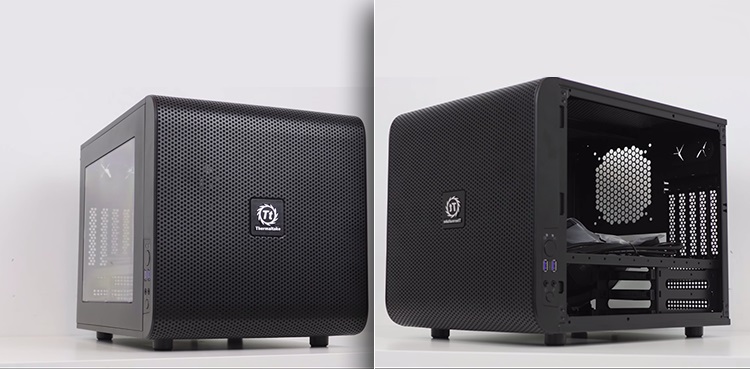 Thermaltake is no doubt a reputable brand in the market offering best Pc cases along with other gaming products. Core V21 is basically a Micro-Case having the most stable & endless cooling features. Beauty of this cube-shaped chassis is beyond comparison. It supports motherboard in both horizontal and vertical positions. While viewing angles are totally customizable according to the gamer's perspective.
Core V21 case is divided into two chambers, the upper one is for cooling maintenance and lower is for PSU & drive bays. This gaming case is also compatible with both liquid and air cooling. As well as can be expanded into two formats for setting up water cooling. V21 comes with a large fan of 200mm on the front while having capacity to install further fans. Cable management is remarkable allowing enough space to play with cables. Expansion slots are fully modular supporting installation of 6 storage disks.
Specifications:
Material: SPCC.
Weight: 6.4 Kg.
Fans: Front-1 x 200mm or 2 x 140mm or 2 x 120mm, Top-2 x 140mm or 4x120mm, Rear-1 x 120mm or 1 x 140mm, Bottom-2 x 140mm or 2 x 120mm.
Radiator: Front-1x240mm 140mm 120mm, Top-1×280 or 2x240mm or 2x120mm, Rear-1x120mm or 1x140mm or 1x240mm or 1x280mm.
Mobo Support: Micro-ATX, Mini-ITX.
CPU Cooler Height: 185mm.
GPU Length: 350mm
PSU Length: 200mm
3: Cooler Master Cosmos C700P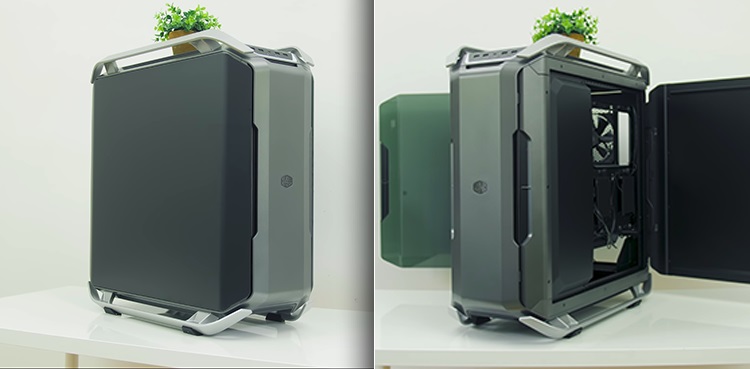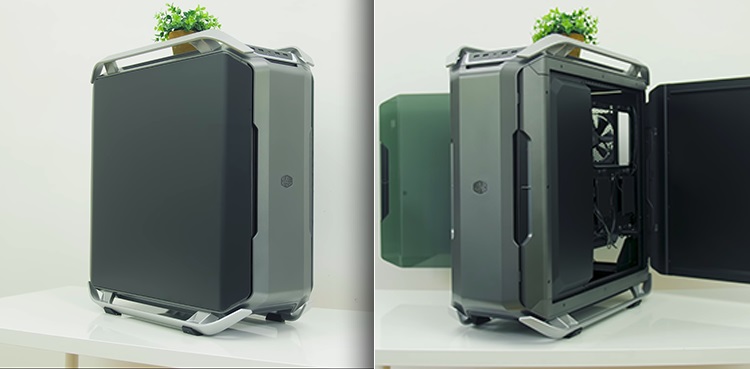 Another case choice here for gamers is Cosmos C700P, a full tower case by Cooler Master's side. Amazingly built with a deep focus over each & every element of user-friendly features. C700P has aluminum made handles on top & bottom for solid support. While a curved glass panel on the side with a sleek stylish outlook. It also features RGB lighting, which looks mind-blowing in between aluminum handles.
This huge case contains huge cooling features, can support up to 420mm large radiator. Proper space for cable management, drive bays and expansion slots are completely modular to accommodate more airflow. It is available in two delightful colors Black & Gun Metal. Cosmos C700p has a flexible interior tray that allows rotating motherboard in certain positions.
Specifications:
Built Material: Aluminum, Steel, Plastic.
Body Weight: 22.2 Kg.
Fans: Front-2 x 140mm preinstalled & supports 3 x 120/140mm, Rear- 1 x 140mm preinstalled & supports 1 x 120/140mm, Top- Supports 3 x 120/140mm, Bottom- Supports 2 x 120/140mm.
Radiator: Front- Supports 120mm, 140mm, 240mm, 280mm, 360mm, 420mm Top- Supports 120mm, 140mm, 240mm, 280mm, 360mm, Rear- Supports 120mm, 140mm.
Motherboard: ATX, Micro ATX, Mini ITX, and E-ATX.
CPU Cooler: 198mm.
PSU: Bottom Mount.
4: Corsair Crystal Series 570X RGB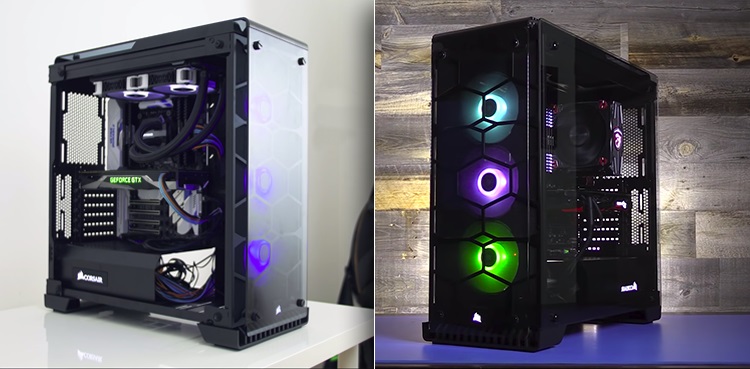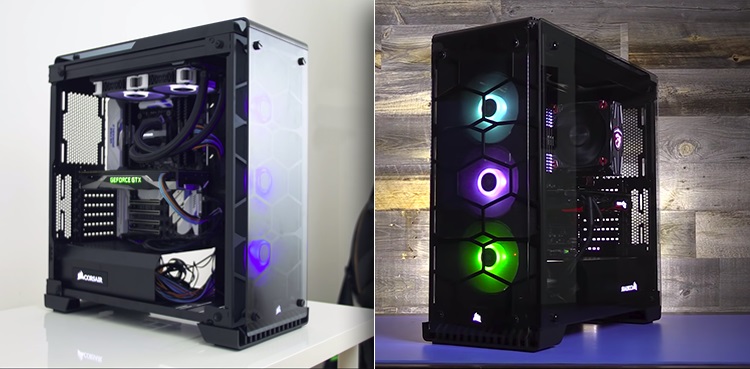 So, the number 4 here among the best Pc Cases is Corsair Crystal 570X. A mid-tower casing featuring RGB beauty covered with crystal shine of tempered glass. The whole case gives a transparent look from all sides with on display components. 570X contains 3 SP120 led fans with remote control for changing color effects. It supports up to 6 case fans of various sizes while fan trays are removable from top and front.
Velcro cable straps are included for proper routing of cables. Means cable management is not a big issue in this crystal series. The Corsair logo on the PSU tray cover is contributing more charms in its attractiveness. So far, the case is available in black color, but shining of the glass panel in combination with RGB is not less than the effect of any color. On the cooling side, case has a direct intake path on front for fresh air and supports water cooling as well.
Specifications:
Material: Tempered Glass, Steel.
Weight:
Fans: Front-2 x 140mm or 3 x 120mm, Top-2 x 120mm or 2 x 140mm, Rear-1 x 120mm.
Radiator: Front-240mm, 280mm, Rear-360mm, Top-120mm, 240mm.
Motherboard: Mini-ITX, MicroATX, ATX.
CPU Cooler: 170mm.
GPU Length: 370mm.
PSU: Bottom.
Other Best Pc Cases:
Apart from these Pc cases, there are several other models & brands which can be considered well in terms of cooling, design & budget. Like, Corsair Carbide 275R, Be Quiet Dark Base Pro 900, Lian Li Pc 011 Dynamic, Cooler Master MasterCase H500M, Thermaltake View71, and many others. I personally think that if a person is able to spend a huge amount of money on other components of Pc. Then he can surely spend a portion of the amount on a decent case too. So, I hope this review covers relevant aspects clearly & will help gamers to grab the best Pc Cases available in the market.
#HappyGaming
You may also like: Tencent Emulator settings for PUBG Mobile – Fix Lag