Best Mid Tower PC Cases to Buy in 2020
5 min read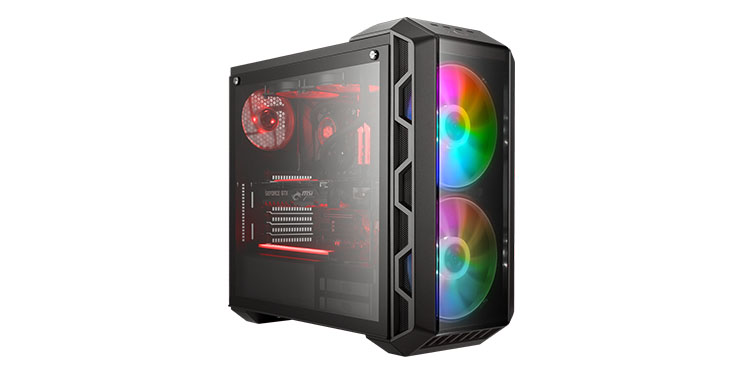 To understand the real logic behind getting a decent PC case. I always give an example to my friends that "There will be no value of Lamborghini Engine if we cover it inside a normal car body". Similarly, there will be no value of your High-End Gaming PC if you don't own a quality PC Case. So I am here to help you in choosing the best Mid Tower PC Cases of the year 2020.
Although the market is full of Mid to Full Tower Cases, but I chose the Mid Size category, as it is space friendly, budget-friendly, and easy to carry when fully assembled. Moreover, It's not a matter of looks only, a quality PC Case also helps in maintaining the better airflow. As the PC Components may easily get overheated, you need to have a proper airflow system to control the temps in order.
Read Also: Best PC Cases 2019 – Mid to Full Tower
Best Mid Tower PC Cases 2020
1: Lian Li Lancool II Mesh
Model
LANCOOL II MESH RGB
Motherboard Size Support
E-ATX, ATX, M-ATX & ITX
CPU Cooler Size Support
176mm
PSU Size Support
210mm
GPU Size Support
384mm
Fans
Pre-Installed 3 x 120mm Front Fans
Top: 2×120 or 140mm
Rear: 1x120mm
Above PSU: 2x120mm
Storage Drives Support
Behind MB Tray: 2×2.5 SSD
Behind Right Panel: 2×2.5 SSD
Hard Drive: 3×3.5″ HDD & 2.5 SSD
Above PSU: 2×2.5 SSD
Weight
Lian Li Lancool II Mesh is the best Mid Tower PC Case you can get under the budget of $200. This beautiful-looking Chasis offers every feature you may want. Lancool II Mesh includes 3 Pre-Installed RGB Fans on the front, support for others on the Rear, Top, and Bottom. Tripple Fans Radiator is also compatible with this case.
There is support for 9 HDD & SSD's on the bottom back and trays of Lancool II Mesh. Side Panel is made of tempered glass to have a look into the internal beauty of our build. Top & Bottom has dust filters and a lot of space for cable management. This case is compatible with large size CPU Coolers, GPU, and Motherboards.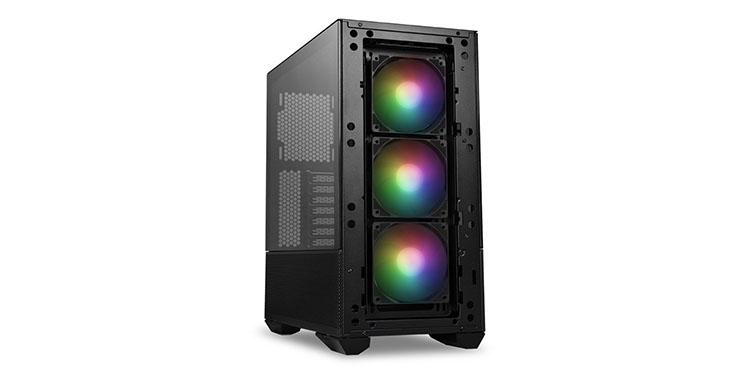 Pros
Better Airflow
Cable Management
Decent Looking
Cons
Missing Full RGB Features
Extra $15 for USB-C
2: NZXT H510 Elite
Model
NZXT H510 Elite
Motherboard Size Support
ATX, mATX & ITX
CPU Cooler Size Support
165mm
PSU Size Support
381mm
GPU Size Support
180mm
Fans
Front: 2×120 or 140mm
Top: 1×120 or 140mm
Rear: 1x120mm
Front I/O
1 x USB 3.1 Gen 2 Type-C,
1 x USB 3.0,
1 x Headset, Power Button
Weight
16.53 Pounds
NZXT is a famous name in the industry for its premium quality products especially PC Cases. NZXT H510 Elite is one among them. Totally a modern look, available in beautiful white/black color. Features Tempered Glass on 2 sides, PSU mount, better airflow, and cable management. H510 Elite offers 2 HUE 2 RGB lighting channels, and 3 fan channels.
It not only supports the lengthy GPUs of modern time but have also an option to mount it vertically. Similarly, H510 Elite supports CPU Coolers (Air) of maximum height. The I/O portion includes USB 3.1 Gen 2, USB-C Connector, 1 Headset, and a Power Button on the front panel. Overall, it is a tremendous option in the category of best Mid Tower PC Cases.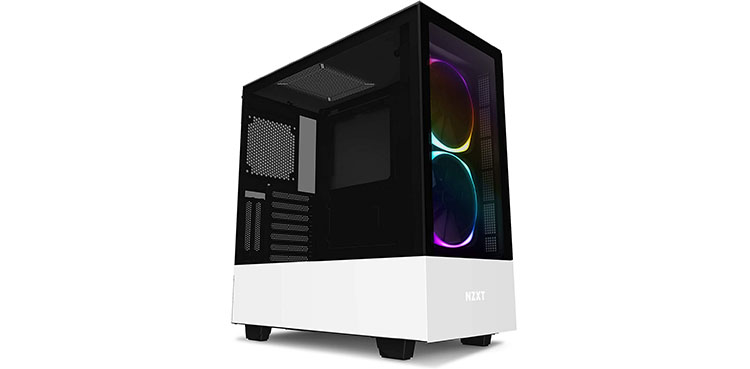 Pros
RGB Lighting Support
Premium Quality
Better Airflow
3: Phanteks Evolv X
Model
Phanteks Evolv X
Motherboard Size Support
E-ATX, ATX, Micro-ATX & Mini-ITX
CPU Cooler Size Support
190mm
PSU Size Support
199mm
GPU Size Support
435mm
Fans
Front: 3×120 or 2x140mm
Top: 3×120 or 2x140mm
Rear: 1x120mm or 1×1400
Storage Drives Support
10xHDD
9xSSD
Weight
33 Pound
A bit pricey but a decent peace of combination. Phanteks Evolv X is a great choice for Gamers to uniform their PC components in a tremendous looking case. Although it is a mid-tower pc case but supports dual PC assembling in a single box. While this all does not have any negative impact on airflow. If we talk about the looks it's a premium looking product in every aspect.
The company manufactured Evolv X in such a way that there is no wastage of space. Each and everything they designed is pretty much in order. There is tempered glass on the side panel and the rest of the other built material feels very solid. It's Front I/O includes support for USB 3.1 Type-C, 2x USB 3.0, Mic/Headphone, and RGB Lighting. 2 Fans of 140mm on the front and 1 fan of 140mm is pre-installed on the rear.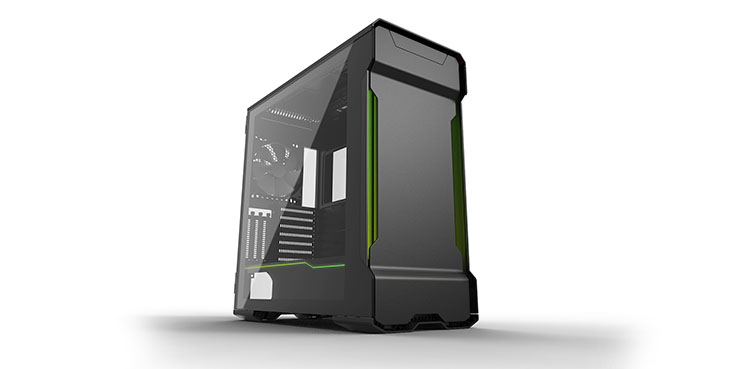 Pros
Dual System Capability
Attractive Design
Excellent Airflow
4: Cooler Master H500
Model
Cooler Master H500
Motherboard Size Support
Mini ITX, Micro ATX, ATX, SSI CEB & E-ATX
CPU Cooler Size Support
167mm
PSU Size Support
180mm
GPU Size Support
410mm
Fans
Front: 3x 120mm, 2x 140mm, 2x 200mm
Top: 2x 120mm, 2x 140mm, 1x 200mm
Rear: 1x 120mm
Front I/O
2x USB 3.2 Gen 1
2x USB 2.0
1x 3.5mm Audio Jack
1x 3.5mm Mic Jack
1x ARGB Controller
1x ARGB 2 to 3 Splitter
You can consider Cooler Master H500 among the list of best budget Mid Tower PC Cases in the year 2020. H500 offers a great airflow system, includes 2 large 200mm pre-installed RGB fans on the front. The front side is mesh and transparent while the side panel is also made of tempered glass. You can plug the fans directly into the motherboard or with system PSU.
If you are in overclocking and want something within the budget, then H500 is surely for you. Its large 200mm fans are well enough to provide efficient cooling by in-taking a sufficient amount of fresh air. Design-wise, H500 easily fulfills the criteria of decent looks. Cooler Master also included a case handle on the top front.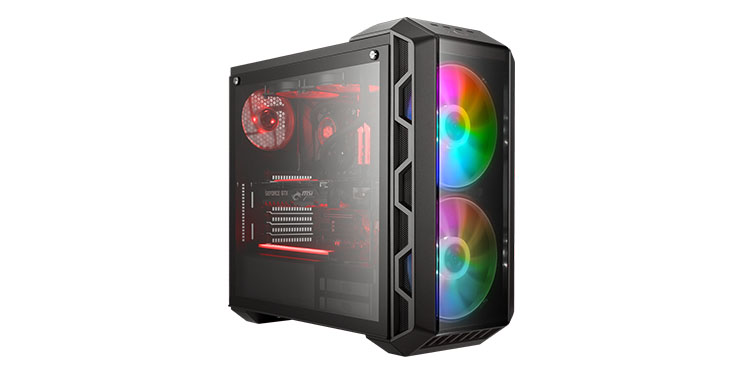 Pros
Larger Fans Support
Various Sizes Motherboard Support
5: Metallic Gear Neo Air
Model
Metallic Gear Neo Air
Motherboard Size Support
E-ATX, ATX, Micro-ATX & Mini-ITX
CPU Cooler Size Support
170mm
PSU Size Support
250mm
GPU Size Support
400mm
Fans
Front: 2x 120mm, 2x 140mm
Top: 2x 120mm
Rear: 1x 120mm
Front I/O
2 x USB 3.0,
1 x Headset,
1x Mic
RGB Button
Reset Button
Power Button
Weight
13.8 Pounds
Really short in budget.? But still want to get the best from the list of budget Mid Tower PC Cases.? Don't Worry and place your order for Metallic Gear Neo Air. It is a good performing PC case that offers good airflow through its mesh front structure. Neo Air includes 2 RGB fans of 120mm on the front while having room for more fans to add separately.
There is enough room to do cable management of your own choice. The side Panel of Neo Air is also made of tempered glass. This budget PC case is available in 2 colors Black/White. It supports lengthy GPUs, has enough height support for CPU coolers, and a lot of space for different sorts of HDD and SSDs.
Pros
Budget Friendly
Good Airflow
Read Also: Best Gaming Monitors 2020 – 1080p to 4K and 60Hz to 240Hz
I hope you liked this post about the best Mid Tower PC Cases to buy in 2020. You can share your feedback with us in the comments section below. Stay in touch with Maticstoday for getting more updates on a daily basis.
The author behind @maticstoday, working as a Digital Marketing Specialist in Codematics Inc. Writing tech-related stuff and delivering solid reviews is in his keen interest. In his free time, You will find Uzair playing video games & that's why most of the topics he writes are based on game-related stuff.