Huawei Mate 30 Pro – Full Specifications and Review
Last Thursday, after a fabulous event in Munich, Germany. Chinese Tech Giant Huawei has officially launched its Mate 30 & Mate 30 Pro. A kind of super-duper flagship device with a bunch of advanced features and exceptional hardware. Carrying Larger display with curved edges, unique camera features and placement, attractive design, solid built material, improved battery life and a lot more than its previous model smartphones.
Huawei came up with certain strategic changes this time. Although Mate 30 Pro is using Android 10 but with no more access to Google Services. As well as the availability of this new series is still undecided for top two countries UK, USA. So the conflicts between Huawei and the US have left end results certainly unexpected to predict.
Huawei Mate 30 Pro Specs:
| | |
| --- | --- |
| 1: Brand | Huawei |
| 2: Release Date | 19 September 2019 |
| 3: Model | Mate 30 Pro |
| 4: Software | Android 10, EMUI 10 |
| 5: Display | 6.53 inches OLED, 2400 x 1080 resolution |
| 6: Processor | HiSilicon Kirin 990 (1.86 GHz Octa-Core) |
| 7: Memory | 8 GB RAM, 128 GB Memory, Expandable to 256 GB |
| 8: Rear Camera | 40 Megapixels |
| 9: Front Camera | 32 Megapixels |
| 10: Weight | 198 Grams |
| 11: Sensors | Finger Print, Face Unlock, Compass, Proximity, Gyroscope, Barometer, Ambient light Sensor |
| 12: Network | 4G LTE, 5G |
| 13: Connectivity | Wifi, Bluetooth, NFC, USB-C |
| 14: Colors | Black, Space Silver, Emerald Green, Cosmic Purple, Forest |
| 15: Price | $1215, Additional $100 for 5G model |
Detailed Overview of Huawei mate 30 Pro:
Processor:
At the heart of Huawei Mate 30 Pro, there is HiSilicon Kirin 990 chipset inserted along with 8Gb of RAM. This processor is among the best and fastest chips ever in Huawei's lineup, having boost frequency of 1.86 GHz Octa-Core. Kirin 990 series is based upon 7nm technology and is 22% faster than its predecessors, it also has power-efficient features. Provides lag-free performance in term of gaming and normal usage. K990 series supports 3G, 4G, and 5G network support. Huwaei introduced this lineup of K990 in IFA 2019.
Cameras Rear/Front: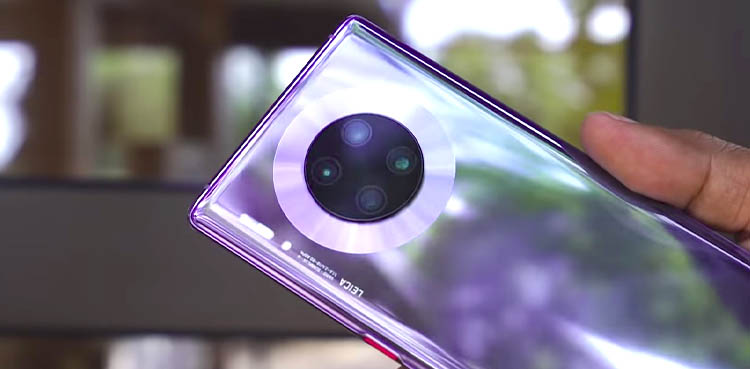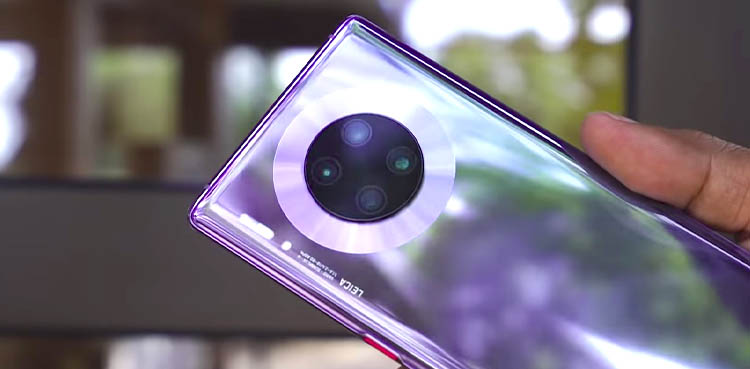 Read Also: Galaxy Note 10 – First Impression after Launch
Huawei Mate 30 Pro is packed with 4 rear cameras featuring 40MP ultra-wide, 40MP wide-angle, 8MP telephoto, and a 3d depth sensor. Huawei did this Camera's placement in between a circle (Halo Ring) giving enormous effects to the back of phone. While on the front, Mate 30 Pro has 32MP camera along with a depth sensor. Most of the brands are now putting deep focus to improve smartphones' camera as per user priority including Huawei.
Cameras perform pretty well in low light conditions using RYYB color filter for a more brighter experience. Huawei claims it as a lot more brighter than iPhone 11 Pro Max. Pictures quality captured in any mode is incredible. It can record 7680fps video in slow motion, as well as can also record 4k video at a stable 60fps. While ultra-wide lens has the capability to perform same like Huawei P30 results.
Display and Design:
Well, I honestly like this display very much, Huawei Mate 30 Pro has 6.5 inches of screen with 88 degrees curved edges. The display is pretty bright, vivid and charming one contributing an immersive effect to eyes. Not very big not very small, but a decent sort of standard in the display size.
On the right side of the phone, you will get a power button, while on left there is no volume rocker this time. Huawei introduced new virtual touch-sensitive buttons to control the volume panel. Simply double-tap on edge and here you go. An in-screen volume controller will appear to manage volumes accordingly. Most of the people may not be satisfied with this double-tap feature, but it is still a new worthy feature,
Other than that, the Headphone jack is missing, front cams are adjusted in center position widely, and back is made up of glass. Mate 30 series is water and dust resistant using IP68. Available in a variety of various pleasing colors as mentioned above. The overall design impression is solid and premium while holding in hands.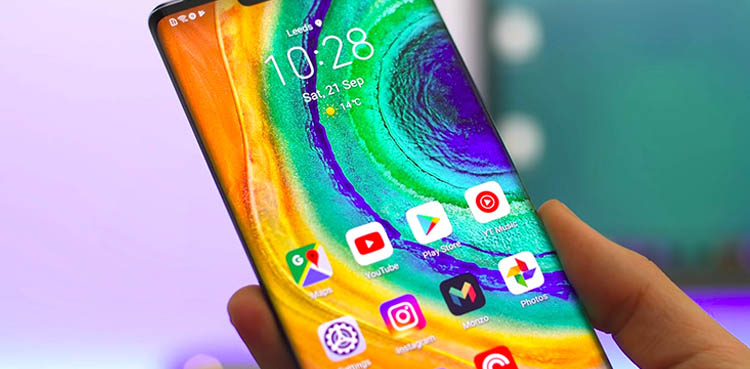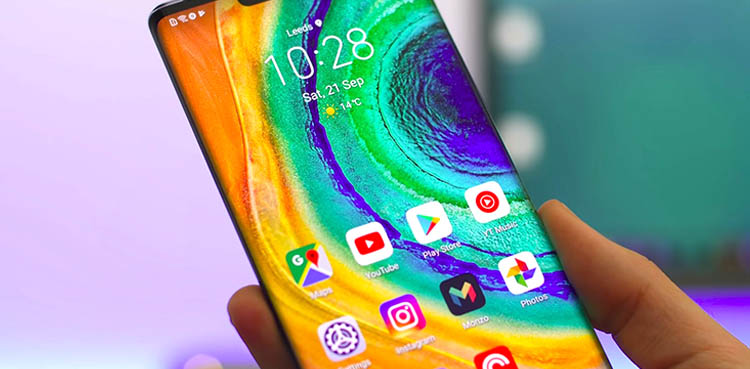 Battery Life & Operating System:
Huawei Mate 30 Pro has 4500 mAH of a bigger battery. Which may survive a whole day over apps, games and internet surfing. Mate series also features fast charging as well as wireless charging support. Huawei's smartphones often have a decent battery backup as compared to other smart devices.
Huawei Mate 30 Pro is operating on Android 10 this time with its own overlay EMUI 10. Huawei claims that the mate 30 series phones will work butter smooth on this OS with each and every relevant feature. But I am still under some concerns regarding its no access to Google services.
Although Huawei's own store has a lot of applications (45000) serving the same features, its effect on users point of view is still unexpected to conclude. Apart from that Huawei has upgraded Always-on display, dark mode, AI gestures and many more things in this version of Android.
Final Thoughts about Huawei Mate 30 Pro:
This debut of Huawei Mate 30 Pro is no doubt a new addition in the development phase of smartphones industry. Featuring powerful specs, unique and attractive design, along with huge price range. But the competition of crossing each others market share and reputation and has put down technology under country to country conflicts. Which may or may not have negative impacts over the users of Huawei's smartphones. Cutting down from Google services is for sure not a good sign and can change the flow of upcoming smartphones in the industry. Question is still there, Does Huawei will get success in this race alone or not.? We will come to know the results after some interval of time.
Don't forget to leave your feedback in the comments section with your opinion and suggestions.