Best Budget Gaming Keyboards 2019 – List of Top 5
Getting a quality keyboard to pair with Gaming Pc is not that easy as it seems to be. Especially when there is a bunch of variety available ranging from few bucks to hundreds of dollars. While you also have to keep things within a specific budget instead of spending blindly. Moreover, if you ask somebody for a suggestion, each of them will have a separate opinion. The situation becomes a bit confusing here to finalize an appropriate option among the best budget gaming keyboards.
Most of the people will probably be thinking that why I am focusing more on just a single keyboard rather than other important parts. Certainly I am not denying the importance of those parts. But a professional gamer understands this logic pretty well that how a decent gaming keyboard can improve a way of playing games. So let's jump directly towards the list of some best and budget gaming keyboards of 2019.
Top Best Budget Gaming Keyboards:
1: Corsair Strafe.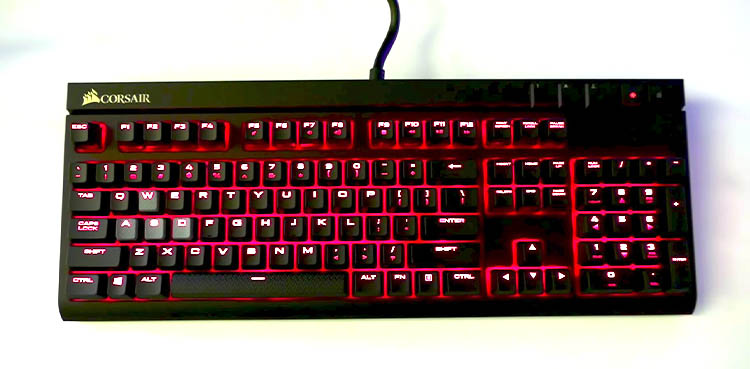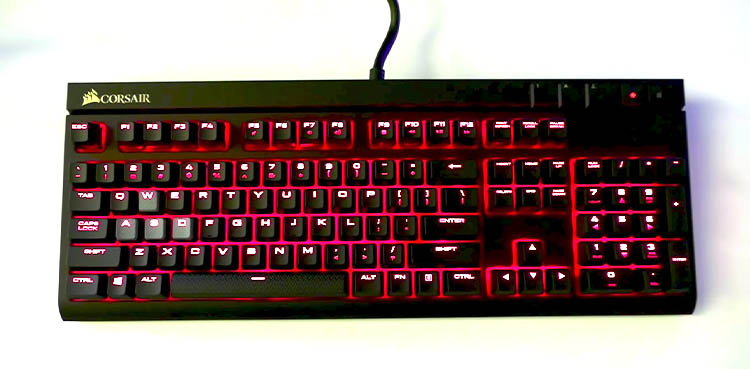 Corsair Strafe is among the best budget gaming keyboards with its remarkable performance and quality attributes. It is a beautiful looking mechanical keyboard featuring Cherry MX keys technology. This key technology is also preferred by Pro Gamers in E-Sports Tourneys. Strafe contains a red dynamic backlight adjustable in 6 different presets. While Corsair Utility Engine allows reassigning keys as per game accordingly. Strafe also has multimedia keys support with pause, play and skip audio feature.
Type: Mechanical.
Key Buttons: Cherry MX Red.
Backlight: Red Color.
Weight: 1.37 Kg.
Size: Full-Size Keyboard.
Connectivity: Wired USB.
Software: Corsair Utility Engine (iCUE).
Wrist Support: Yes.
Warranty: 2 Years.
Price: $100 (US)
2: Logitech G610.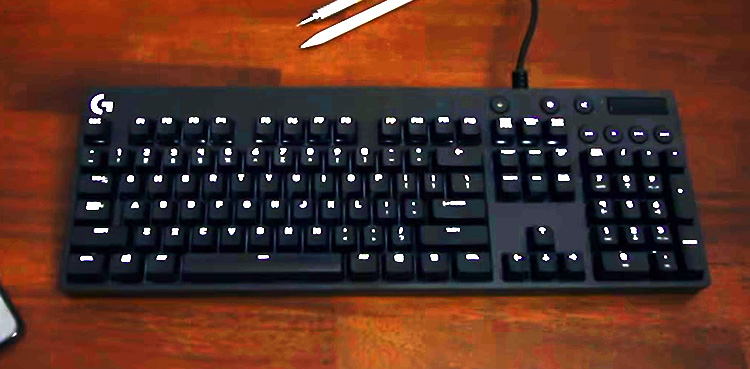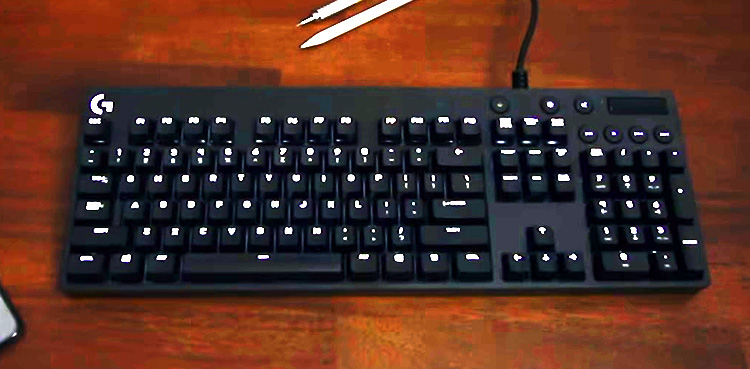 Logitech G610 is another budget keyboard you can grab to pair with a gaming machine. A well-engineered mechanical keyboard with Cherry MX keys available in Red and Brown variants. Finishing of its design is pretty attractive and solid made up of hard plastic. This keyboard is also customizable through its Software called G Hub and supports multimedia functionality. Change the pattern of lights as you want in order to experience more attractive effects. Although the keyboard is not the RGB one, but still a decent choice within the budget range.
Company: Logitech.
Keys Type: Cherry MX Brown/Red.
Weight: 1.25 Kg.
Keyboard Light: White.
Connection: Wired USB.
Wire Length: 6 Feet.
Multimedia Support: Yes.
Software: Logitech G Hub.
Price: $60 (US).
3: Razer Ornata Chroma.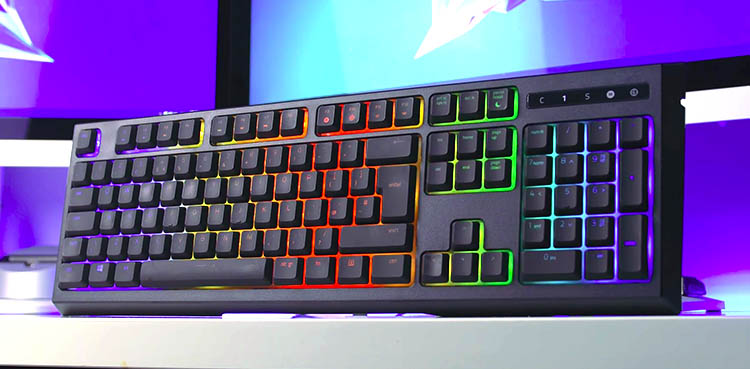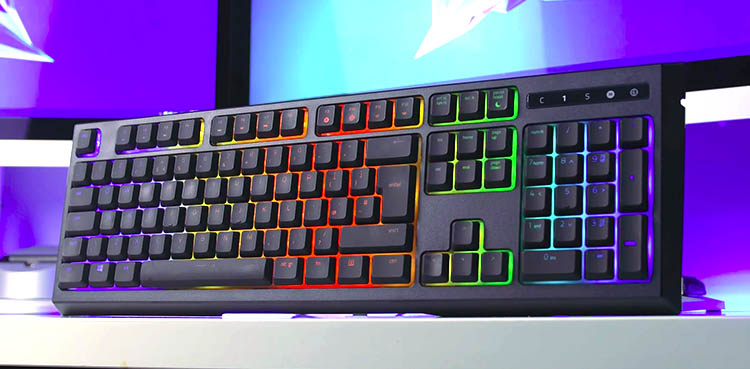 Here on number third, I have Razer Ortana Chroma among the list of best budget gaming keyboards. A uniquely designed mechanical keyboard carrying countless features. This gaming keyboard has Mecha-Membrane keys technology which provides a smooth, soft and rubbery touch feeling. While the Key-Caps are of mid-height ensuring more better response on pressing. Razer Ornata Chroma supports RGB feature having an eye-catching impact along with Chroma 16.8 million customizable options.
Brand: Razer.
Type: Mechanical.
Backlighting: Yes.
Software: Razer Synapse.
Keys: Midheight Caps.
RGB: Yes.
Wrist Rest: Yes.
Compatibility: Also with Xbox One.
Warranty: 2 Years.
Price: $100 (US)
4: Redragon K561 VISNU.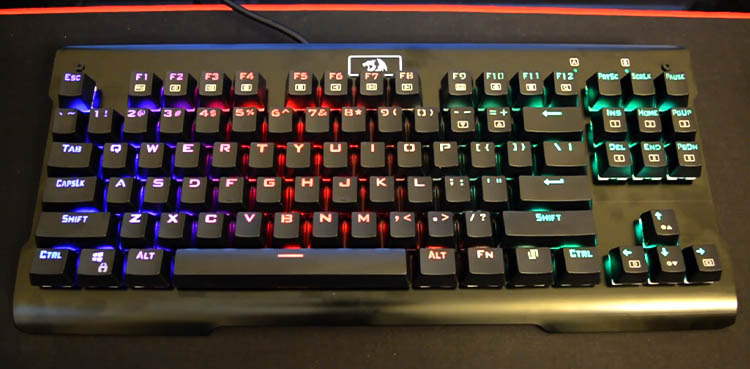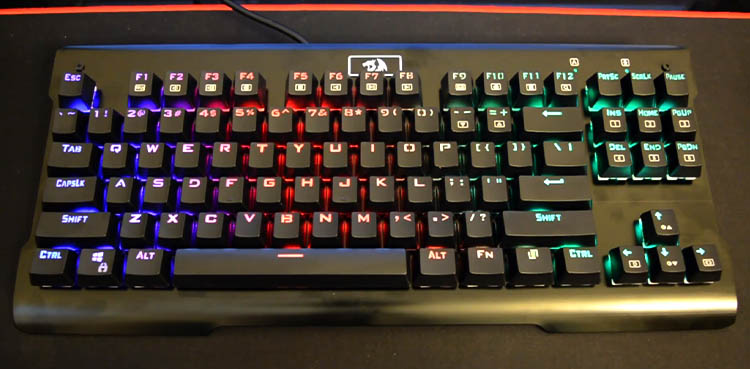 Redragon is a USA based company which makes quality gaming products and gadgets. Redragon K561 is also their budget gaming keyboard having some incredible features. It's a mechanical keyboard built up of both aluminum and plastic resulting in a strong solid product. Keys are capable of bearing more than 50 million keystrokes and are finished with a metal mate texture. This gaming keyboard has a lot to play with its color customization and themes, containing several levels of brightness adjustment options. It also contains cap extractor tool to eliminate keycaps while cleaning the keyboard.
Brand: Redragon.
Type: Mechanical.
Backlights: 18 modes.
Multimedia Support: Yes.
Connector: Gold Plated USB wire.
Material: ABS, Metal and Plastic.
Waterproof: Yes.
Weight: 0.7 Kg.
Price: $40 (US)
5: Aukey KM G6.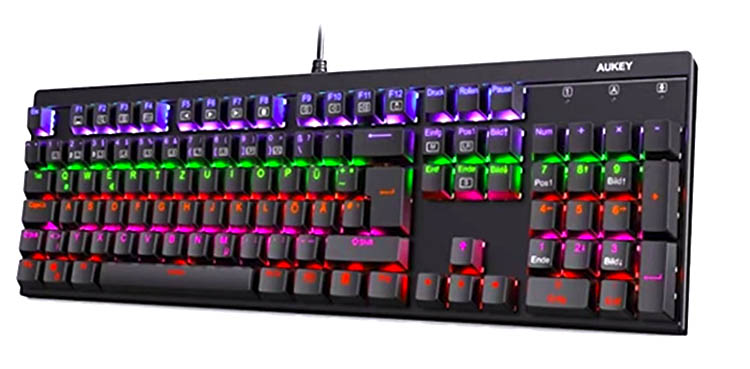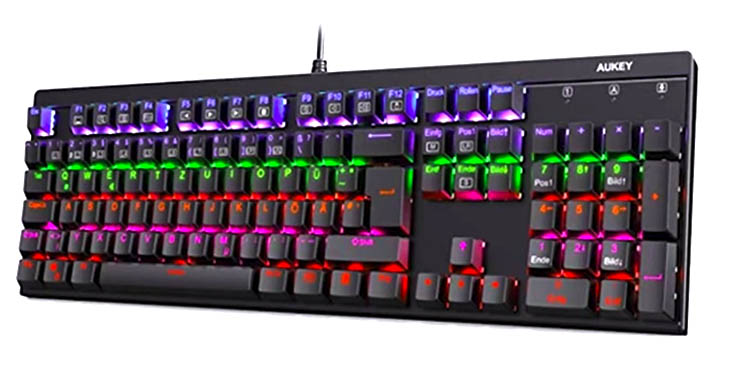 On number 5, I choose Aukey KM G6 gaming keyboard. Aukey is a Chinese Company working to make gaming products and gadgets. This keyboard is absolutely a better option to its cost among other best budget gaming keyboards. It is a mechanical one with immersive typing experience and unique colors contribution of RGB. Aukey is using Outemo Blue switches technology having similar performance with Cherry MX Switches. Built quality and design is both strong and smart while keys are bit heavier as compared to other models.
Company: Aukey
Type: Mechanical.
RGB: Yes.
Multimedia support: No.
Connection: USB wired.
Wire Length: 4.9 Feet.
Weight: 1.18 Kg.
Total Keys: 104.
Price: $40 (US)
Other best Budget Gaming Keyboards:
Apart from the above mentioned best and budget gaming keyboards, there are some other options as well to consider. Like Rosewill RK9000V2, Razer Blackwidow Ultimate, Corsair K70 LUX, Corsair K57 RGB Wireless, Logitech G613 Wireless, and SteelSeries Apex M750 TKL, etc. Some of them are old models keyboards but still performing great in all aspects. I hope this topic covered each and every related element according to the user perspective. Don't forget to share your valuable opinions and queries with me in the comment section.
Stay connected for more amazing topics.
#HappyGaming
Read Also: Budget CPU Cooler – List of Top 3 Still Performing in 2019
Read Also: Best Pc Cases 2019 – Mid to Full Tower