Samsung Galaxy Book Flex – World's first QLED-Display Laptop
Finally, Samsung fulfilled the promise they made and launches the world's first QLED-Display Laptops. Yup, the new Samsung Galaxy Book Series Laptops are now available in the US Markets. The specific models of series are Samsung Galaxy Book Flex, Flex Alpha, and Ion.
Each of the mentioned model has different specs, features, and price tags. But are packed with the latest intel's 10th Gen Processors at heart. In today's topic, I will keep my focus on the Flex Model only. Along with its detailed specs features and overall worth according to the market trend.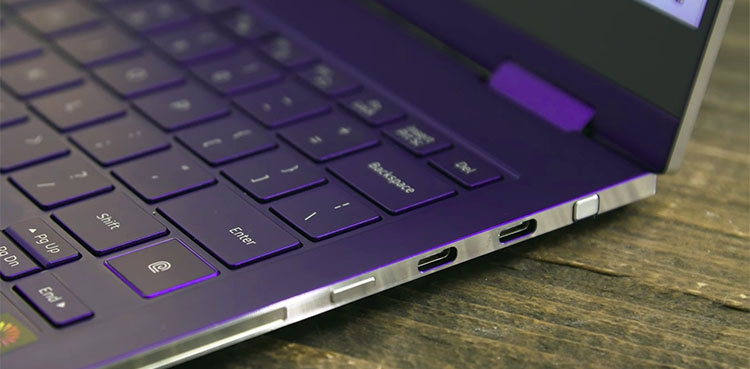 Have a Look at Asus ROG Zephyrus Duo 15 (GX550) Gaming Laptop with 2 Screens
Specs of Samsung Galaxy Book Flex
Brand
Samsung
Model
Galaxy Book Flex
Type
Laptop
Weight
1.16 KG
Display
13.3″ or 15.6″ Inches FHD QLED Display
1920 x 1080
Touch Screen Panel
Processor
Core i7-1065G7
Graphics
Intel Iris Plus
RAM
8GB for 13.3 inch
12GB for 15.6 inch
Storage
512GB SSD
Battery
69.7 Wh
S-Pen
Yes
Touch Screen
Yes
Wireless Sharing
Yes
Color Availability
Royal Blue
Price
$1,349.99 for 13.3 Inches
$1,399.99 for 15.6 Inches
Read Also: Looking for a Best TV in 2020.? Check Out this List & Choose the Best
Features of Galaxy Book Flex
Display:
Samsung Galaxy Book Series holds the title of having the world's first QLED Display Laptops. It features brightness to 400 nits in normal usage and 600 nits of brightness in Outdoor Mode. Moreover, Flex Model is available in 13.3 and 15.6 inches display sizes. But the quality is only limited to 1080p both in 13.3 and 15.5 inches models. This sounds a bit unmatching but still, QLED covers this flaw of low pixels quality.
Design and Material:
Samsung Galaxy Book Flex is no doubt a beautiful looking machine, having a slim smart, and attractive structure to see. It somehow has a resemblance to the existing Galaxy Book S and Galaxy Chromebook. Flex features a "360 Degree Hinge", that enables the machine's functionality as both the laptop and tablet. Other than that body material is made up of aluminum with a Royal Blue Color finish over it.
Keyboard & TrackPad:
Heading to this portion seems just like a normal one, but you know what.? Flex offers wireless charging share feature in its TrackPad. Yup, you can charge a device (Mobile/Handsfree) through its trackpad. Just place a smartphone over it and charge accordingly. On the Keyboard side, Flex features a smooth and decent keyboard, it's not an extraordinary one but serves pretty much to needs.
S-Pen:
Whether it's a part of the Smartphone or Laptop, S-Pen always remained our favorite. Samsung Galaxy Book Flex meets this feature pretty well. You can use S-Pen for scrolling, texting, making notes, and signing PDF's, etc. Apart from that S-Pen can be used entertainment too, like making portraits. Flex's S-Pen in features and attributes is similar to the ones we have with Galaxy Note 10.
Performance:
Well, the most notable thing to be noticed in any product is its performance. In this regard, you can consider Flex a powerful machine packed with Intel's 10th Gen Processors. 8 or 12 GB's of RAM with 512 GB of SSD and decent Graphics make combination mature enough to meet the performance scale.
Battery:
Keep in mind the offer that if you purchase Samsung Galaxy Book Flex or Ion. Your product will be the part of Intel's Project Athena Program, in return of which you will get battery timing up to 9 hours. While according to specs, Flex features a 69.7Whr battery, and the company claims that it will last longer for almost 20 hours. I don't know it's true or not, but some reviewers claim the timing up to 13 hours.
Have a look at the Video Review of Samsung Galaxy Book Flex by Tim Schofield
You may like Apple iPad Keyboard with a built-in Trackpad to release in later 2020
Read Also: Intel Horseshoe Bend – A Foldable PC with OLED Display