Google Chrome Update – Get Notified About Slow Sites
People usually get bored while staring at the display screens. Where a website is taking more time to load than normal ones. Even, many people don't know whether it's a problem with their connection or an issue with that website. Keeping in mind these sorts of frustrations, Google has a plan to implement. Which will notify users about the websites loading slower than standard load time. The new "Google Chrome Update" will show an onscreen notification like "Usually Loads Slow" when a website will load slower on Google Browser.
Despite the fact that Google Chrome itself is a slow browser that eats a lot from the machine's memory. But their strategy of honoring slow websites with a title of shame is at least acceptable by the user side. So, this Google Chrome update will highlight speed consequences and website owners will surely try to make sure the maintained load time of their websites. Let's discuss out the further aspects of this new update, its release date and how it will affect the web structure.
How Google Chrome Update will Work.?
After the successful implementation of Google Chrome Update. There will be a set of 2 formats while browsing a website. One of them will be a warning notification and second will be the green line indicator. So when you visit a website, if it is loading slower than standard time chrome will show a badge on screen with the text "Usually Loads Slow". Similarly, if a website is not slow in load time, there will be a green line indication of loading site data. That's all, the new update will work in this flow of settings on chrome browser. Look into a snapshot below to understand the operations more accordingly.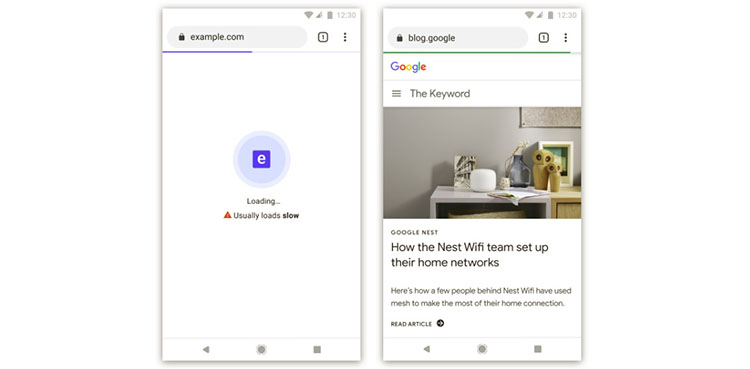 You May Like Your Phone App – Make and Answer Calls on Windows 10
Affects of Google Chrome Update:
On Users:
In a Blog Post by Google, authorities explained several related elements to improve user experience. They stated that it is among the core principles of Google to provide stable and fast browsing to chrome users. The new Google Chrome Update will identify the loading speed of website opened by user and will highlight load time consequences. In case, the website website is taking more time to load. Then the user will be notified with a warning tag on the browser screen. Other than that, If we talk about the release date, Authorities did not announce any specific time for this update to be rolled out. But it will not take much time to implement the structure. Soon Chrome users are going to see a new update in their browser by Google side. Engineers are working on more related elements of chrome to make sure smooth browsing on Chrome.
On Web Developers:
Well, If we analyze the situation from the developers' perspective. I bet none of the developer wants his website to be shown as a slow website. He will try to ensure an improved coding structure of his website to stay outside of the danger zone. Google further stated that they have visited a number of websites to evaluate their performance chart, while their Engineers are working thoroughly to make implementations more stable and accurate with WebAssembly, and Progress Web Apps. On the other hand, there are a number of tools like "Page Speed Insights", 'Web Page Test", and "Pingdom" are available online. Which can serve you accordingly well for analyzing the speed and response time of your website. Check out your web structure today to ensure it is working well with respect to Google Chrome Update. Let me know your feedback in the comment section regarding this update by Chrome.