Apple Watch Series 5 Review-The best of all Smartwatches
The Apple Watch Series 5 isn't that affordable, starts at $399 and it is almost the same watch as last years' Apple Watch Series 4. The best feature of this watch that everyone was waiting for is that it has an always-on display. Because of the always-on display, now everyone can glance at the time whenever they want and whatever they're doing. Well, it's a feature that was long overdue: The Pebble, Fitbit Versa 2, Amazfit Bip, Samsung Galaxy Watch and Google Wear OS had an always-on mode for years.
A major drawback of the Apple Watch Series 5 is that you still need an iPhone to use the Apple Watch. But if you have an iPhone already, then it's certainly the best bet. It's another great feature is that you can't find any other watch that is as quick or glance-able to respond to messages and calls. It's a tough competition for any other watch already present in the market as the best iOS watch keeps strengthening.
Any person who is presently wearing the Apple Watch Series 5 may find that it has handled the needs for the particular person in all ways but the drawback that gets you irritated is its charge that doesn't last more than a day. Obviously, it's not a perfect device in the world of wearables, but it's about as close you can get.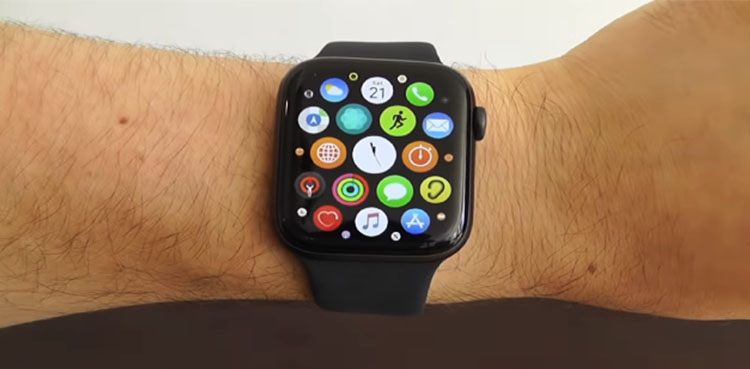 Read, Totok Spying Tool – UAE Government used this App to Spy others
Main Upgrades of Apple Watch Series 5
The main upgrades of the Apple Watch Series 5 are;
The always-on feature is the key upgrade in the Apple Watch Series 5. It is a feature that everyone was waiting to be in the Apple Watch. This feature was already present in many other existing watches like Samsung Galaxy Watch, Google Wear OS, etc.
A magnetometer (compass), which directs you in the right path when navigating with maps.
New, premium, and expensive finishes in titanium and ceramic.
An international SOS trigger on cellular watches.
If you don't need any of these new features, then you can get an Apple Watch for fewer prices too. If there is an Apple Watch Series 4 on sale then you should feel it be exactly the same as Watch Series 5 other than the always-on feature. Also, the Series 3 is available at half the price of Series 5 and is worth considering too.
What lacks in it?
The few new additions are very good but there are still some features that are lacking in the Apple Watch Series 5. These are;
A maximum battery life is of two days that is not enough as compared to other watches available.
Apple still hasn't included a built-in sleep tracking feature that other watches are having for years now.
The other drawback of the Apple Watch Series 5 is that the Apple Watch still uses its own proprietary charger and has no alternative other than that. While Samsung has found a way to charge its watches through the back of the Galaxy S10 smartphones. This alternative helps people for such moments when they are out of home and don't have a mobile phone charger along.
Last but not least, this watch still requires an iPhone to pair with it while other watches don't require their relative smartphones to operate.
You may like: Apple Google and Amazon team up to Develop Open-source Smart Home Standard
Conclusion
In the end, we can conclude that the new display is a killer feature. The always-on feature is a show-stopper for the Series 5. It's weird to look at the older versions of the Apple Watch with no always-on feature available. It's an awesome watch for those who can afford it and have a special place in their heart for Apple's Smart devices. No doubt, Apple Watch continues to be one of the best smartwatches, but it is limited by being an iPhone accessory at present.
Via: CNet