Top 10 Apps and Games of the Decade
3 min read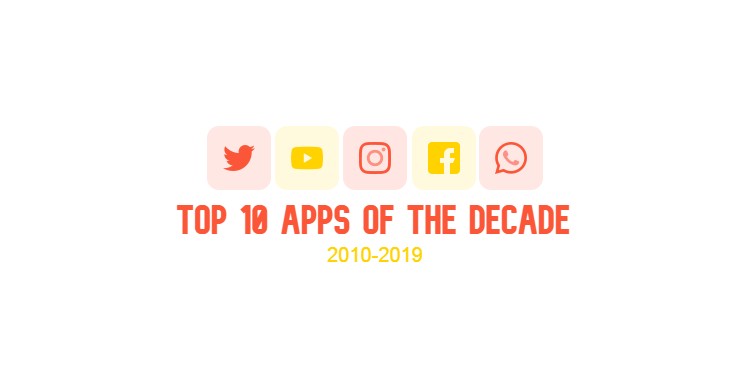 We are officially in the last week of the decade. So, let us look back at the top 10 apps and games that did well in the 2010s. App Annie's data is based on data from Apple's App Store and Google Play beginning in January 2012. Data through December 31, 2011, records iOS data only.
According to Apple Annie, Facebook owns four of the top 10 most-downloaded apps of the decade. While WhatsApp and Instagram were acquired, Facebook and Facebook Messenger are the company's own products. The Facebook app itself comes first followed by Facebook Messenger, WhatsApp, and Instagram in second, third and fourth places respectively. Here is the full list of the top 10 most-downloaded apps: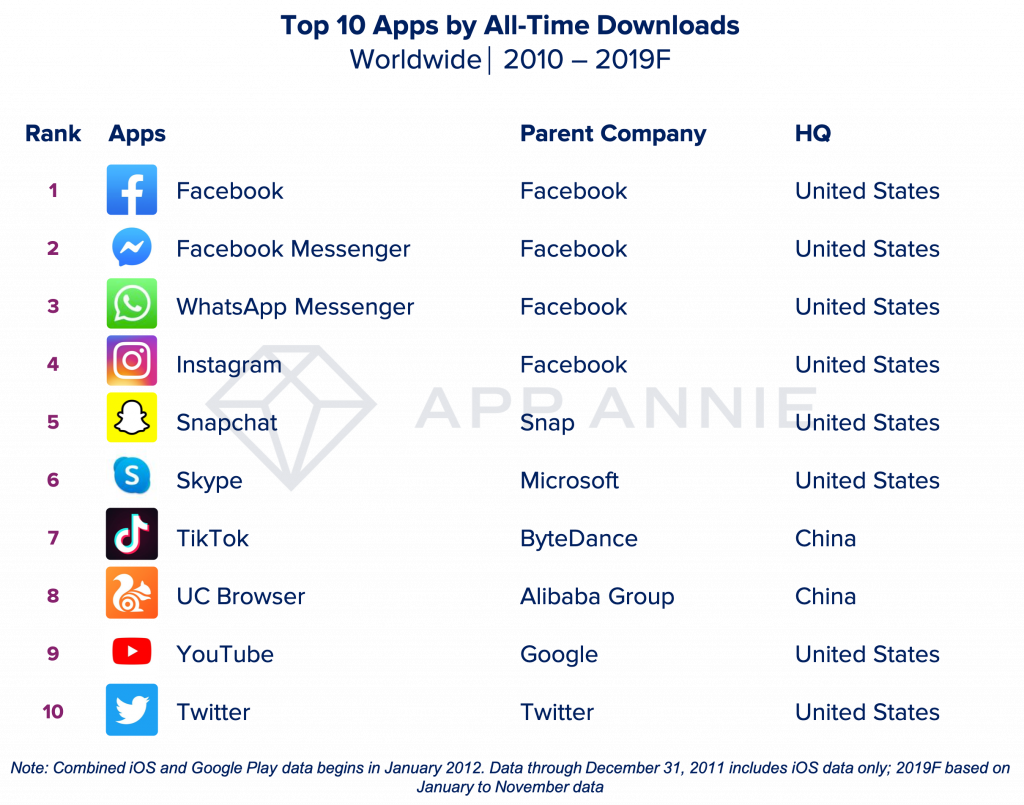 Also Read: Best Selling Video Games of the last 10 Years
TikTok's addition to the list is very noteworthy especially since the app is relatively new to the market. It has just been two years since ByteDance bought Musical.ly merged it with Douyin and released TikTok to the public. In fact, this year TikTok hit 1.5 billion downloads and left Facebook and Instagram behind as the third most popular app in the world.
Communication and social media apps are the favorites of consumers, accounting for 7 of the 10 apps. 8 of the top 10 apps are owned by American companies. This second figure is most likely to change in the next decade since China's and India's tech industry are still growing.
Top 10 Apps By Revenue
Downloads and revenue are two very different things. App Annie's report indicates that only one of the top 10 apps by downloads is also a top 10 app by revenue: YouTube.
The list is filled with subscription apps, with Netflix taking first place and Pandora Music, Tencent Video and Spotify taking third, fourth, and seventh places respectively. In terms of spending, Tinder was the most successful dating app and came in second place.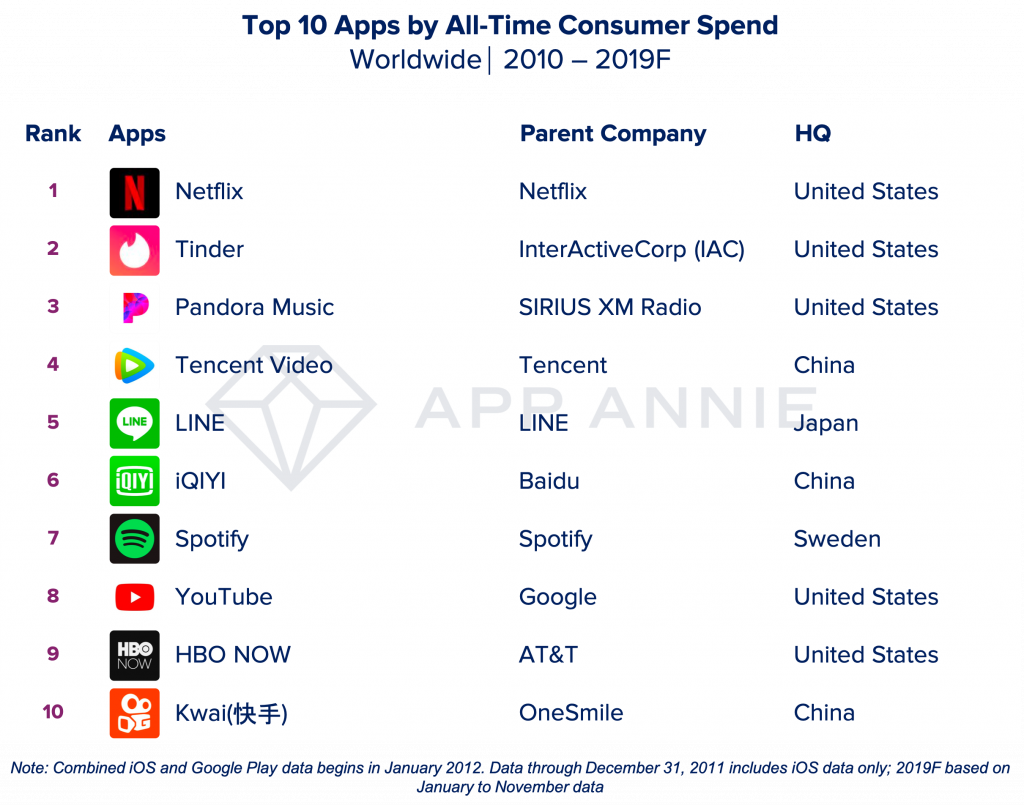 See Also: Emerging IT Companies of Pakistan – List of Top 5
Top 10 Most Downloaded Games
If you filter the list to only show games, then some of the most viral games of the decade start showing up. Subway Surfers takes first place with Candy Crush, Temple Run 2 and My Talking Tom taking second, third and fourth places respectively. Another key point to note is that Subway Surfers topped the list because of its popularity in India, which accounted for over 15% of its all-time downloads.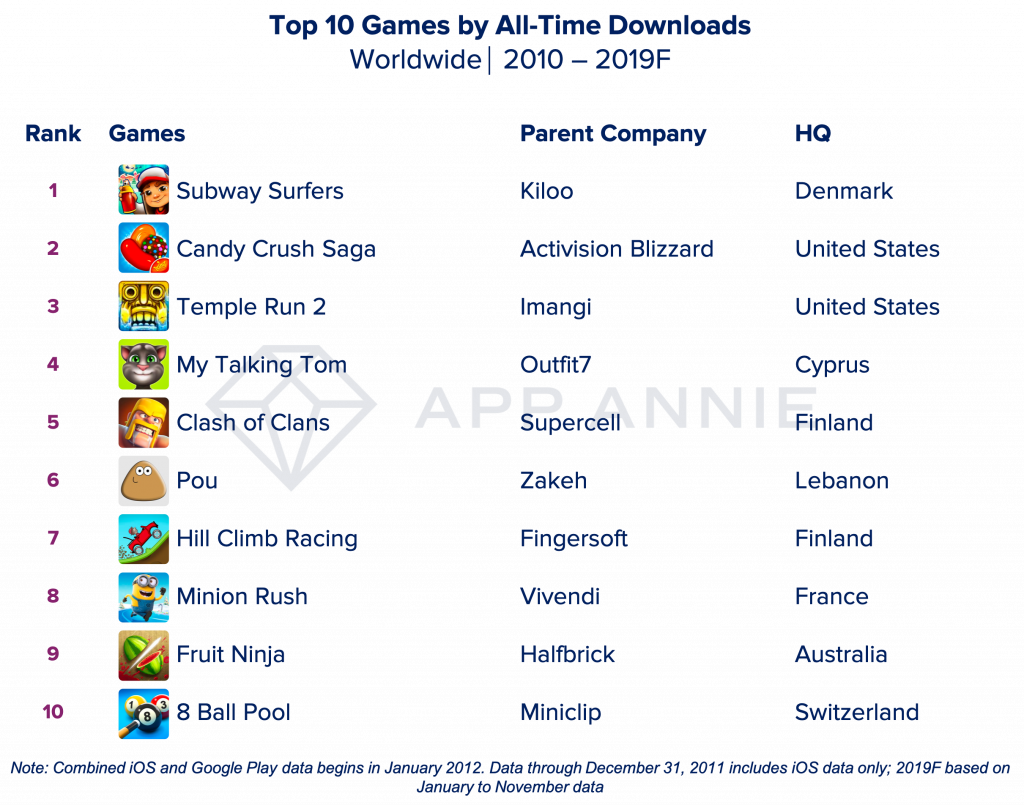 Read Also: Best TV 2019 – List of Top 5 in the Market
In terms of consumer spending, the list leans more towards battle games. With Clash of Clans, Honour of Kings, and Clash Royale coming in first fourth, and tenth places respectively. Also, according to App Annie, Clash of Clans and Candy Crush are the only two games to appear on both the top apps by downloads and consumer spend lists.
In short, App Annie says that the mobile economy is set to keep growing in 2020:
This decade has been a time of remarkable growth for the mobile economy. With a 5% increase in downloads, and 15% growth in consumer spend (excluding third-party Android) year-over-year in 2019 this looks set to continue in 2020.

App Annie
Are you surprised by any of the apps on the list? Or do you think there is an app that should have made it on the list but did not? Let us know your thoughts in the comments below! Continue to check out Maticstoday for the latest news items, product reviews, security practices, and video game discussions.
---
Source: App Annie
Javeria Qureshi is a Content Writer and Web Developer at Codematics Inc. In her free time, you can find her watching Patriot Act with Hasan Minhaj, reading books or drinking chai. Search for her articles under the hashtag #JQArticle on Twitter or LinkedIn.