Should Companies Consider Doing Work From Home During Coronavirus in Pakistan – Yes or No.?
When you have to choose one amongst two important options. It becomes extremely difficult to make a selection. The same condition applies here in Pakistan, On one side there is a risk of people getting victims of Corona Disease, while on the other side there is a possibility of an Economic Crisis. Both conditions are no less than a nightmare for the people of Pakistan.
So far, there are more than 250 Coronavirus cases that have been recorded in Pakistan belonging to various cities. Schools, Colleges and Universities are closed for an unknown period. Government has imposed a ban over public gatherings, picnic spots, and events as well. Import/Exports, Airline Operations, and various other departments are no more able to work.
Read Also: Keep your Mobile Phones Clean as they may be the Close Friend of Coronavirus
A number of Workplaces (Public/Private) during these circumstances are thinking to do their work from home. While some have already started doing so. Because the experts have recommended social distancing during the Coronavirus (COVID-19). As it is the only way to keep yourselves safe. Otherwise, the virus spreads from person to person because of close interaction in public places.
But it also creates several question marks especially for countries like Pakistan. Where the economy is already struggling, there are no resources in government wallet. So, What would be the impact of complete lockdown over the Economy? Today, I am going to talk about the expected consequences if Companies choose or do not choose to Work from Home in Pakistan.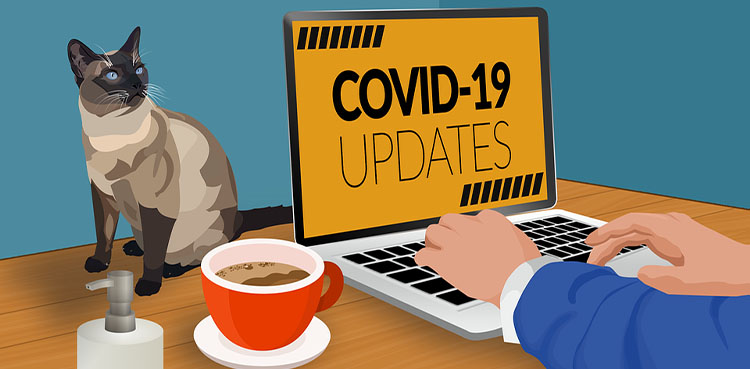 Doing Work from Home – Yes or NO.?
Let's suppose the Companies in Pakistan adopt Work from Home option. Wow, its good to see that because staying at homes will keep them safe from Coronavirus. But wait, Is it acceptable for all of them to work remotely.? Absolutely not, because none of the sectors other than IT is capable to manage all the operations remotely. Like Banks, Medical, Industries, Construction, and Customer Care Companies. These nature of workplaces demand proper communication, paperwork, and usage of office machinery, etc. Which is not possible without the physical presence of its employees. So, you have to go back at work tomorrow morning.
Now let's suppose one more situation, where people are sitting & doing their work in offices as they normally do. This may have a risk of spreading Coronavirus more faster than any other way. Because people under a single roof usually have close interaction with each other, they spend a number of hours there, even they do lunch together and share finger touched items with each other. So, when there will be an increase in the number of Corona Victims, there will be an automatic decrease in the number of health facilities, like Doctors, Hospitals, and Medical Equipments e.t.c. When there will be lack of health facilities, the Government will need to invest more (which we don't have). As a result, Corona will get stronger economy will fall down completely.
Read Also: Discord is Increasing Number of Viewers Limit for Live Streaming because of Coronavirus
So What Should We Do.?
Here instead of saying Yes or No, I would only say that prevention is better than cure. Scientists are 24/7 busy in finding a suitable solution to Coronavirus Disease. Till then, we have to take care of us and also the people around us. The companies which can perform their operational activities from Home without any major issue. They absolutely should do so, while the companies which can't handle work from home. Their employees must follow all the precautions before going to work and during working hours.