Reddit brings Chat Rooms for Subreddits through a "Start Chatting" button
Reddit is an American social news aggregation, web content rating and a discussion website. It is used by millions of people around the globe. Recently, it is revealed today that Reddit is launching an interesting new chat tool. The chat tool known as Reddit Chat Rooms will allow you to connect with different people in small groups. This feature of Reddit, within popular subreddits, will allow users to start small group chats and to communicate with each other more easily.
Read: iPhone SE Uses the iPhone 8's Camera, New Teardown Claims
Chat rooms remind us of the old times from the 1990s. It was when this feature was the reason for most of the people to use the internet. Thankfully due to Reddit, now people can enjoy chatting with each other in small groups (in other words, chat rooms) again.
How to Create Chat Rooms in Reddit?
Users can enter into a chat room by clicking the "Start Chatting" button. Once you click on the button, it will randomly match small groups of up to seven users within a given subreddit. It creates a group thread for whoever wants to chat. Once a chat room is created, you can then exchange messages, swap GIFs and even share posts.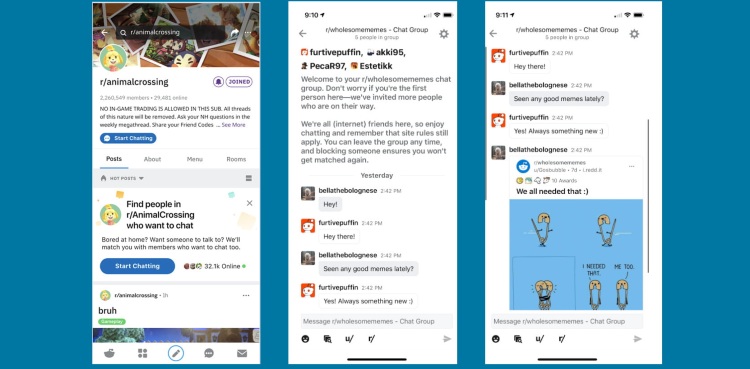 From the start of the year 2020, Reddit has seen a sharp projecting point by up to 80% in the use of chat rooms. However, this new chat rooms feature differs from the existing chat rooms of Reddit in a few noticeable ways. For you to understand it easily, the Start Chatting button is designed for Moore intimate discussions and talks with smaller groups. Rather than it works like a chat room for all the members of the community. Alex Le, Vice president of Product and Community at Reddit says that;
This is the most connective feature that Reddit has added in light of COVID-19, and we'll continue to introduce products that bring together and inform users in a beneficial way so that we can all get through this together.
Also read: Leaks Reveal Samsung to be working on a phone having Pop-up Camera
Reddit has already been testing this feature with different subreddits. It has seen a significant increase in the use of chat rooms. That is why it came up with a more personal type of chatting tool. Now the Start Chatting feature is being rolled out to about 16,000 SFW subreddits. It will also continue to spread widely in other subreddits in the coming weeks. This feature will effectively help smaller groups of Redditors with similar interests to interact in a better and easy way.
Via: Digital Trends