PITB Launches an Online Licensing System App named "Rasta" in Gujranwala
Punjab Information Technology Board (PITB) in collaboration with the City Traffic Police successfully launched its mobile app named "Rasta". This app basically provides common people with an online licensing system and many other benefits. It also focuses on aiding people with daily traffic-related issues. Rasta app launched by PITB is available for people having both Android or iOS devices. Also, an important factor to note here is that it is currently activated for residents of Gujranwala.
Read: My Zong App is back with Some Exciting New Features
PITB announced the new of launching the app through a tweet today saying;
The Rasta app facilitates the citizens with the following mentioned features:
Traffic Advisory
Route Planner
Challan Payment
E-License
My Challans
E-Driving Test Scheduling
Traffic Feedback/Complaints
My License Info
My Car Info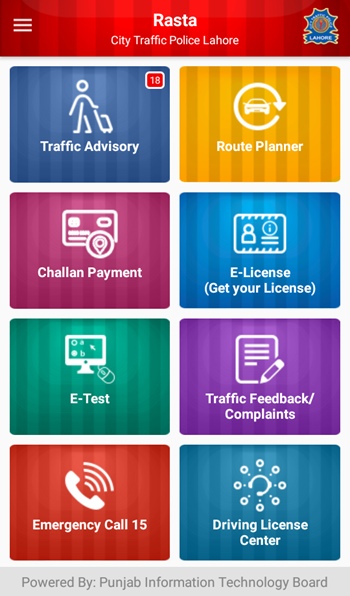 Rasta App by PITB gains Massive Appreciation
Basically, the application is designed to facilitate locals in various traffic police-related domains. It also comes with integrated Google maps. With the help of maps, citizens can easily decide routes and traffic areas. Also, you can gain prior information on the intended traffic updates for trouble-free driving. Moreover, PITB launched the Rasta app will help users through congestion points during the commute.
Not only this, but PITB also says that the Rasta app will be timely updated for all types of protests, sit-ins, and the emergency situation on the roads. Rasta app will reach the users via continuous traffic updates so that users can timely update their apps. The notifications alerts can also be turned off when the app is not in use.
Also read: After Microsoft, now Twitter Allegedly wants to Buy TikTok,
PITB officials also said that the app has received massive appreciation and applaud from the users and other government officials. Citizens of Gujranwala have appreciated the app thanks to its multiple use cases. Punjab IT Board has said that the app will be launched in other cities of Pakistan too but the exact launch date has not been confirmed yet.
Via: ProPakistani