Oppo is working on a Smartphone with Li-Fi Technology
We all know that Wi-Fi has been the standard in smartphones for over a decade now. Wi-Fi seems to be the best option where high data usage and a stable connection are needed. They are also considered more stable and reliable as compared to the 3G and 4G networks. But now, it looks like a smartphone company Oppo is working on something even faster. According to the latest patent, Oppo is working on a smartphone that will come with Li-Fi technology. This technology has been in progress for years as an alternative to Wi-Fi.
Read: LiFi Technology – Is it the New form of Wi-Fi?
LetsGoDigital has allegedly revealed a patent published in China. It details an Oppo phone design with Li-Fi connectivity instead of the Wi-Fi. By looking into the images uncovered by the patent, it can be seen that a tiny sensor is placed at the top of the Oppo smartphone or on the back to provide Li-Fi functionality. What I just said can be understood from the images given below.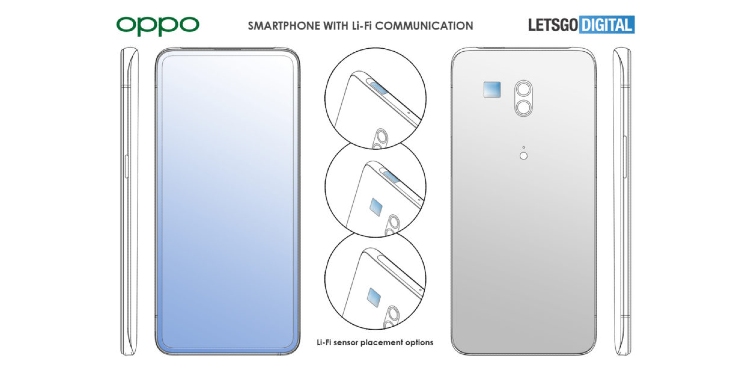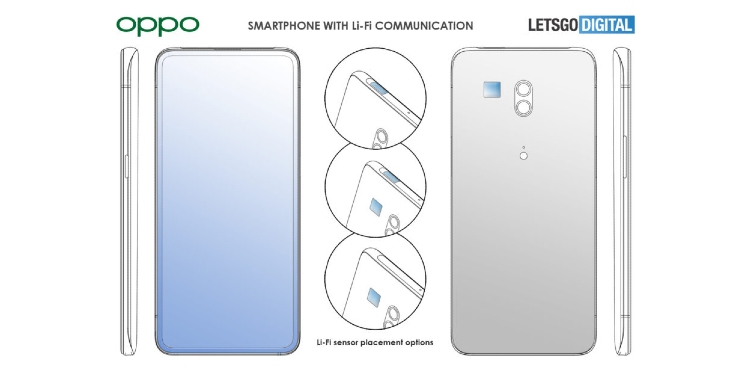 How Oppo Smartphone will use Li-Fi?
Now let's talk about Li-Fi technology as many of you might not know what Li-Fi actually is. Li-Fi (short for Light Fidelity) is a wireless communication technology, which uses visible light instead of radio frequencies to transmit and receive data between devices. Li-Fi boasts that unlike Wi-Fi it can deliver speeds of up to 224 Gbit/s and that's seriously a lot. Now let's look at how Li-Fi technology actually works.
Li-Fi sensors unlike Wi-Fi modules are put on the outside. It needs a strong light source to transmit data via light. This is why it considered to be more safer and reliable than Wi-Fi. Existing LED bulbs can be equipped with Li-Fi via a microchip. With this, lights flicker rapidly in order to transmit data to the device. The transmitting light flickers so fastly that it appears to be on all the time. Although the light needs to stay on to transmit the data over Li-Fi. It can be dimmed to appear off to the human eye.
The smartphone by Oppo in the patent revealed by LetsGoDigital features a dual-sensor camera setup in the back. Since the patent focuses on Li-Fi technology, Oppo might change the design if it actually wants to make the smartphone. Furthermore, the small O-Dot at the back also kind of ensures that this smartphone will launch within the relatively new and highly unconventional Reno range.
Also read: Samsung Galaxy M01 Core is the Most Affordable Phone in India
Oppo hasn't yet officially announced whether it is really working on a smartphone supporting Li-Fi technology. We will only be known about it once Oppo confirms regarding Li-Fi based smartphones.
Via: Android Authority