Best Drone Cameras You Can Buy in the Year 2020
Capturing each and every moment just above you from the sky is no doubt a tremendous feeling. It's all possible because of Drone Cameras, which features capturing the views from a variety of greater angles. So here, the value of Drones become valuable in actual. Otherwise, it is not suitable to bring your mobile phones or cameras up in the air. Professional Video Graphers have also shifted their choices towards drones, because of its super cool features. So today, I thought to go with the list of best drone cameras available in the year 2020.
Before moving towards the topic, keep in mind one thing that, you need to be an expert in operating drones. As it is not a toy for beginners, its fast-spinning blades may be harmful if not operated well. So, if you are a beginner stay away from operating drones in crowded areas until you get full expertise in understanding its control. Moreover, you need to register yourself with concerned departments in the USA and UK for flying drones in the areas you want. There are certain criteria that need to be fulfilled regarding the total weight of drone and user expertise.
Read Also: Best Laptop Cooling Pads You Can Buy in 2020
Best Drone Cameras 2020
1: DJI Mavic Pro
If you search for the best drone cameras, DJI Company will appear on top of the search list. Yup, they have a variety of tremendous drone gadgets out there. While a number of Professional Videographers/Photographers recommend DJI Mavic Pro as the best Drone Cam. It really owns great features, 12 Mp Cam, Sensors, WiFi, GPS, GLONASS, and Better Battery Life. Compact in size/weight as well as foldable (to the size of a small bottle). So the ease of portability is not a big deal for DJI Mavic Pro Drone Cam.
Other than that, DJI Mavic Pro offers a speed of 64km/h along with the addition of the OcuSync Transmission System that provides the transmission range of 7km. This drone is well enough to record 4k videos and images with great stability and perfection. Active Track and Tap Fly features to make sure the overall stability of video recording during the time it flies. There is also a great feature added by the company to avoid the obstacles during flying with the help of its fast working sensors.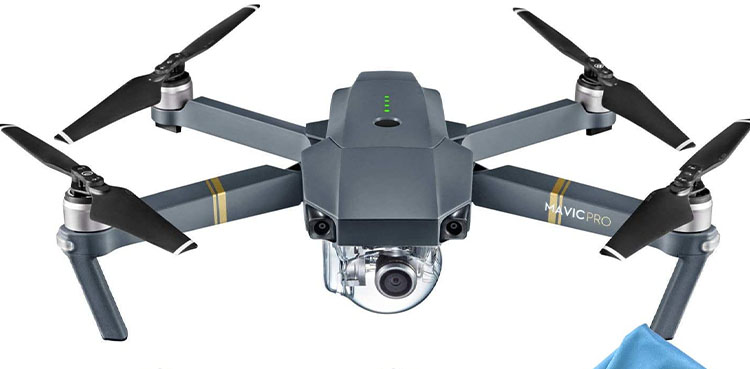 Pros
Affordable Some How
4K Video Recording
20 Plus Minutes Battery Life
Foldable
Great Sensors
Cons
Smartphone for Control
Unstable during Wind
2: DJI Phantom 4 Pro
We can call this beast a premium drone cam packed with the most advanced features of its time. DJI in previous years took the market by storm with its Phantom Series Drones. While Phantom 4 Pro is also a great choice to go with if you have no problem with your budget range. This camera is equipped with 1 inch 20 Mp cam being able to record 4k videos at solid 30 & 60 FPS (Frames Per Second) as well as clear images. Its transmission range is up to 7km and battery life is nearly 30 minutes.
Phantom 4 Pro also features avoiding obstacles from 5 directions with the help of its powerful stereo vision sensors. Moreover, there is also a remote control included in the box having a 5.5 inches 1080p built-in screen. This Remote Control offers battery timing up to 5 hours. While the functionalities are based on the built-in DJI Go App. Apart from that, its flight mode features various options like Draw, Active Track, Return Home, Tap Fly, and Gesture. So it can make the recording flight pretty much advanced and stable.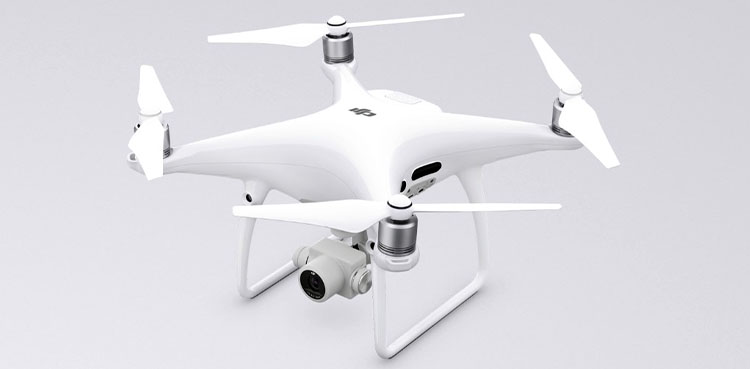 Pros
1 inch Camera Size
5 Directional Sensors
30 Minutes Battery Life
4k at 30/60 FPS
3: Autel Evo II
The Autel Evo II Drone Camera is capable enough to take the place in the list of best Drone Cameras of 2020. It features a 48 Mp camera based on a Sony IMX586 sensor that can record videos in 8k resolution at 25 Frames Per Second. It also has an option to shift between 8k and 6k mode. Other than that, the overall weight is totally light, battering timing is nearly 40 minutes, the structure is also foldable but not like Mavic Pro (discussed above). The maximum speed it gains is 72kph while the transmission range is 9km.
If we talk about directional sensors, Autel packed Evo II with 12 directional sensors to avoid any kind of obstacle from any direction. Even some of its sensors have an operational advantage over the DJI drones sensors. Evo II comes with a remote control having a 3.3 inch OLED screen. It means there is no need for a smartphone to connect with a drone system. Autel Evo II also offers all the tracking options like DJI best drones do to keep the images and videos stable and perfect.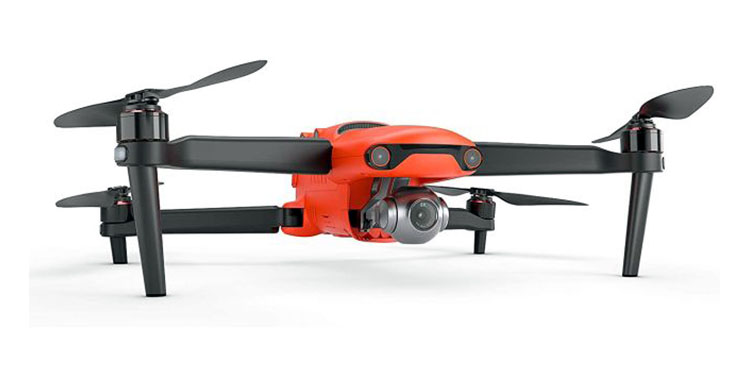 Pros
8k Video Recording
12 Directional Sensors
Battery 40 Minutes
4: Ryze Tello
Ryze Tello is on number 4th in the list of best drone cameras of 2020. It is a mini size gadget that easily meets the requirements of registration in the United States and the United Kingdom. This cam well suits the kids and beginners, while the features it offers are pretty much up to the needs. It also belongs to the DJI but in the category of its best budget drones. Ryze Tello features an HD cam of 5 Mp, that can record videos in 720p resolution. Its flight time (battery) is only up to 13 minutes but still sufficient or beginners or kids.
Other than that, this mini Quadcopter is equipped with an image processing system that can take high-quality photos at a resolution of 2592×1936 (EZ Shots) and record videos using 2 antennas to make them more stable. There is no remote control with Tello, so you need to connect it with a smartphone for operations. Well, this is the only cheap drone that I find suitable in terms of quality and features. The rest of the others are for professional people who may want something more than the features of Ryze Tello.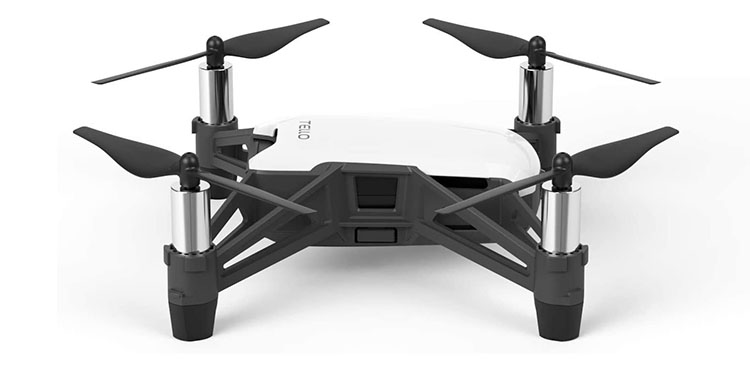 Pros
Totally Budget Friendly
Suits Kids and Beginners
Read Also: The Best Wireless Security Cameras You Could Buy in the Year 2020
So guys, that was a list of some best drone cameras of 2020 available in the market. I hope you liked the post if you are planning to buy any of them from Amazon. Make sure to buy it through our link, we will get some percentage of commission from Amazon. You can leave your feedback in the comments section below.