Best Fast Charger to Buy for Android Phones or iPhone
Whether you own an iPhone or Android Phone, having fast charging support is everyone's first priority. Because in modern times, nobody has that much time to wait long for a phone charging. They just need the phone charged within a suitable time frame. While it comes possible only when you own a fast charger for android or iPhone.
For fast charging support, you just need to fulfill some basic requirements like, Does your phone supports fast charging.? Do you have a quality fast charger in terms of watts and power.? So let me tell you that, Samsung Galaxy Series from S6 & iPhone Models from 8 to onwards have fast charging support. While for the best fast chargers, check out the below list.
Read Also: Best Smart Backpack You can Buy in Year 2020
Best Fast Charger for Android/iPhone
RAVPower 61W PD 3.0 Fast Charger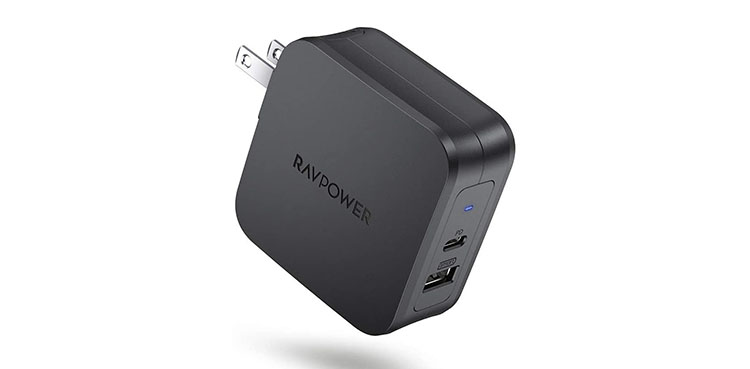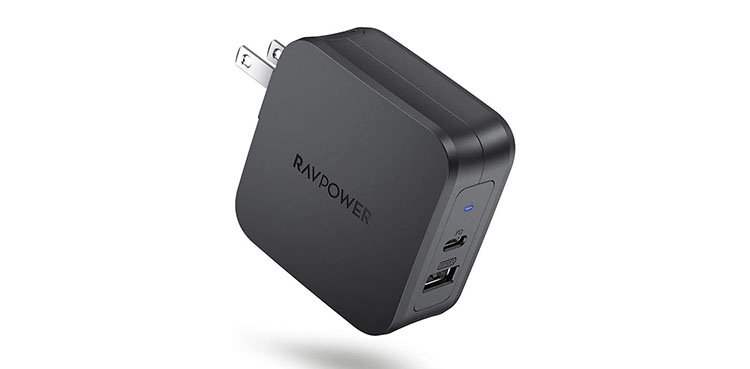 View on Amazon
COMPATIBILITY:
Samsung
Samsung Galaxy S10+, Samsung Galaxy S10, S10e, Samsung Galaxy S9, S9 Plus, Samsung Galaxy S8, S8 Plus, and Note 8.
iPhone
iPhone 12, 12 mini, iPhone 11, 11 Pro, Max, XS, XR, iPhone X, iPhone 8 Plus, and iPhone 8.
RAVPower manufactures quality fast chargers ranging from low to high watts. This fast charger features both USB-C & USB-A ports, 61 watts & 12 watts output, and Power Delivery (PD) 3.0.
Moreover, the company uses iSmart 2.0 technology that optimizes charging speed for USB-A supported devices. It is the best compatible Fast Charger for Android phones, iPhone and Laptops, etc with full performance efficiency.
On the safety side, the built-in safeguard features of this fast wall charger provide extra protection from overheating, overcharging, and short circuits. So overall, you can go with RAVPower Fast charger without any hesitation.
Pros
USB-C & USB-A type support

Compatible with multiple devices including laptops

Charging Speed Optimization

Safety Features
Cons
Will deliver only 45w in USB-C port while charging at the same time with USB-A port too.
Samsung 25W Fast Charger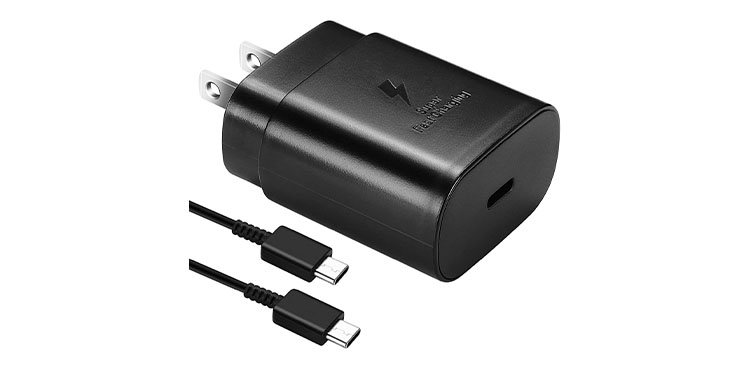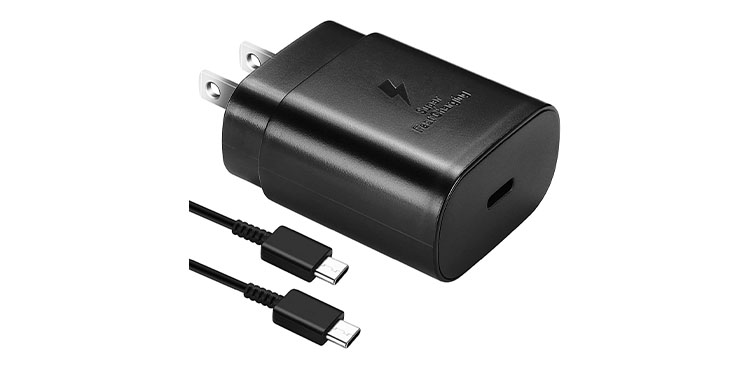 Compatibility
Samsung
Samsung Galaxy S20, Galaxy S10 5G, Galaxy Note 10, Galaxy Note 10 Plus, Galaxy Note 20, Galaxy S9, Galaxy S8 and Samsung Galaxy S10e.
This Samsung 25W charger is super affordable, super-fast, and a quality product. It is a USB-C charger with Power Delivery (PD) 3.0. Can easily charge High-End Galaxy Phones up to 50% in just half an hour.
Compatible with a bunch of Android phones from different brands. This charger also ensures safety features like protection from overeating, overarching, and short circuits.
Moreover, there is a 5 feet long USB-C to USB-C charging cable in the box. That means it also has to charge support for iPad Pro models. The overall rating is positive for this product if you want to purchase it.
Pros
Super Fast Charging

Safety Features

5 Feet USB-C to USB-C Cable

iPad Pro Charging Compatibility
Cons
Fast Charging issue with some specific models.
Quntis iPhone Fast Charger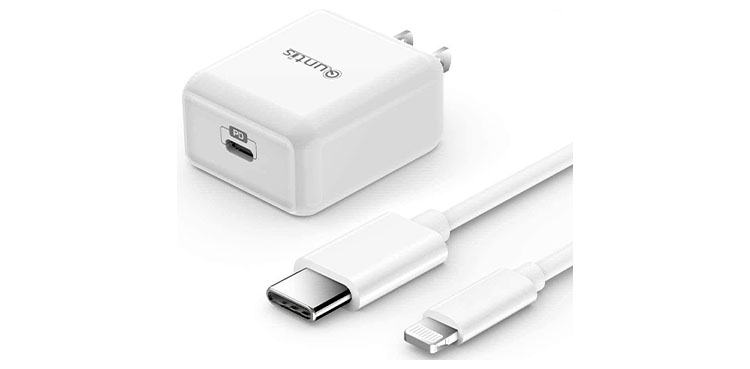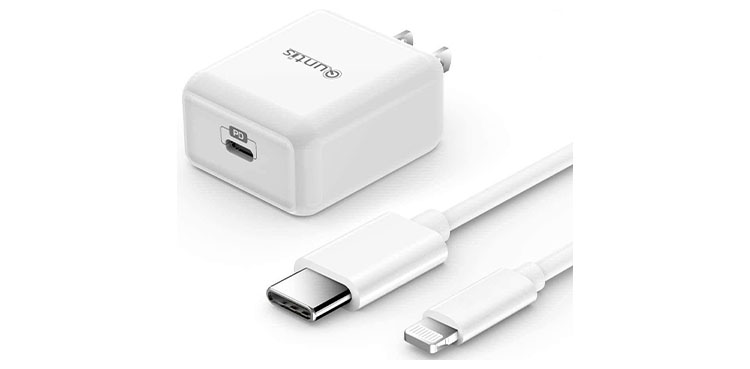 Compatibility
iPhone
Apple iPhone 8, 8 Plus, X, XS, XR, XS Max, 11, 11 Pro, 11 Pro Max, iPhone 12, Apple iPad Pro 10.5, iPad Air3 10.5, and iPad Mini 5 7.9.
Well, the company claims this 18W charger 2.5 times faster than the original iPhone charger i.e; 12 watts. While the main notable points are its fast-charging compatibility with iPhone 12 and lightning connector (MFI Certification).
MFI Certification means the compatibility with devices that supports lightning connector. On the safety side, Quntis this fast charger is ETL certified that ensures protection from short circuits, overheating, and overcharging.
Apart from that, Quntis Charger comes with 6 feet long charging cable. Both the charging cable & adapter are high-quality products. You can choose this charger if you really want something durable and reliable.
Pros
iPhone 12 Fast Charging
MFI Certified
ETL Certified
6 Feet Charging Cable
Cons
Overheating with some iPhone Models
ZeroLemon 18W Fast Charger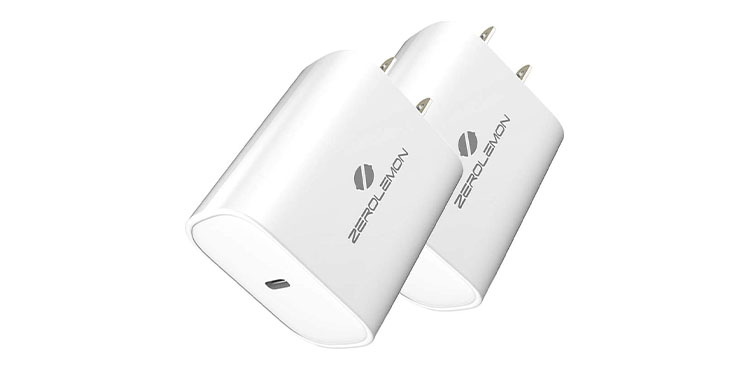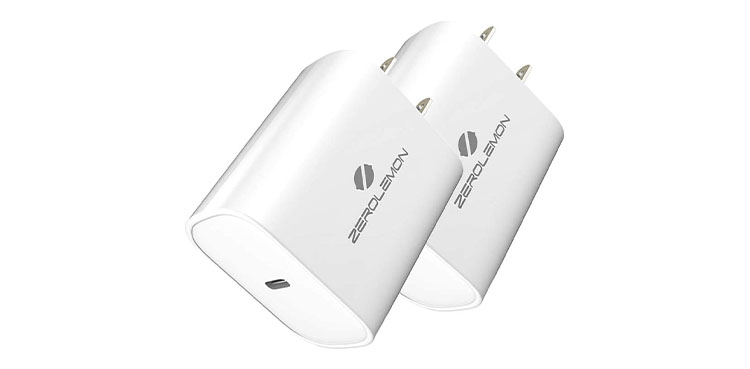 Compatibility
Android
Samsung Galaxy S20, S20 Ultra, S20 Plus, Galaxy Note 10, Note 10 Plus, Galaxy Note 10, 9, 8, Galaxy S10, S10 Plus, Galaxy S9, and S9 Plus.
iPhone
iPhone 12, 12 Pro, 12 Pro Max, 12 Mini 12, iPhone 11 Pro, 11 Pro Max, iPhone XS, XS Max, iPhone XR, X, iPhone 8 and 8 Plus.
This wall charger manufactured by Brand ZeroLemon is a Type C fast charger that offers 18 watts of output, Power Delivery (PD) 3.0. It supports both the USB C to C and USB C to Lightning Cable.
The charging adapter itself is small and light-weighted. But is compatible with the high-end smartphone models. Like this fast charger is best suited for the latest Android (Galaxy S20 Ultra) and iPhone Models (iPhone 12).
Similarly, If we talk about the safety features it offers. There is complete protection from overheating, overcharging, and short circuit risk in this wall fast charger. You can easily trust its quality and performance.
Pros
Fast Charging

PD 3.0

Full Safety Features

Latest Models Charging Support
Read Also: Best Wireless Doorbell You Can Buy in Year 2020
I hope you people liked the topic about the best fast chargers for Android and iPhone. Leave your thoughts in the comments section below the post. Do Share the link with others in your social circle with friends and family members. Maticstoday always tries to provide its readers with the best products review in terms of quality, durability, and reliability.