Best Binoculars With Camera You Can in 2021
4 min read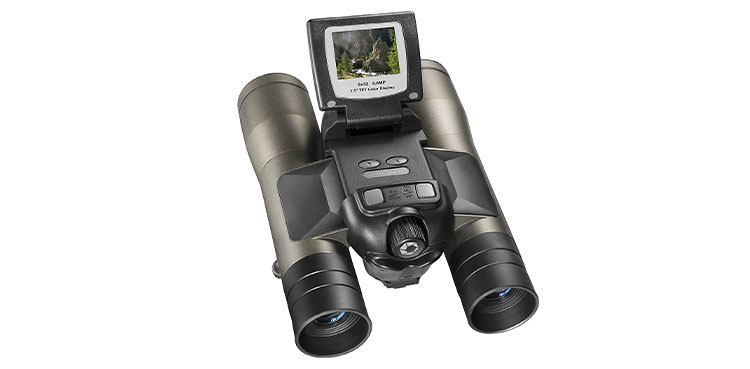 Binocular is definitely the best invention of its time. It made it possible to reach those viewing limits that were not possible to reach through a normal human eye. While from time to time binoculars got various improvements and upgrades in their features and design, where now the newer model binoculars are coming with an attached camera.
Apart from that, binocular has sub-divided into various categories like hunting binoculars, traveling binoculars, skywatching binoculars, birdwatching binoculars, and military binoculars. Each of them owns a reputable brand behind its manufacturing. I have gathered a list of the best binocular camera models. Let's move towards that list,
Read Also: Best Universal Qi Wireless Charger You Can Buy For Android & iPhone
Binoculars With Camera 2021
We have also mentioned affiliate links for each model of binocular camera. If you will make any purchase through these links. We will get some percentage of Affiliate Commission from Amazon.
1: Camonity Digital Binocular With Camera 
Well, Camonity has manufactured really a durable product with quite efficient features. It offers a 2-inches LCD display, a digital 5MP camera that can record videos and capture images at 1280 x 1080 resolution, and 16 GB of storage.
If we talk about the magnification features, Camonity binocular camera offers 12x zoom. You can also connect its cam with a PC or related devices to transfer the videos and images. Moreover, pictures can be download directly.
The design and build quality of this binocular camera is tremendous. As it offers a strong holding grip and decent quality rubbers. Specifically, it is among the best and budget binoculars for birding.
Pros
12x Zoom
2-Inches LCD Screen
HD 1080P 5MP Camera
16 GB of Storage

Tripod Compatible
Cons
Some Questions Over the Camera Quality
2: Eoncore Digital Camera Binocular
The majority of its features are similar to the features of Camonity Digital Binocular. Like a 2-inches display screen, 1080p 5 MP of camera. While the notable difference is storage options as it offers only 8 GB of memory.
Moreover, the magnification scale is also the same as 12x of Camonity binocular. But as I always say that, each user has its own brand loyalty. So you can choose between both the same specs gadgets but with different brands.
Whether it's a matter of capturing sports events or birdwatching, you can go with the Eoncore Digital Camera Binocular. It's quite reliable with a decent quality build. This binocular is also compatible with tripod stands.
Pros
A 2-inches LCD Screen

1080p 5 MP of Camera

Compatible with Tripod
3: BARSKA Binoculars With Camera
A bit pricey, but with improved specs as compared to the other binoculars with camera. Yup, Barska is the best and compact size binocular with a 1.5-inches color TFT screen. 8 MP of camera that can capture image at 3264 x 2448 pixels while can record video at 640×480 pixels.
Apart from that, it features magnification scale of 8x along with a digital zoom of 1-4x. Built quality is pretty solid with a beautiful colors outlook. It also supports an external memory slot for SD card to expand the storage options.
You may find this easy to use and compact size binocular best suitable for sports event, music concerts, adventuring and in many other explorations. All that gathered data can be easily transferred to your PC/Laptops.
Pros
External Memory Slot

8 MP Camera

Compact Size

Decent Pictures Resolution
4: Gosky Binocular (Smartphone Cam)
Keep in mind one thing that, this binocular by default does not come with an attached camera. But, you can use your mobile phone or smartphone camera (phone holder) with it. So it will serve you in the same way without any conflict or complication.
Now, I think there is no need to discuss the camera, you will get the quality according to your phone's camera. But we can surely discuss the magnification scale. Yup, Gosky Binocular features 10x zoom, 42 mm multi-layer coatings green film objective lens, and 18 mm blue film eyepiece.
The phone's mount or holder is compatible with a majority of new to old models. Moreover, the inbox accessories include a carrying case, a rubber lens cover, and a cloth for cleaning. Overall, if you don't want to compromise on camera quality, go with this option.
Pros
No Compromise on Camera Quality

10x Zoom

A lot of Accessories
You may Like the Following Gadgets Too
You may like: Best Tripod for iPad You Can Buy in 2021
Best Glass Screen Protector You Can Buy for iPhone 12 & 12 Pro
Best Universal TV Stand You Can Buy This Year
The Best RGB Mouse Pad You Can Buy This Year
Best Portable DVD Player You Can Buy in Year 2020
Read Also: Best Mid Tower PC Cases to Buy in 2020
Best Thermal Paste for PC/Laptop to Buy in 2020
So that was some informative stuff about the Binoculars with Camera. If you liked the post, do share it in your social circle with others. Stay tuned with Maticstoday for getting more updates on a daily basis.
The author behind @maticstoday, working as a Digital Marketing Specialist in Codematics Inc. Writing tech-related stuff and delivering solid reviews is in his keen interest. In his free time, You will find Uzair playing video games & that's why most of the topics he writes are based on game-related stuff.