reMarkable Tablet – Paper for the 21st Century
Writing on paper is becoming less and less common nowadays. Now, people either type their notes on laptops or smartphones. Or they write their notes on tablets that come with pen support. But, writing on an iPad or Microsoft Surface does not give you the same feeling that you feel when writing on physical paper. This is where the reMarkable Paper Tablet comes in.
reMarkable is the only tablet that actually feels like paper. It is a digital device for reading books, note-taking, or reviewing documents. You might be thinking so what? What makes this tablet different from all the other tablets in the market? Well, reMarkable is special because just like physical paper it comes with no distractions. There is no e-mail, social media or notifications on the tablet to distract you from your work.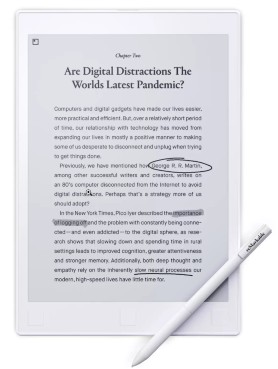 Read Also: Procreate 5 for iPad with a Bunch of New Features
reMarkable Tablet Features
Convert handwritten notes to typed text: After you have written notes by hand, the tablet converts the handwritten notes to typed text. You can then easily edit the notes or share them via email. The tablet supports up to 33 languages.
Comfortable reading experience: the tablet comes with no backlight or glare. So, reMarkable gives a truly paper-like reading experience that you won't find with tablets that come with an LCD display.
Annotate directly: while reading or reviewing documents you can easily make markings on the screen. Just highlight, underline or circle whenever you need to. There is no need to make printouts and create trouble for yourself.
Access your work everywhere: reMarkable helps you to stay organized by always syncing your notes. You can access your documents on all your devices, whether that is a Mac, Windows, Android machine.
No distractions: unlike other tablets, reMarkable comes with no social media apps. In other words, you won't be constantly bothered by notifications, e-mails or calls. The purpose of the tablet is to take notes, sketch and read, so it comes equipped with only those features and nothing more.
reMarkable vs other tablets
| | reMarkable Tablet | Other Tablets |
| --- | --- | --- |
| Display | Paper feel | Glass surface, LCD |
| | No glare or light, sunlight-readable | Backlit and reflective surface |
| Functionality | Reading, writing and sketching only | Everything your computer does |
| | No distractions | Social media, notifications, e-mail |
| | Sync notes and documents via Wifi | Access to the whole Internet at all the time |
| Purpose | To think and create | Entertainment and productivity |
You May Like: Google Messages – iMessage for Android Phones
The tablet costs USD $499 on the official website and you can also find it on Amazon.
What do you think about reMarkable? Is it worth the price or do you think we should just make do with traditional pen and paper? Let us know your thoughts in the comments below!
Continue to check out Maticstoday for the latest news items, product reviews, security practices, and video game discussions.
---
Source: reMarkable