Procreate 5 for iPad with a Bunch of New Features
Finally, Procreate 5 for iPad got its official release yesterday. Indeed introducing several new notable features and a completely rebuilt graphics engine. Savage Interactive, the studio behind the creative and award-winning app Procreate, has released the newest version of its software. this update came on Sunday 8th December 2019. In addition, Procreate 5 is the largest and best-ever update for the Procreate application. This update is putting hundreds of new features on the hands of creators.
Some notable advancement includes the new Valkyrie engine. This graphics engine makes use of Apple's Metal Architecture. Due to this, the software can run at up to 120 frames per second for compatible iPad models. Valkyrie engine boosts the performance of the iPad. Along with this, the new Animation Assistant helps newcomers create animatics, animations, and loop GIFs with ease. Also, Procreate 5 now includes a new Brush Studio in it. It allows finer control over every aspect of how brushes look, react and behave. The Brush Studio also has over 100 settings for the customers to custom-build their brushes.
You May like Tesla's Cybertruck – Is It's Aerodynamics Any Good?
Details of Procreate 5 Release
The full details of Procreate 5 release are given below:
Animation Assist is an easy to use and illusorily powerful animation tool. This tool contains fundamentals like instant playback and onion skinning. It helps you to create rich animations, animatics and looping GIFs to share with others.
Procreate 5 is providing a whole new way to paint and draw. The new Artistic and Drawing brushes lay beautiful painting textures in a totally enchanting way.
Brush Studio introduced in Procreate 5 has over 100 new settings for unmatched customization of brushes. Customizing your own brush was never this exciting and easy. With the new seamless textures generator, you can create a brush of your own choice.
ABR import– with the help of this feature in Procreate 5 you can import your favorite Adobe Photoshop brushes into this app. Interestingly, these brushes will paint faster than they do in Adobe Photoshop. Now, this certainly is a plus point!
Also, now you can share brushes and artworks infused with author information with the help of Author cards.
Valkyrie's graphics engine gives users the most supple and adjustable painting system on the iPad. Moreover, this graphics engine helps you to make a glazed brush that wets mixes, has color dynamics and also has wet edges with burnt edges all in one place.
In the new Combine brushes feature, now you can swipe two individual brushes and tap Combine to make a completely unique and amazing brush.
New Color Features
Additionally, Color Dynamics is another interesting feature of Procreate 5. With the help of this feature, you can create depth and vibrancy by adding color variation to your brush strokes.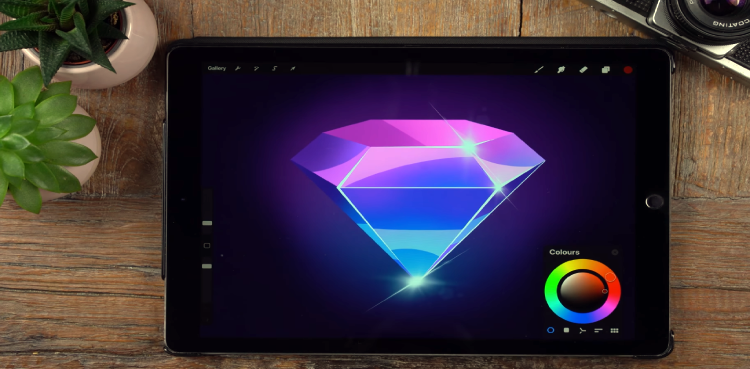 Color Companion is a new feature to Procreate 5. It helps to speed up your workflow by dragging the Colors menu on your canvas.
Clone Adjustment-this new feature lets you use any brush to paint with the contents of your layer. Hold to lock it into place.
Color History, Color Profiles, and Color Harmony are also new and interesting features of Procreate 5.
Read Also: Cyberpunk 2077 Game – What You Need to Know
How to get it?
You can buy Procreate once in a lifetime at a price of $9.99 from the App Store. Once you download and install Procreate on your iPad, after that, all the updates are absolutely free of cost.