AMD Radeon RX 5600 XT – A Tough Rival for Nvidia
The New AMD Radeon RX 5600 XT announced at the CES 2020 is all we actually need. It is a 1080 graphics card that has high frame rates, affordable price tags and enough of software features. RX 5600 XT is a mid-range graphics card with a price of $279. It lies between the low-priced RX 5500 series and the more commanding RX 5700 series. It is extremely powerful as it does not take too much power and is affordable. The only thing coming as a drawback for the RX 5600 XT card is its lack of ray tracing.
The AMD Radeon RX 5600 XT has arrived in a situation where Nvidia already launched five graphics cards aiming at the 1080p segment. It's a little confusing for everyone out there but still, AMD has finally put out a GPU that stands completely alone at the forefront of the 1080p segment.
AMD has done smart work because where Nvidia has loaded its market with four graphics cards with the same resolution. AMD has just done it with two graphics cards and still is above Nvidia at every price point. As we know that Nvidia RTX 2060 offers great ray tracing and deep learning super sampling (DLSS). But in case you need raw performance for the price given, then AMD Radeon RX 5600 XT is the best option in 2020 than ever before.
Also read, Intel vs AMD – AMD is on Top now with a Huge Sales record
Software and Features of Radeon RX 5600 XT
Different features and software related details of AMD Radeon RX 5600 XT are given below;
Architecture
The AMD Radeon RX 5600 XT is based on the 7nm rDNA graphics card architecture. It means this graphics card lies right between Radeon RX 6500 XT and the RX 5700 XT. While the RX 5600 XT is equipped with 1,408 Stream Processors in 32 compute units, Radeon RX 5600 bumps the way up to 2,304. Interestingly, this is the same amount of Stream Processors as that in the AMD Radeon RX 5700.
Memory
Radeon RX 5600 XT comes with a 6GB of GDDR6 memory. It is more than enough for a 1080p gaming in 2020 but it may be a problem when you try to turn your resolution slider up. Unluckily, It has a memory bus of 192-bit, lesser than that of Radeon 5700 XT. This means that the user might see a big cut in 1440p performance, but still, it is playable.
Despite the fact that Radeon RX 5500 XT is packed with up to an 8GB memory, we can't understand the reason why this cut was made here. Well, what comes in our mind is of course, because of its price.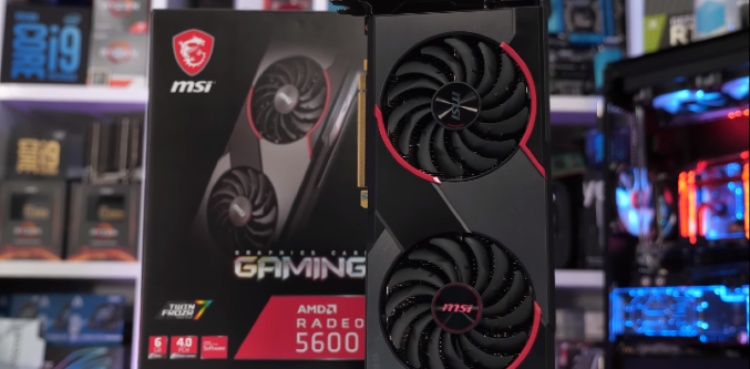 Ray Tracing
Obviously, we can't forget about the ray tracing factor when it comes to the graphics cards in 2020. RX 5600 XT has ray tracing in some capacity at some point, but it still can't compete with Nvidia for this feature. You are still tied up with Nvidia if you need those excellent graphical bells and whistles. The amounts of ray tracing enabling games are increasing day by day. So, for this reason, you can't go with AMD as it can't simply handle these effects. In such a case, you are going to go with Nvidia GeForce RTX 2060, if you have a passing interest in ray tracing. But in either case, for better raw performance, you should surely go with AMD. This all depends on your priorities though.
You may like: Nvidia's New 360HZ Monitor is Designed for e-sports
Radeon Boost
The most remarkable new feature of RX 5600 XT is Radeon Boost. You don't need features like ray tracing and DLSS when it comes to playing ultra-competitive games like Overwatch, Counter-Strike or PUBG. In such a scenario, frame-rate is the king 100% of the time. What this feature does is when your camera is moving fast, Radeon Boost intelligently lowers down the resolution of background areas of the scene. This greatly improves the frame-rate when it is actually required-well, in high movement scenarios.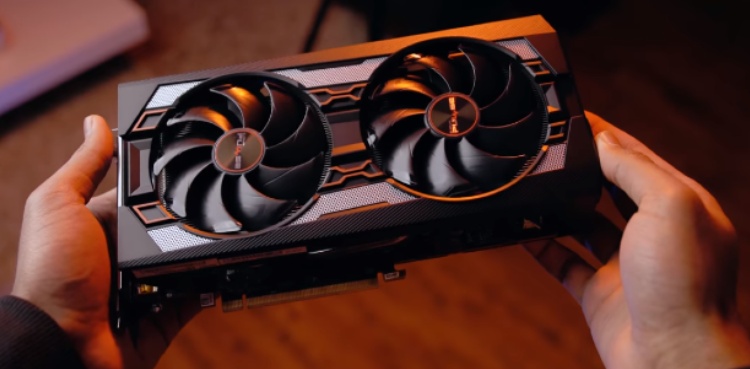 Radeon Anti-lag
Moreover, the AMD graphics card when paired with something like Radeon Anti-lag reduces the time needed to synchronize between GPU and CPU. In short, if you just want to play video games at higher frame-rates, then AMD Radeon RX 5600 XT is the right thing you are looking for. Nvidia has definitely more powerful GPUs as compared to AMD. But this competent combination of hardware and software makes AMD an excellent sales pitch for any modest gamers out there.
Specifications of AMD Radeon RX 5600 XT
The specifications of AMD RX 5600 XT are given below
| | |
| --- | --- |
| CPU | AMD Ryzen 9 3900X (12-core, up to 4.6GHz) |
| CPU Cooler | NZXT Kraken X62 |
| Motherboard | X570 Aorus Master |
| SSD | Samsung 860 QVO 1TB |
| Power Supply | Phanteks Revolt X 1200 |
| Case | Praxis Wetbench |
| Compute Units | 36 |
| Max Memory Size | 6 GB |
| Memory Type (GPU) | GDDR6 |
| Memory Interface | 192-bit |
| RAM | 32GB HyperX Predator RGB @ 3,000MHz |
Performance of AMD Radeon RX 5600 XT
Talking about the performance of Radeon RX 5600 XT, it is an absolute beast according to the synthetic benchmarks via 3DMark 11. It is not only extreme 30% faster than the GTX 1660 Ti (same price) but it also leaves RTX 2060 behind by 13%. Despite, the Nvidia RTX 2060 is farther in the Time Spy tests by 8% and 12%. But, AMD graphics card being this close in the first place is very impressive indeed. In Metro Exodus with Ultra Settings, AMD RX 5600 XT is 5% faster than the RTX 2060. And also, it is 20% faster than the GeForce GTX 1660 Ti.
To sum up, Nvidia GeForce 1660 Ti should be completely obsolete at this point because AMD Radeon is such a stunner at this reasonable price. However, Nvidia is still selling it, even if it doesn't completely make sense at its price point. AMD Radeon RX 5600 XT shows what excellent performance the users should expect from it at such an awesome price. And for this reason, all we can do is praise and compliment the Team Red.
See: Concept UFO – Tiny Portable Gaming PC by Dell & Alienware
Final Thoughts
If you really need a 1080 graphics card with raw performance, then AMD Radeon RX 5600 TX is the best one you can look for. With its Radeon Boost and Radeon Anti-lag features, you can enjoy video gaming at very fast framing rates. But in case you want to go with the ray tracing technology, then you should go for Nvidia. However, AMD Radeon is still-a stunner and show-stopper.
Via: TechRadar