Gaming Bed by Bauhutte – Say Good Bye to Gaming Chairs
We have seen many kinds of gaming chairs and desks before. But a Japanese retailer Bauhutte is adding something unique to its collection. Yea, they have made an all in one Gaming Bed for gamers to make their playing hours more comfortable. Bauhutte is a famous name in Japan for its products like gaming furniture like desks, chairs, and other accessories.
Their Gaming Bed is basically a combination of mini and full-size desks along with other accessories. While the accessories can be assembled altogether around the bed in various directions. This tremendous concept in the future may expectedly change the way people play games. Let's talk about the various useful features that it carries in detail below.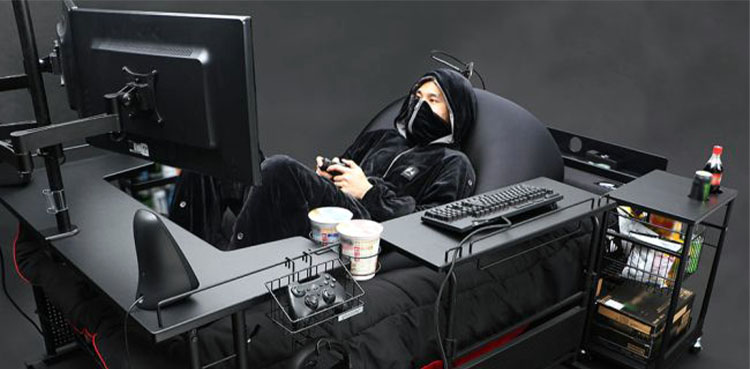 Read Also: Tencent Emulator settings for PUBG Mobile – Fix Lag
Structure of Bauhutte Gaming Bed
Consider this bed like a normal one that we often have in our homes or apartments. But the implementation of some unique concepts and luxurious accessories has transformed it into a unique Gaming Bed. Let's have a look.
Bed Itself:
It contains a headrest, a full-size pillow for back, and a blanket. The blanket is not like the normal blankets, its totally black & light-weighted to make movements easier while playing games. Next to the headrest, there is an attachment for Mobile/Tablet which can be used while laying down on the bed.
Sides of Bed:
We have a moveable trolly on the side (left/right) containing slots for snacks, juices, and other drinks. There is also a space on the side to adjust a mini desk which can be used to hold your laptop, keyboard, and mouse, etc. On the front (Foot Side) we have another desk that can carry multiple monitors and a sound system.
Front of Bed:
On the front (Foot Side) we have another desk that can carry multiple monitors and a sound system. At the internals of that main desk, there is a space to have your PC Case (Any Size). There is also an addition of little hangers to hold your controller and Gaming Headset.
Read Also: Microsoft confirms Xbox Series X will carry a 12 Teraflop GPU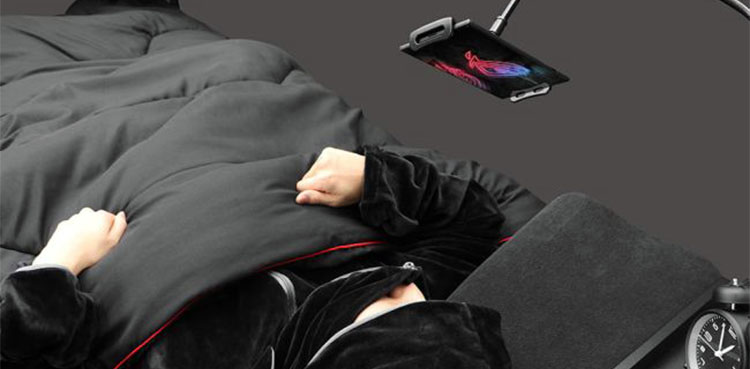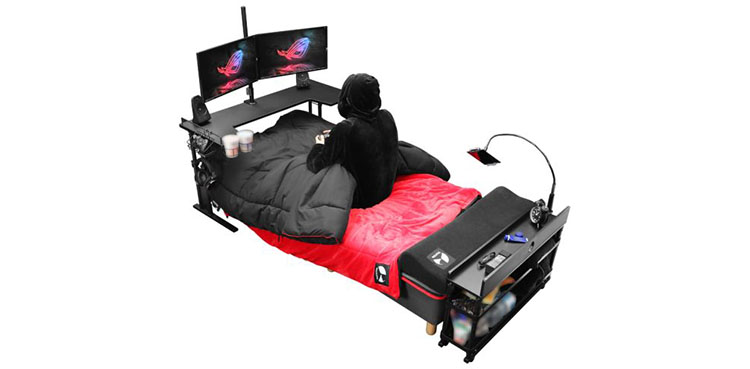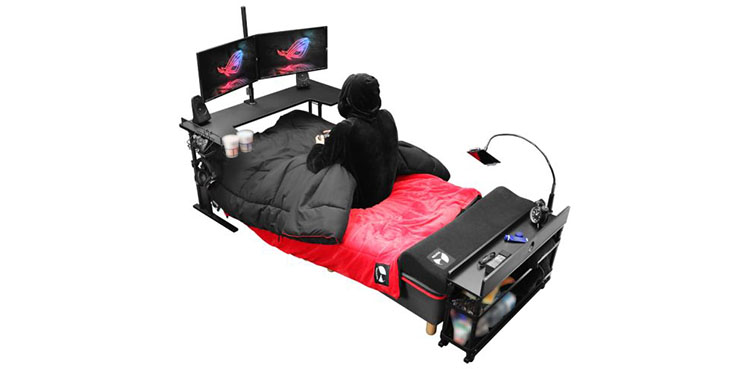 Each desk and attachment contains a proper sequence of electric plugs attachments to manage cables in a decent way. Moreover, the height of the desk can be adjusted accordingly with the help of moveable screws. Gamers can buy the accessories separately to make the bed structure accordingly. The official price of this Gaming Bed is around $1050 which is a bit expensive but the features it is offering are more luxurious than the price tag.
After seeing this luxurious beauty, Gamers will surely have a good day as well as future plans to have full comfort & relaxation. But keep in mind that, continuous gaming in such a lazy way may lead you towards various health diseases. So, keep health factors on the top priority list and enjoy gaming with full of fun & entertainment. Don't forget to share your feedback with me in the comment section below regarding this amazing Gaming desk.
#HappyGaming