Samsung stops Syncing Keyboard Data between Smartphones
If you are a person who uses a Samsung smartphone, then there is a news that will probably disappoint you. Samsung has officially revealed the news that it will no longer sync keyboard data between smartphones. Before this, only the latest smartphones came with this disability of not syncing the keyboard data. But on the 13th of April, Samsung has officially announced that Samsung Cloud will no longer sync keyboard data to all the existing Samsung's phones.
Read: This Smartwatch App by Samsung Sends Reminder of Washing your Hands
SamMobile reports this announcement as of April 13. It said that users will not be able to sync keyboard data to Cloud. Before this, keyboard data syncing could sync predictions, language preferences, saved words and other data from Samsung's default keyboard that comes pre-installed with the drive.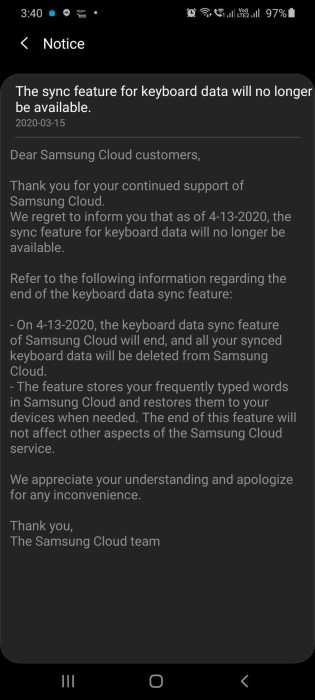 The official notice apparently went live in the past several days. But SamMobile is claiming that this decision was backdated to March 15th as seen in the image above.
Keyboard Data will No Longer be Synced
This decision made by Samsung will not probably affect the data that is already present on your device. But in case you plan to move to a new smartphone in the future like the Samsung Galaxy S20 or the Galaxy A51, then gloomily that data won't be carried over. You'll have to start everything from scratch. Also, if you presently have keyboard data in Samsung Cloud, that data has assumingly been deleted at this point.
We still can't understand why Samsung has stopped supporting such a useful feature. But as said, the company was surely quiet about confirming it. We don't know what is the specific reason behind this decision, but we'll know in a while.
Also read: GitHub Core Features is now Free for all Developer Teams
However, this decision won't be a big issue if you're willing to switch to other keyboard alternatives like SwiftKey or Gboard. Some of these have unique features in addition to syncing. But still, it'll be a bit problematic if you have had an amazing time of having custom words on Samsung devices. To sum up, you will have to start from scratch in case you have a plan to buy a new Samsung smartphone.
Via: 9to5Google