Have a Look at Asus ROG Zephyrus Duo 15 (GX550) Gaming Laptop with 2 Screens
Where Mobile Computing is touching the new heights of success. There we also saw a speedup in manufacturing different model laptops from different manufacturers. Asus Rog Zephyrus Duo 15 (GX550) Gaming Laptop is one among them. Which features a unique quality of today's trends.
Asus no doubt has launched dual screens in its previous model laptops like ZenBook Pro Duo. But this time, you can call this masterpiece the world's first dual-screen gaming laptop. Moreover, it features i9 10th Gen, RTX Series GPU and a premium-looking design. So, let' move towards in-depth details now.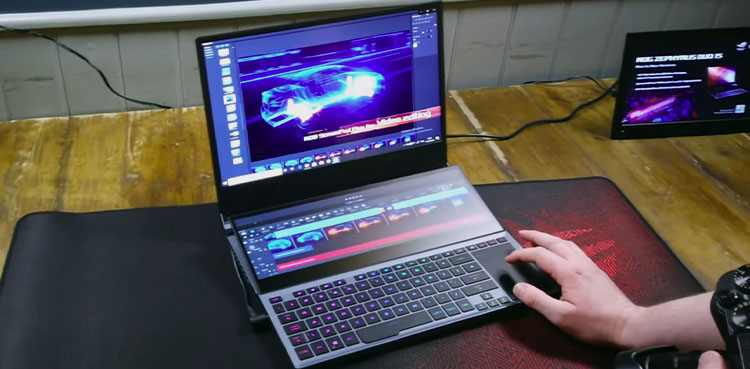 Asus ROG Zephyrus Duo 15 (GX550)
Technical Specifications
Brand/Series
Asus /Rog Zephyrus
Model
GX550
Processor
Intel i9-10980HK
GPU
Nvidia RTX 2080 Super
Display (Dual)
15.6 Inches
14.1 Inches
Ram
32 GB
Storage
2 TB
Battery
90Wh
Price
$3,699.99
Detailed Overview of Asus ROG Zephyrus Duo 15 (GX550)
Below is the detailed overview of Asus ROG Zephyrus Duo 15 (GX550) features.
Dual Screens:
Well, the most notable feature of this top-class beauty is its dual-screens system (Asus Screen Pad Plus). One of them is that which every laptop usually owns, while the second one is built above the gap between the keyboard and the Ist screen. This screen comes up from the top edges at a 13-degree angle & combines pad display with the upper display at a suitable viewing angle. Streamers understand the features of dual screen pretty well.
Display Features:
Guys, The main screen is 15.6 in size and the second screen is 14.1 inches in size. Main screen offers both 4K 60Hz panel or a 1920 X 1080p 300Hz panel (depends on specific model). Other than that, the second screen offers 60Hz of a matte touchscreen having 3840×1100 Resolution. Fortunately, it also offers 100% coverage of the Adobe RGB color space.
Processor & GPU:
It's not something normal, especially for laptops. When you have the latest Generation Intel Core i9 10980HK with 8 Cores and 16 Threads offering 5.2 GHz at the heart of the system. While the thing which doubles up the overall power specifically for gamers is the CPU combination with a powerful GPU like RTX 2080 Super 8GB GDDR6 VRAM. Which provides performance efficiency with Boost Clock at 1330MHz & 90W.
Memory & Connectivity Ports:
This beautiful Asus ROG Zephyrus Duo 15 (GX550) Gaming Laptop features 32GB of Ram, 2TB of storage (RAID). On connectivity ports, Zephyrus offers 1x USB-C 3.2 port (Thunderbolt 3 support), 2x USB 3.2 ports, HDMI, 2x 3.5mm ports, and a full-sized Ethernet port.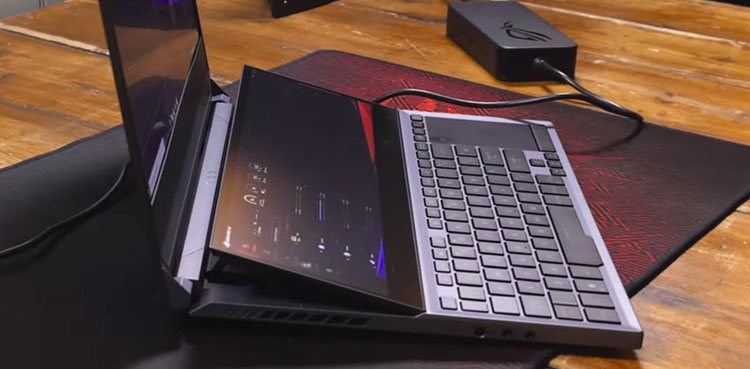 ---
Note That: With other configurations of the same series, you can go with 16 GB Ram model, RTX 2070, and Intel Core i7 10875H. Displays will be available in 4K and 1080p with 300Hz and 60Hz refresh rates. There will be a difference in price levels too as per specifications and features. Which varies around $3,499 & $2,999.
Don't forget to have a look at,
Acer's Predator Triton 700 Gaming Laptop just for $999
Dell XPS 13 2-in-1 (2019) Review – Is it the Ultimate Laptop?
Apple iPad Keyboard with a built-in Trackpad to release in later 2020
Intel Horseshoe Bend – A Foldable PC with OLED Display
Apple Macbook Pro 16 Inch – Full Specs & New Features