Facebook Shops – A new Feature that turns your Business Page into Online Store
Pandemic has given a real boost to the E-Commerce Sector. Businesses from small to large scale are turning into online stores. Global Lockdown has restricted people to stay at home. Facebook in this regard has announced "Facebook Shops" a feature that will provide a platform for businesses to do their businesses online.
Especially small businesses, who never existed online before selling their products. While after the pandemic those small businesses are going in loss. Facebook is hopeful to uplift these businesses through their Facebook Shops. Instagram is also bringing this feature to its platform. Let's move towards the further detail and features of FB shops.
Read Also: You can Video-Chat with up to 50 People with Facebook's new Messenger Rooms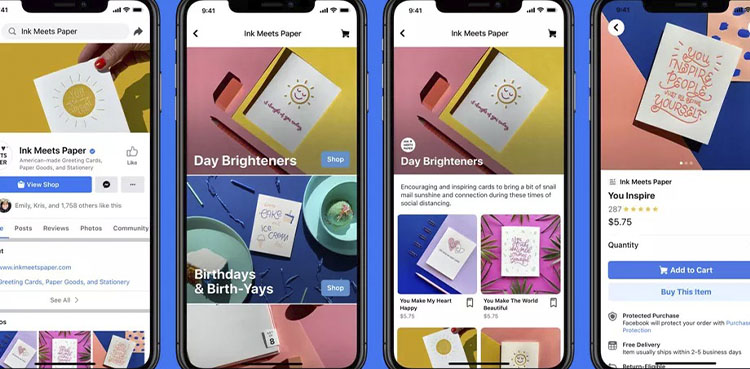 Facebook Shops
Well, with Facebook Shops, businesses will be able to create shops, categories for business, Integration with Messenger, Whatsapp, and Instagram for communication. Facebook ads for boosing the relevant products that business sells. This overall concept resembles the method of current Facebook pages and groups. But Facebook Shops have turned things more advanced and feature-rich as online stores.
All of these procedures are totally free and there is no deduction from Facebook on your earnings like Amazon & eBay etc. Your product details will take customers to your business website for further steps of purchasing. While business owners can also choose the Facebook checkout feature to proceed towards purchasing. But it will charge them 5% as a fee from the total value of that specific purchase.
For customer support, Businesses can use FB Messenger, Whatsapp, and Instagram as available options. Facebook is also focusing on putting the option of the live stream in shops for making business growth more smooth & customer loyalty more stronger by shopping directly through the live stream. According to Facebook's blog, they are planning to include a loyalty reward option soon in the shops to motivate small businesses.
Facebook Shops will be available to begins operations from today in the United States of America. Rest of the other regions will get this service step by step. While Instagram will get shops feature somewhere in this summer. Mark Zuckerberg definitely took a great initiative to grow the small business well through its world-famous platform being used by billions of people. Don't forget to leave feedback in the comment section and stay in touch with us.
StayHome #StaySafe
Read Also: Instagram launches new 'Guides' Feature that Focuses on Mental Health and Wellness