These Buttonless Mobile Game Controllers are Truly one of a Kind
All of the mobile game lovers out there must know that there is quite a wide range of variety available for mobile game controllers. All of the controllers, however, that we have known in the past few years have at least one or more buttons on them. But this time, mobile gaming controllers companies named Anker and HyperX has come up with something totally new and surprising. They have announced truly buttonless PowerCore Play 6K mobile game controllers. Yes, you heard that right, Anker and HyperX has introduced game controllers that have not even a single button on them.
Read: PUBG to Host a Special Event for Pakistanis on Independence Day
Features of Anker Mobile Game Controllers
We'll discuss some of the key-features of Anker mobile game controllers.
Compatibility with both iOS and Android: Now let's discuss a few key features of Anker's PowerCore Play 6K mobile gaming controller that have caught our attention. It is that they are compatible with both iOS and Android. Before this, manufacturers of mobile gaming controllers made controllers either compatible only with iOS or Android. But with these controllers announced two days ago, we have got a plus point. That they are compatible with both iOS and Android.
Battery Size: Another feature of the PowerCore Play 6K is that it comes with a 6,700mAh battery on the inside. This battery size is sure to take your gaming sessions to the next level. The product also features both USB-A and USB-C built-in. This takes us back to the point where we mentioned that these controllers are compatible with both iOS and Android devices.
Design: Also, the design of the Anker's buttonless game controllers is truly unique. The ergonomic grips are easier to hold. This gaming controller is more like a kickstand that holds the phone much conveniently. Its shape and design make it easy for users to achieve a firm grip during gaming. The kickstand type shape of the controller also can be used for watching videos or movies.
Integrated Fan: The controller also features an integrated fan to keep your device cool during use.
Price: The Anker PowerCore Play 6K has a price of $35 and is available at Amazon. It comes in two sizes supporting phone ranging from 5.7 to 6.45 inches long. It also comes with an 18-month manufacturer warranty.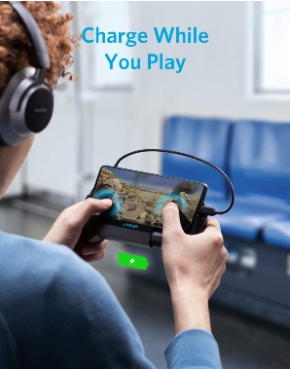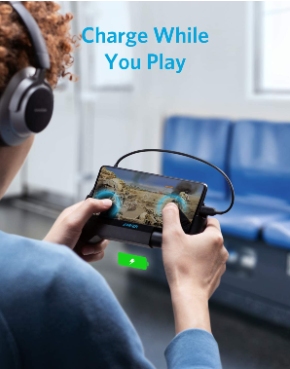 Features of HyperX ChargePlay Clutch Gaming Controllers
HyperX ChargePlay Clutch is another controller-shaped device. It is only concerned with keeping your phone topped up and making it more convenient to hold while you game. Now we'll look into some of the great features of the HyperX ChargePlay Clutch gaming controllers.
You may like: PUBG Season 8 will bring an Improved Sanhok Map & Other Interesting Updates
Compatibility with both iOS and Android: They are compatible with both iOS and Android.
Comfortable Grip: The HyperX controller grips provide a more comfortable mobile gaming experience. The user can easily hold their phones in the controller for playing games or watching videos.
Qi Certified Wireless Charger: A plus point of this controller is that it comes with a Qi-Certified Wireless charger. This means that it can charge any Qi wireless enabled phone. So you don't have to worry about wire types and connections. You can play freely without the need for wires. If your phone has no Qi-wireless charging feature, you can charge it simply to charge it via USB cable.
Battery Size: It comes with a 3000mAh detachable battery pack. The controller's magnetic battery pack is a 3000mAh power bank. You can charge it wirelessly or via USB connection.
Adjustable Sizes: This controller can adjust to fit a variety of phones. It is compatible with phones ranging in size from 4.9 to 6.7 inches.
Price: It is available at a price range of $59.99.
What do you think of these truly buttonless game controllers? Will you buy them or not? Let us know in the comments section down below!
Via: The Verge