Thermaltake View 71 RGB – A Best Full Tower PC Case
Although its trend of Mid Tower PC Cases in today's market. But some people still prefer to buy Full Tower PC Cases depending upon their requirements. There is a variety of Full-Tower Cases available in the market by well-known brands. Among them, I chose to go with Thermaltake View 71 RGB PC Case. It's a beautiful looking case having tempered glass side panels, RGB Lighting, better cooling, and a price tag up to the budget-friendly range.
So, If you have some plans to built a High-End PC Machine with a lot of Hardware Components in it. Then the Thermaltake View 71 may absolutely be the best option for you, where there is no worry about space and temperature issues. As well as this case is affordable for most of the people as compared to the PC Cases of similar features. Now, let's move towards the in-depth detail of this wonderful Full Tower PC Case.
Read Also:Best Mid Tower PC Cases to Buy in 2020
Pros
RGB Lights & Fans
Glass Side Panels
Large Space for Airflow
Triple Fan Radiator Support
Cons
No PSU Cover
Many Holes for Fan Screws
Heavy Weight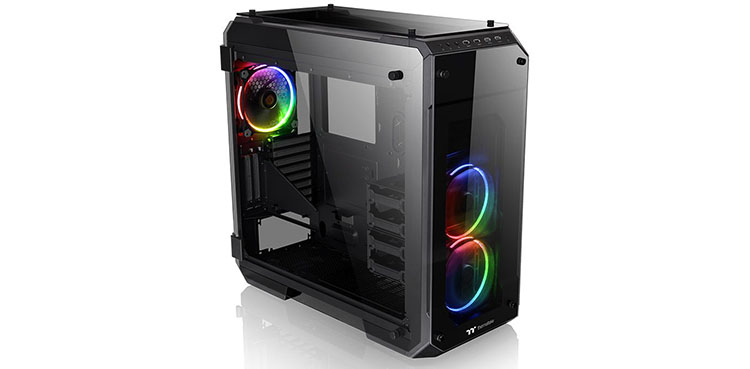 View on Amazon
You may Like: Best SSD to Buy in 2020 For Gaming
Thermaltake View 71 RGB
Design
Well, Its really a beautiful looking Chases. The company covers the sides top and front with a 5mm thick Tempered Glass Panel. Side panels open into a swing direction which presents a premium look when both the sides are opened. If you focus on the edges of the case, you will find that they are shaped tremendously to enhance the overall look. Moreover, To double up the taste of Transparent Glass Panel, View 71 also features RGB Lighting. Which glows to bring your eyes a colorful feeling throughout the reflection of the glass panel.
Interior
Maybe I am wrong, but I think the case interior without PSU Cover affects the looks up to a notable range. Unfortunately, Thermaltake View 71 RGB Case comes without PSU Cover. The rest of the interior is pretty suitable for any sort of component adjustments like full-size motherboard and CPU Air Coolers. You can do decent cable management by playing with wires accordingly. Other than that, there is a large room inside the case for permitting better air-flow. You can take the drive bays off for getting more space if needed.
Fans & Radiator Support
Fans and Radiator Size Support is an important element to be noticed in any PC Case you are going to purchase. While View 71 serves the best compatibility for Fans and Radiators. In view 71 Case, you can install Triple Fan Radiator up to size from 120mm to 420mm. Moreover, if we talk about the fans, this case comes with 3 pre-installed 1400mm Ring RGB Fans. 2 of them are on the front panel while the 3rd one is installed on the rear. Apart from that View 71 have support for 120 & 140mm fans on the front, bottom, top, and rear.
CPU, GPU & PSU Size Support
As Thermaltake View 71 RGB is Full Tower Case, so there will be no major issue regarding its size compatibility. It can support the CPU Cooler (Air) size up to the height of 190mm. PSU up to the size of 220mm and GPU up to the size of 310mm. Similarly, it supports GPU size up to 410mm when HDD Rack is removed. One tremendous feature of View 71 is that it also supports vertical mounting of GPU. Vertical Mounting presents an eye-catching view through the glass side panels. There are also dust filters on the top and bottom of CPU case to avoid dust entering while the intake of fresh air.
Specifications
Brand
Thermaltake
Type
Full Tower PC Case
Motherboard Support
Mini ITX
Micro ATX
ATX
E-ATX
Weight
19.1 kg
Dimensions
23.3 x 10.8 x 22.7 inch
I/O
USB 3.0 x 2, USB 2.0 x 2, HD Audio x 1
Expansion Slots
8 PCIe (+2 for mounting GPU sideways)
2.5" x 4 or 3.5"x4 (HDD Rack)
2.5"x 6 or 3.5" x 3
Fans
Front: 3 x 120mm , 2 x 140mm
Top: 3 x 120mm , 3 x 140mm
Rear: 1 x 120mm, 1 x 140mm
Bottom: 2 x 120mm
CPU Cooler Size Support
190mm
GPU Size Support
310mm (With HDD Rack)
410mm (Without HDD Rack)
PSU Size Support
220mm
Dust Filters
Yes
Colors
Black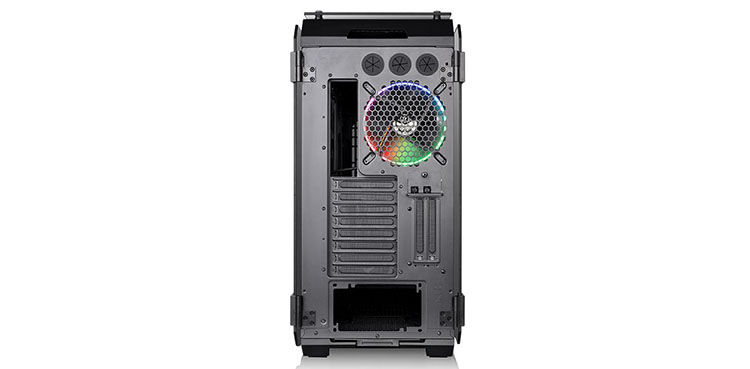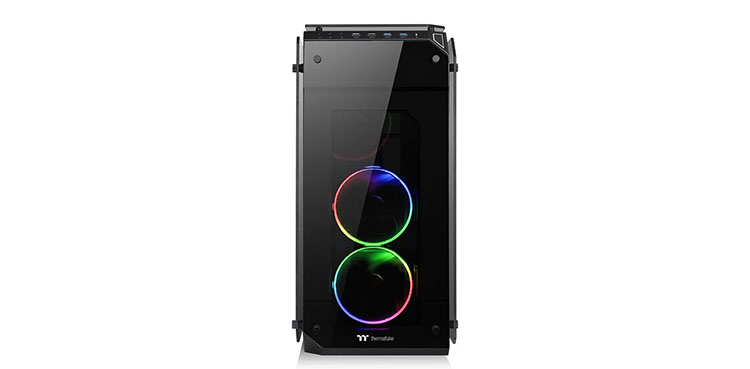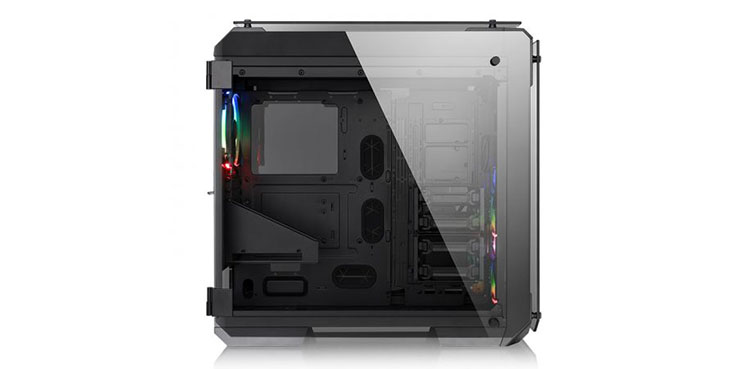 Read Also: Best Streaming Microphones You can Buy in the Year 2020
So that was the detailed review of Thermaltake View 71 RGB Full Tower PC Case. I hope you liked the post, if so then share it in your social circle with friends and family members. If you will purchase this PC Case from Amazon through our Affiliate Link. We will get some percentage of commission as a reward. Stay tuned with our Platform for getting more related updates on a daily basis.