Best Outdoor WiFi Extender You can Buy in 2020
No matter where you are, you need to have every time access to a stable WiFi Connection especially outdoor. But you know what.? WiFi Signals have some specific range (mostly indoor), out of which it will not work & here the need for Outdoor WiFi Extender becomes more important. Yup, if you really want to boost Wifi Signals Range, you need to set up the separate WiFi Extenders.
Nowadays, the market is full of different Outdoor WiFi Range Extenders. While selecting the relevant one among them is pretty confusing. Since it requires some know-how about your demands over which you decide to go with a specific model. To overcome this confusion, I have decided to sort out the list of best long-range outside WiFi Extender. So let's move towards that list for a detailed review and buying guide.
Read Also: Best Power Banks You Can Buy in 2020
List of Outdoor WiFi Extender 2020
1: NETGEAR Orbi Tri-Band Whole Home Mesh WiFi System
Well, this long-range WiFi Extender is something premium and high budget demanding product. Because NetGear is a top name in the industry for having quality Gadgets like Orbi Tri-Band Whole Mesh WiFi System. It features WiFi coverage for the whole house (inside/outside) within a distance of 5000 square feet. The maximum speed it offers is up to 3 Gbps.
The package includes Dual devices to be placed at relevant spots. Moreover, security factors are also tremendous as it includes WPA2 wireless security protocols and virus/threat protection. Its WiFi Range Extendor is based on Tri-Band Technology which is totally advanced. So I will say that this gadget may be the best if budget is no issue for you.
| | |
| --- | --- |
| Type | Mesh/Whole Home |
| Distance | 5000 Square Feet |
| Speed | 2.4GHz & 5GHz |
| Connectivity | Wired/Wireless |
| Weight | 780 g |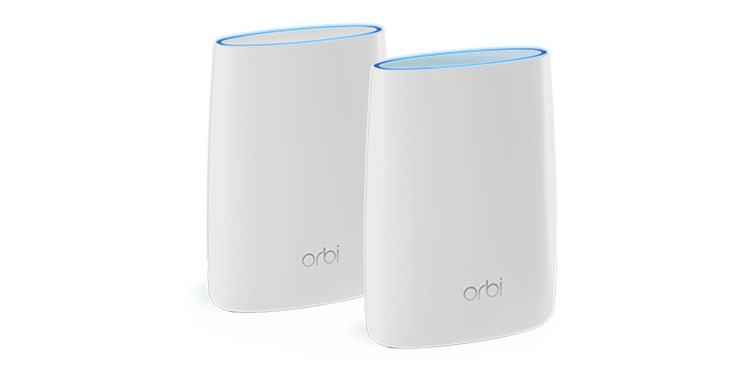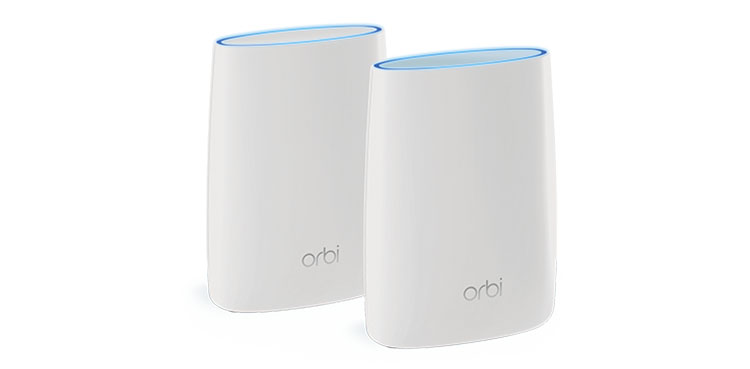 Pros
Whole House Coverage
Great Security Protocols
Stable Connectivity
Premium Features
Cons
Expensive
Premium Services charge Extra Amount
Some Firmware Problems
2: Rock Space WiFi Range Extender
Rock Space manufactured this long-range WiFi Repeater to fulfill users need of extending their WiFi Range. It offers stable connectivity, 360 Degrees Coverage, and a Speed of 1200 Mbps. Moreover, its dual antennas offer distance coverage of nearly 1292 square feet. There are almost zero compatibility issues with this WiFi Extender as it supports 99% of router models.
If we talk about the installation process, it's pretty simple. Just press the WPS button on your router and extender. It will take nearly 10 seconds to start operating. The Extender also shows a signal strength through LED Indicator. Keep in notice one thing that this WiFi repeater to not resistant to weather conditions. So try to choose an appropriate spot for placing or fixing this gadget.
| | |
| --- | --- |
| Type | Repeater |
| Distance | 1292 Square Feet |
| Speed | 2.4GHz & 5GHz Dual Band |
| Weight | 272 g |
| Connectivity | Wired/Wireless |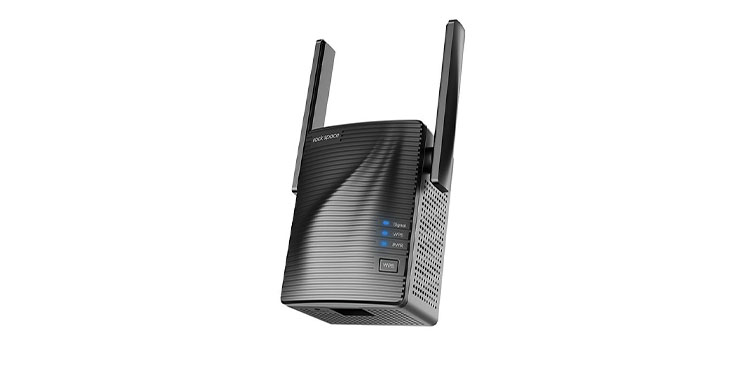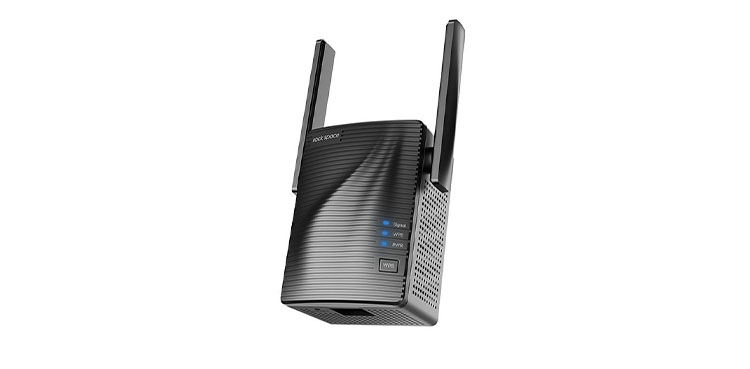 Pros
Stable Connection
Easy Installation
Good Cost to Performance
Operates as Repeater
Cons
Network Sign in Issues (Rare)
3: TP-LINK CPE210
You can consider TP-Link CPE210 as the a decent Outdoor WiFi Extender. It is available at having a decent price but the best features too. This TP-Link is weather-resistant and includes a Built-in 9dBi 2×2 Dual-Polarized Directional MIMO antenna. CPE210 features 300Mbps of stable speed along with a distance range of 200 feet.
Moreover, it also has the capability to operate in -40 to 158 Fahrenheit Temperature. Its installation procedure is a bit difficult than other models of Outdoor WiFi Booster as it requires a PC along with an ethernet port for proper installation. Other than that, I will say that you can go with this Gadget without any hesitation.
| | |
| --- | --- |
| Type | CPE |
| Distance | 200 Feet |
| Speed | 2.4GHz |
| Weight | 748 g |
| Connectivity | Wired/Wireless |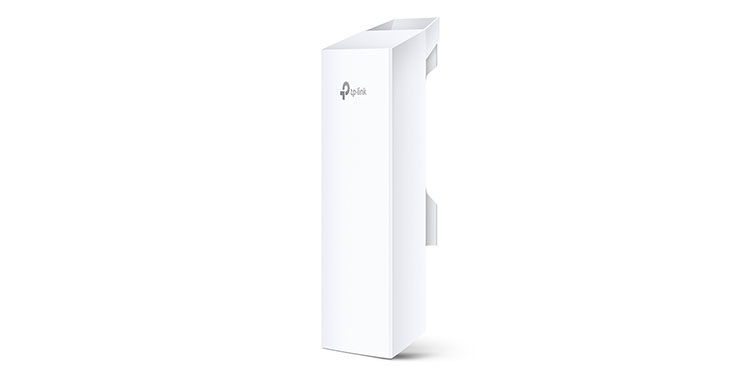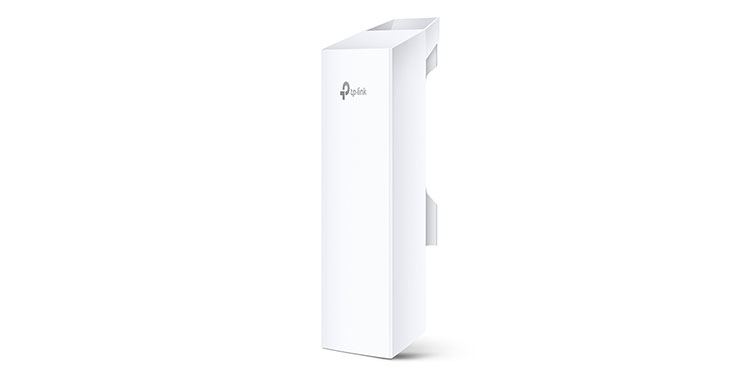 Pros
Weather Resistant
Solid Connection
Affordable Range
Cons
Requires a PC and Ethernet Port for Installation
4: COMFAST N300 Wi-Fi Range Extender
Well, COMFAST N300 can serve the user as the best WiFi Range Booster, Repeater, Router. N300 is an affordable gadget that offers a bunch of quality features like stable performance, 300Mbps of speed, 99% compatibility with other router models, and Low power usage, & 360 Degrees WiFi coverage.
Apart from that, it also features a dual built-in dual MTK7628KN Chipset and high-gain 5dBi Antennas. These Antennas enables the 360 Degrees WiFi coverage. COMFAST has included automatic intelligence operations that automatically picks the best suitable signal strength.
| | |
| --- | --- |
| Type | Repeater |
| Distance | Nearly 15 Feet |
| Speed | 2.4GHz |
| Weight | 204 g |
| Connectivity | – |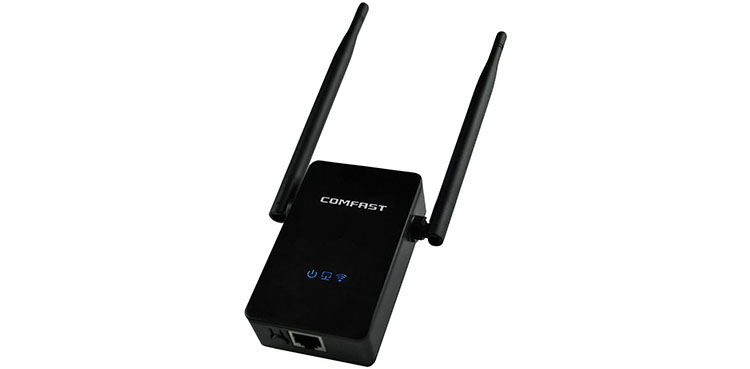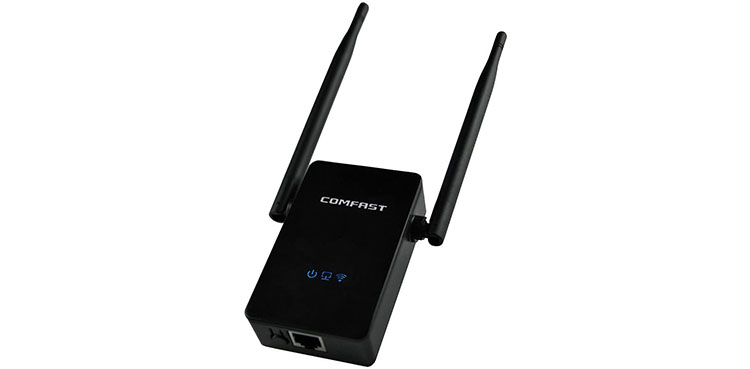 Pros
Good Performance
Affordable
Easy Installation
5: D-Link ac2600 wi-fi range extender
D-Link AC2600 is another premium gadget in our today's list. It is based on MU-MIMO technology. This technology helps D-Link to manage the stability of network connections when connected on multiple devices. It also includes a feature with the name Smart Connect that helps to indicate the most appropriate device position for getting stronger signals.
AC2600 WiFi Range Extender features 1,732 Mbps of speed & operation on both 2.4 & 5 GHz at the same time to enhance the overall performance of the WiFi network. Overall performance is totally tremendous as D-Link is a reputable brand in the market with decent quality products.
| | |
| --- | --- |
| Type | WiFi Range Extender |
| Distance | 150 Feet |
| Speed | 2.4GHz & 5GHZ |
| Weight | 402 g |
| Connectivity | Wired/Wireless |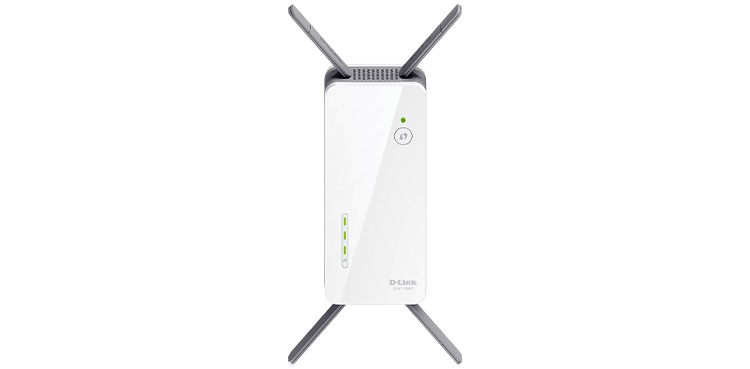 Pros
Premium Features
Great Performance
Before you Buy
Keep into consideration some important points before buying any Outside WiFi Extender.
Brand: Choose a Reputable Brand
Price: Cost to Performance
Distance: Distance you need for Stable WiFi access
Type: WiFi Booster, WiFi Repeater, and General Extenders
Read Also: Thermaltake View 71 RGB – A Best Full Tower PC Case
So guys, that was some detailed stuff related to the Outdoor WiFi Extender you can buy in the year 2020. If you need any information, I have mentioned the Official Links of Product Manufacturers. If you will purchase any of these products from Amazon through our link. We will earn some percentage of commission from that. Stay connected to get information over more related products on a daily basis.