Best Wireless Car Charger You Can Buy in 2020
It feels uncomfortable when the charging of your phone got low, especially when you are driving. Keeping the phone charged is need of time & it becomes possible only when you have installed a car charger in your dashboard. Yup, in order to fulfill this need, manufacturers have filled up the market with a variety of wired & wireless car chargers. Today, I will cover the list of best Wireless Car Charger you can buy in 2020.
The wireless chargers for car are not like a full wireless charging system. It uses some amount of power from the car. But on the front-end, charges your phone without plugging any charging cable into the phone. You just need to place the phone in the charging mount. There is no headache of managing long charging wires here and there around the Gear Box. Now let's jump towards the detail of wireless car chargers.
Read Also: Best Outdoor WiFi Extender You can Buy in 2020
Best Wireless Car Charger
NOTE: Before you Purchase the Wireless Car Charger, Do check your Phone Compatibility for Wireless Charging.
1: iOttie Easy One Touch Wireless 2
iOttie is the name on top of the list in best wireless charging accessories for vehicles. While their Easy One Touch Wireless 2 is a Windshield/Dashboard Qi Wireless Car Charging Mount. You can call it a best buy wireless charger that is compatible with Android, iOS, and Google Pixel Phones. It offers 10W power for Android Devices, while 7W power for iPhone.
Operations are based on a one-touch mechanism i.e, one-handed adjustment. Easy One Touch 2 Wireless Charger allows users to adjust the position as well as the direction of the mounted phone. You can pull its arm closer to you within the range of 8.3 inches. Moreover, Easy One Touch 2 has capabilities to charge your phone even when the phone is covered in a back case.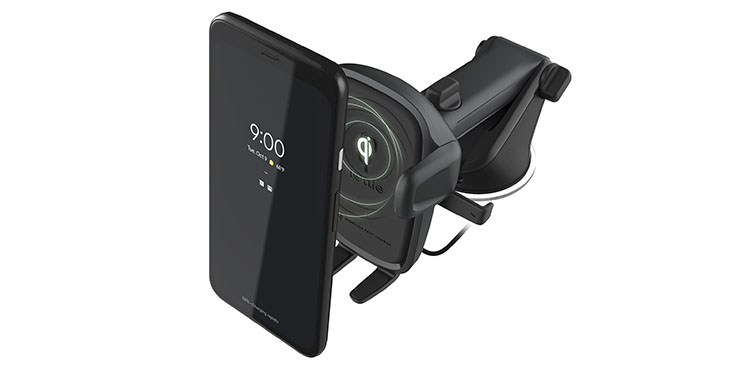 Pros
Great Arm Features
Reputable Brand
2: iOttie Easy One Touch Wireless Qi Fast Charger
The reason for choosing Easy One Touch again in the list of best Wireless Car Charger is its fast charging features. Yup, Easy One Touch Wireless Qi Fast Charger Car Mount Kit can fast-charge your devices wirelessly. It has almost similar features to Easy One Touch 2. But has a more affordable price tag than that.
It is compatible with both Android phones and iPhones. Just place your phone in the mount and press the lock triggers on the side. It will start charging your phone, not only that it has capabilities to charge your phone 40% faster than the other wireless car chargers. So, it's really a good deal to get such features in an affordable price range.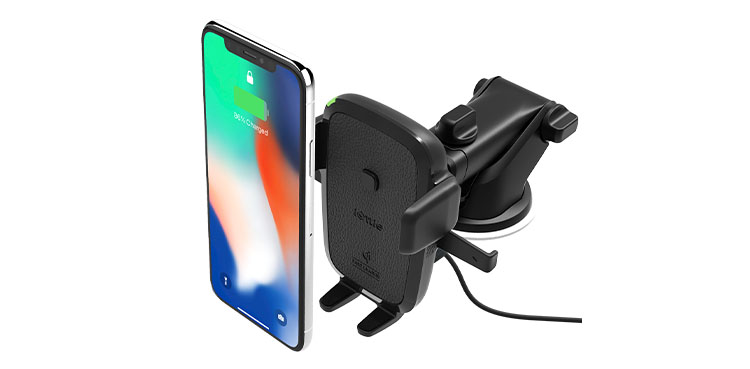 Pros
Fast Charging Support
Easy Installation
Budget-Friendly
3: Magnetic Car Wireless Charger
It is the best wireless magnetic fast charger you can buy in 2020. Yup, Renbon B07795K45G is a Qi-certified magnetic car charger compatible with both the iPhone and Android Phones. It has a compact, slim, and attractive design. It features a 360 Degree viewing angle and has 15 Degrees up/down movement to keep the visuals enhanced while charging.
This Magnetic Car Charger has a silicone made anti-skip pad covered with aluminum material. Although I am covering the topic of wireless car chargers, but let me know you that Renbon's this Magnetic Charger can also be used in home, office, or work table. Yup, it has compatibilities more than a car charger only.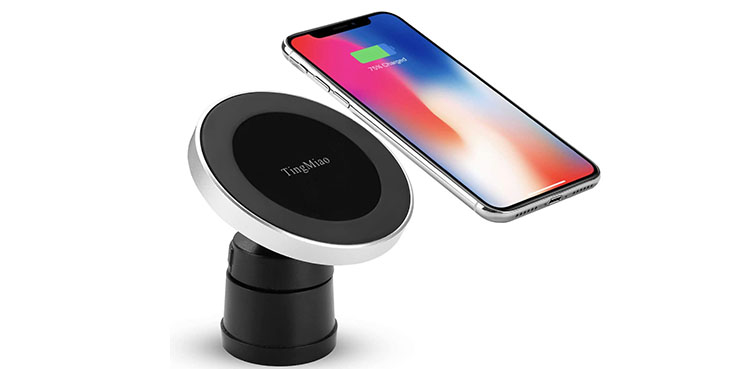 View on Amazon
Pros
Slim, Small, and Decent looking
Fast Charging
Multiple Purpose Use
Cons
Doubts over its gripping power
4: Anker PowerWave Fast Wireless Car Charger
Well, I would call this gadget a great wireless car charger, especially for Samsung Phones. A friend of mine is using Anker Power Wave Car Charger. His feedback is pretty much positive in favor of Anker. Not only Samsung, but this charger also supports iPhone latest models like iPhone Xs Max/XR/XS/X/8/8 Plus, etc.
It features a fast charging support with 5W, 7.5W & 10W power. While the current ratio it offers is 1 Amp, 2 Amp, 1.5 Amp. It can charge the phone even with a back cover. Moreover, its built material also helps to keep the temperature cooler during phone charges. Power Wave is also a Qi-certified wireless charger, and specifically designed for mounting in Air-Vents of vehicles.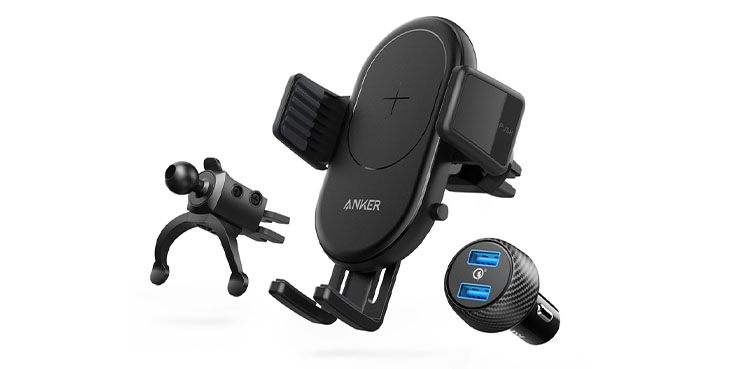 View on Amazon
Pros
Fast Charging
Reputable Brand
Cons
Limited Phone Models Support
5: ZeeHoo Wireless Car Charger
With the usage of advanced sensors, fast charging speed, and the latest 15W Qi-technology. You can consider ZeeHoo Car Charger among the best wireless chargers. It has a sort of sensor that detects the phone and automatically opens the clamps to place it in the mount.
Apart from that, the ZeeHoo charger holder has two installation options. One is on the air vent and the second is the suction cup to mount in the dashboard or windshield. It also has 360 Degrees viewing angles for an easy eye over the phone screen.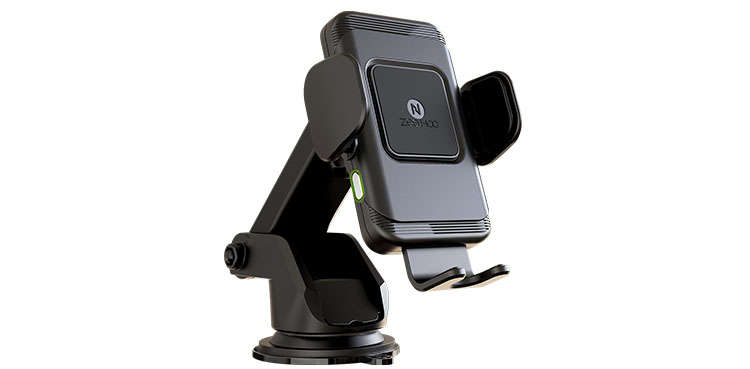 View on Amazon
Pros
Two Installation Options
Auto Clamping Sensor
Fast Charging
Read Also: Thermaltake View 71 RGB – A Best Full Tower PC Case
I hope you people liked the post about the best wireless car charger you can buy in 2020. If you purchase any of the above products from Amazon through our link. We will be rewarded with some percentage of commission in return. Leave your feedback in the comments section below. Stay tuned with us getting a notification about the new posts on a daily basis.