Asus ROG Strix Helios GX601 – A Best Mid Tower PC Case
A premium feel just touches my mind when I heard the name Asus. Because Asus is famous for manufacturing quality products like Gaming Monitors, Motherboards, Graphics Cards, PC Cases, and Gaming Smartphones. While to be honest, all of these are worth buying as the company never compromises on quality. Today, I decided to review the Asus Rog Strix Helios GX601 Pc Case.
Rog Strix Helios is actually a Mid Tower RGB PC Case. It has an attractive design, offers tremendous features, and a better airflow system. There is a lot of space for your GPU, CPU (liquid/air), and Motherboard of various sizes. Moreover, you can do decent cable management and can set up various hard drives in the bays. Moreover, there are advanced I/O ports on the front and side is made of tempered glass.
Read Also: Thermaltake View 71 RGB – A Best Full Tower PC Case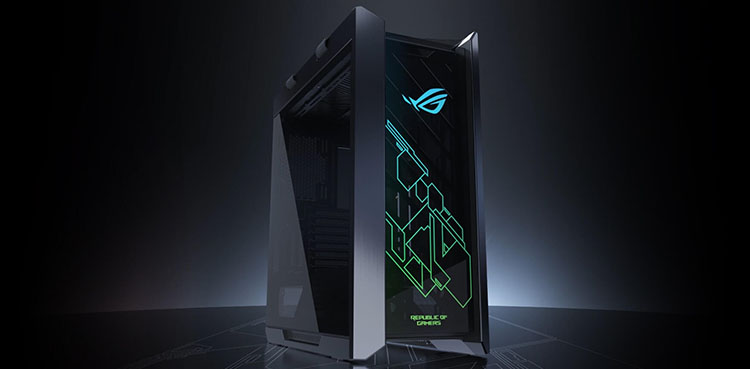 Asus Rog Strix Helios GX601
Specifications
Brand
Asus
Model
Rog Strix Helios GX601
Type
ATX Mid Tower PC Case
Dimensions
250 x 565 x 591 mm
Motherboard Support
ATX/Micro, ATX/Mini, ITX/EATX
Fans Support
Front: 3 x 140mm (Pre-Installed) & 3 x 120mm
Top: 2 x 140mm/ 3 x 120mm
Rear: 1 x 140mm/120mm (Pre-Installed)
Radiator Support
Front: 120, 140, 240, 280, 360, 420 mm
Top: 120, 140, 240, 280, 360 mm
Rear: 120, 140mm
GPU Size Support
450 mm
CPU Cooler Size Support
190 mm
PSU Size Support
220 mm
Front I/O
1 x USB 3.1 Gen 2 (Type-C)
4 x USB 3.1 Gen 1
1 x Headphone
1 x Microphone
LED & Fan Control Buttons
Drive Bays
2 x Int x 2.5"/3.5" Combo Bay
4 x Int x 2.5" Bay
Color
Black
Dust Filters
Front: Yes
Top: Yes
Bottom: Yes
Net Weight
18 KG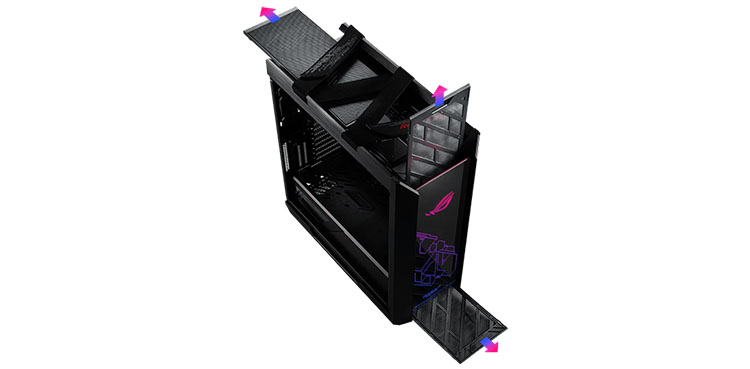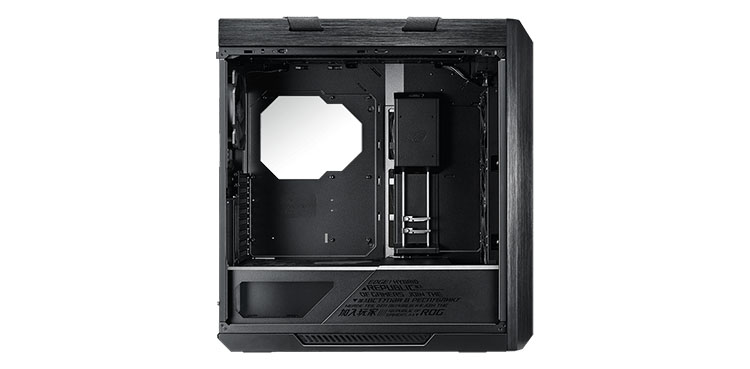 Design
Its a premium looking Mid Tower PC Case. The front and side panels are made up of glass. Where the Front Panel features RGB lights including a ROG Strix Logo. While the left Side Panel presents an eye-catching internal view. There is a huge space for component installation above the beautiful looking PSU Shroud. Side Panels are removable just by pressing the button.
On the front top, there is I/O that includes various ports and buttons for related purposes. Like Fan Control Button, RGB button, and Reset Button etc. This Asus Rog Case has minimal edges on the front corners that double the taste of its overall look from the front. This extra layer is made up of aluminum material. Moreover, there is also an Asus Rog Strap that can be tied on the top of the case to lift it.
Fans/Radiator Support
Well, Asus Rog Strix Helios has 3 pre-installed but non-RGB fans on the front, while a single on the rear. If we talk about the fan sizes this Asus PC Case supports are 3x120mm or 3x140mm fans on the front, 2x140mm, or 3x120mm on top. Similarly, it supports a 1x140mm or 1x120mm fan on the rear. It will look more beautiful if you install some RGB Fans in the case.
On the other end, there is also sufficient support for radiators of different sizes in this Rog case. Like it supports radiator of 120mm, 140mm, 240mm, 280mm, 360mm, and 420 mm on front. 120mm, 140mm, 240mm, 280mm, and 360 mm on top & finally 120mm and 140mm on the rear side of the case.
Components Size Support
The components size support which Helios GX601 offers is petty much sufficient for every user. Because Company made this PC Case up to date with each and everything compatible. Like you can install the Air CPU Cooler of height 190mm. You can install the GPU with a maximum length of 450mm.
Moreover, you can also mount the GPU vertically. For PSU size compatibility, this case accepts the maximum length of 220mm. Apart from that, as mentioned above in the specs portion, GX601 is compatible with ATX/Micro, ATX/Mini, ITX/EATX Motherboards.
Top Handle Strap
The top handle strap is something unique you will find in this Mid Tower Case. Yup, there is RoG Strix Designed strap available with this case to tie it around the top handle and carrying this case anywhere, Like for LAN party with friends. When not needed you can also remove this strap from the case.
Cable Management
Asus featured Helios GX601 with something more prominent for doing cable management. Where each and everything is covered under a plastic-like cover. Yup, if you open the right-side panel, you will see an extra layer of plastic tightened with 2 screws. After opening the screws you will see a dedicated space for doing cable management accordingly. After doing management, cover, and tighten the screws again every cable will hide under that area.
Read Also: Best Buy Ethernet Cable in 2020 for Online Gaming
So Guys, that was some relevant information about Asus Rog Strix Helios GX601 PC Case. I hope you liked the post, if so then share it in your social circle with others. You can also leave feedback for us in the comments section below. Stay tuned for getting more updates on a daily basis.