Best Standing Desk for Laptop You Can Buy in 2021
Standing while doing work is considered to be very effective as it potentially improves muscle positioning, energy level, and work productivity. While sitting for a number of hours in front of a laptop may put you in trouble of posture damage and back pain. So to get relief from this trouble, we got introduced to Standing Desk for Laptop.
The standing desk particularly helps us to stay well-positioned and well-focused while working. We can use this portable laptop desk as a temporary solution to avoid long sitting. There are a bunch of portable laptops desk available in the market starting from low to high price range. Let's have a look at some best models among those.
Read Also: The Adjustable Ergonomic Laptop Stand You Can Buy This Year
Standing Desk for Laptop
The affiliate for each product is mentioned below the product image. If you want to purchase any of them, just click on that link and place your order. In return, we will get some percentage of the commission from Amazon.
1: TechOrbits Standing Desk Converter
You will find this standing desk converter really a solid quality desk. It is made up of pure aluminum that comes with a lifetime warranty. It is suitable to use in both sit & stand position, while the height can be adjusted up to 32 inches. TechOrbits uses gas springs to easily handle the height and movement of the desk.
Moreover, You can place a single LCD Monitor along with a laptop over it. The recommended monitor size starts from 13 to 30 inches. Similarly, you can also place dual LCD Monitors over this desk. Space to keep your mobile phone or tablet is also available.
Under the desk's top, there is a railing shelf attached for the keyword and mouse. So, keeping in mind all these features we can conclude TechOrbit's standing desk a good choice to go with. It will keep your posture straight and muscles well-positioned during working hours.
Pros
Aluminum Made
Gas Springs
Huge Space
Both Sit/Stand Compatible
Lifetime Warranty
Cons
Minimum Height Seems to be Pretty High
2: Tatkraft Portable Laptop Standing Desk
The design and beauty of this portable laptop desk always attract my attention. It is a 4 wheeled stand that supports both sit & stand usability. The height adjustment limit starts from 28 inches to 40 inches, while it also allows 360-degree rotation to get the position of your choice.
It is best suitable to use for laptops of size 13 to 17 inches. Moreover, one of its sides features a space for a mouse board. The other notable point is easy to assemble accessories of this standing desk. Because it contains related tools and detailed instruction copy.
No longer you need to worry about your spine strength as when you feel uncomfortable with your back. Just stand up and start working. Similarly, when you feel tired sit down and start working. The Tatkraft laptop stand will serve you in every way.
Pros
Beautiful Design

Portable

360 Degree Rotation

Easy to Assemble

Sit/Stand Position Compatible
3: FEZIBO Standing Desk Converter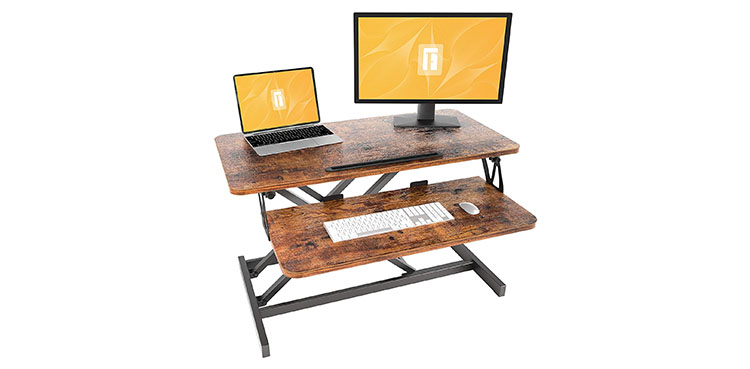 View on Amazon
Well, this standing desk for the laptop is made up of both wood & metal. Its astonishing finishing, design, and quality make it a worthy choice. This stand allows height adjustment level up to 32 inches, while the company uses gas springs to ensure smooth movement and height adjustment.
Other than that, It supports 2 monitor screens over it at the same time. While a single monitor screen and a laptop at the same time. Dimensions wise, it is 31.5″ W & 15.7″ D. Another shelf to place your keyboard and mouse is also attached below the top board.
This standing desk comes with a warranty of 10 years, but the warranty to keep your muscles and spine health is for a lifetime. So, without any compromise pick this product today as it offers everything that you can expect.
Pros
Wooden & Metal Made

Keyboard/Mouse Board

Gas Springs

10 Years Warranty

Decent Height Adjustment Options
Cons
No sliding in Mouse/Keyboard Board
4: X-Elite Pro Corner Standing Desk
No doubt, it is a unique, feature-rich, and quality product. X-Elite Pro Corner Standing Desk is an L-Shaped desk that offers height adjustment up to 40 inches. It is best suitable to keep at the corner places where its structure will automatically match the space.
You will get almost 5 feet of board space to place your monitor screens, laptops, or a full work station. Mouse & keyboard can be also placed on the same board. It comes in assembled form, no longer you need to waste your valuable time in assembling it.
You can use this stand both in sit/stand position. For ensuring smooth height movement, the company included a pump that can easily bear heavy weight up to limits. It keeps your spine well-positioned and keeps you relaxed to focus more on work.
Pros
40 Inches Height Adjustment

Strong and Quality Pump for Movement

5 Feet Board Space

L-Shaped Design

Health Friendly Angles
Check out some other related Gadgets
Best USB & USB C Hub You Can Buy in 2021
Best Universal Qi Wireless Charger You Can Buy For Android & iPhone
The Smart Desk Lamp You Can Buy This Year
Best Projector for Gaming You Can Buy in 2020
Best Portable Printer You Can Buy in 2020
So that was all guys, I hope the topic about the standing desk for laptop remained informative. Do share it in your social circle and leave feedback for us in the comments section below. Stay in touch for getting more updates on a daily basis.