Budget CPU Cooler – List of Top 3 Still Performing in 2019
CPU Cooler is an important component of any CPU. Especially, when you have some plan to do overclocking or intense gaming. While the default heatsink fan that comes in box with chip is not enough to handle much stress. It requires a better cooling solution for keeping temps on a stable degree. Otherwise overheating may cause massive damage to PC components. So don't ever compromise over the cooling elements of your machine. But sometimes people are having a tight budget because of the expenses on other components of PC which they prioritize first like GPU, CPU, Ram & Motherboard, etc. So the question arises here is that, can you still get a decent cooler with a tight budget? The answer is Yes, definitely you can still grab a budget CPU cooler with acceptable cooling performance. Check out the below options which I considered best in terms of cost and value.
Choose your Budget CPU Cooler.
1: HYPER 212 EVO Cooler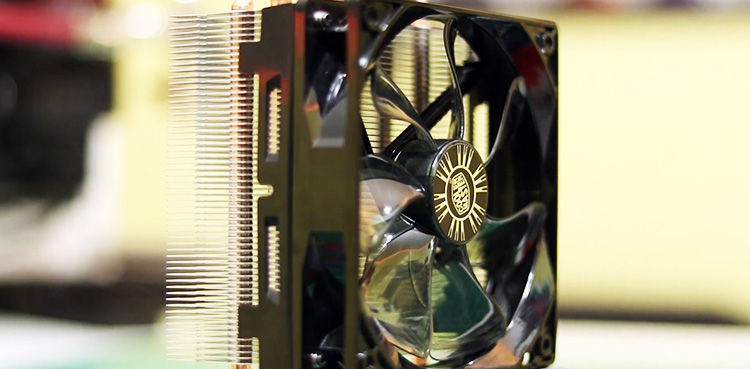 Hyper 212 EVO is an old cooling guardian of CPU's. Still serving pretty well in providing optimal performance. It is a budget CPU cooler that operates both on High & Low speed scales. Hyper 212 mainly has 4 aluminum made heat pipes with CDC (Continuous Direct Contact) technology having the potential to control heat factors effectively. This cooler comes with 120mm of fan and an anti-vibration feature. While an additional fan of same size is also supportable on the other side of the cooler. 212 is compatible with both Intel & AMD sockets.
Keep in mind that Hyper 212 is not recommended for doing ultra overclocking. But can bear a mild level change in the power ratio of CPU. While on the gaming side, this product delivers excellent cooling as per comparison to its price. Keeps temp stable even on full CPU load in an efficient manner for long hours. It is easily adjustable in most PC cases without any resistance. So within a limited budget, you can get decent performance by Hyper 212 cooler.
Specifications: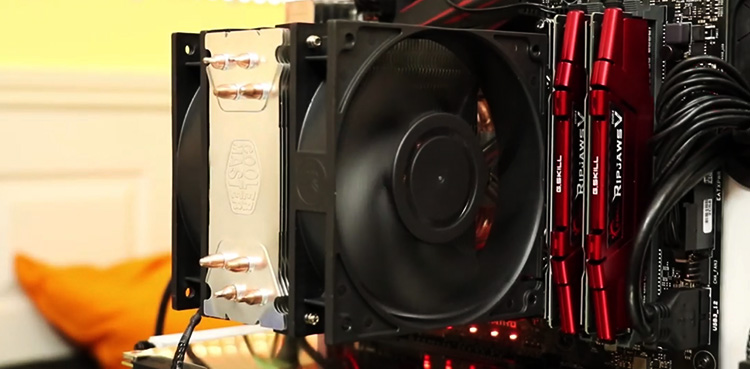 Type: Air Cooler
CPU Socket: Intel– (LGA 2011, 1366, 1151, 1150, 1155, 1156,) AMD- (FM2+, FM2, FM1, AM3+, AM3, AM2+, AM2, AM1, AM4)
Dimensions: 120 x 79.7 x 158.5 mm
Heat Sink: 116 x 51 x 159 mm
Fan: 120 x 120 x 25 mm
Speed of Fan: 600 – 2,000 RPM
Noise of Fan: 9-36 dBa
Expected Fan Life: 40,000 of Hours
Price: $50
2: Cry Orig H7 Cooler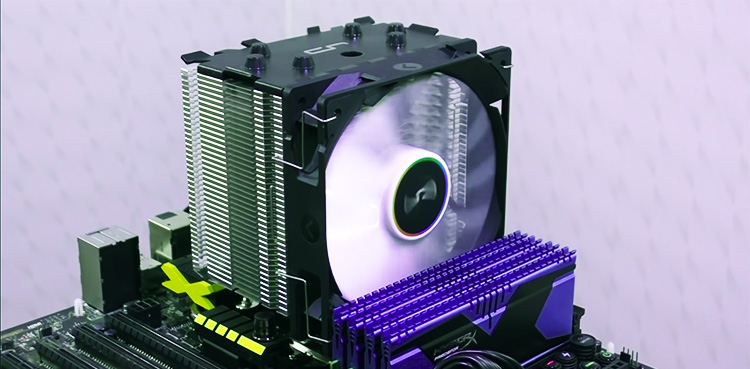 You may also like: Best Pc Cases 2019 – Mid to Full Tower
Cry Orig H7 is another budget CPU cooler with its elegant look & design. Thoroughly manufactured with Hive Fin structure ensuring a proper mechanism for airflow. H7 contains 3 heat pipes made with pure copper material. While the position of these pipes is adjusted accurately just above the CPU socket. It includes a solid PWM (Pulse Width Modulation) fan of 120mm with minimal noise production. H7 provides a unique cooling performance both for overclocking (mild level) as well for high-end gaming.
Similarly, you can easily install H7 cooler in most computer casings without any complication. Other than that it does not cover rams slot & provides sufficient space near that zone. A quality thermal paste made by Cry Orig is also included in its box along with other items. This cooler is compatible with both Intel & AMD motherboards.
Specifications: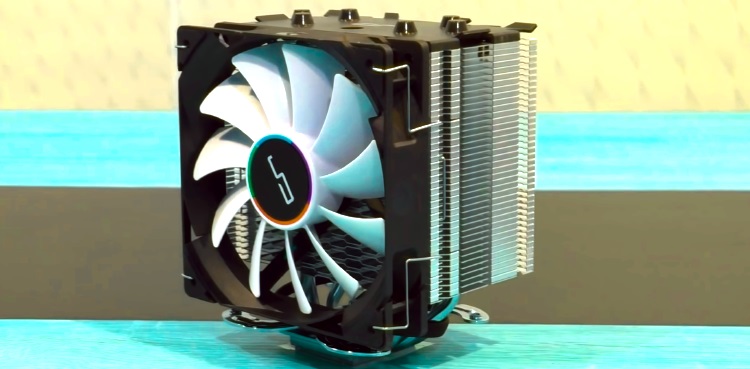 Type: Air Cooler
Socket Support: Intel- 1150, 1151, 1155 & 1156 AMD- M1, FM2+, AM2+, AM3+, AM4
Dimension: 126 x 123 x 145mm
Fan Dimension: 120 x 120 x 25.4mm
Heat Sink Dimension: 98 x 123 x 145mm
Level of Noise: 15-25 dBa
Fans Speed: 300-1600 RPM
Price: $100 (increased over last few months)
3: Hydro H55 Cooler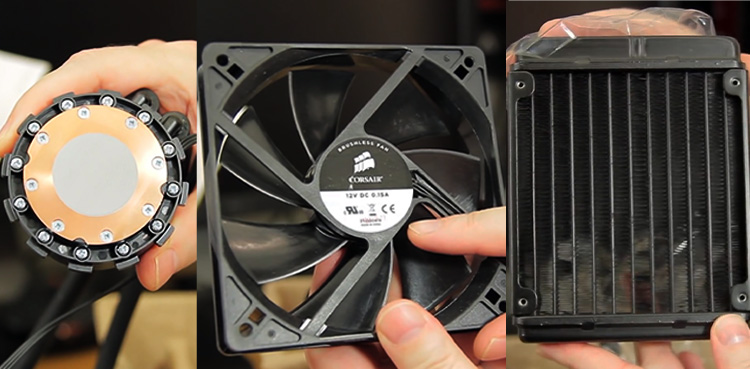 The next budget CPU cooler here on number third is Hydro H55 by Corsair side. Basically, it's a liquid cooler with a low noise level and high cooling efficiency. Most of the liquid coolers are a bit difficult to install but for H55 I will say not at all. It has a pretty simple and straightforward method of installation. Another thing which I liked most about the Hydro series is its space friendly size. Because sometimes it gets hard to manage space inside the Pc case along with Radiator.
Hydro H55 has a 120mm fan with minimum noise production. It contains flexible rubber tube and a prefilled pump. While you don't need to refill its liquid after a certain period of time. Thermal paste is pre-applied on the copper plate and heat exchanger is also made up of copper. On the compatibility side, it supports both Intel & AMD chips.
Specifications: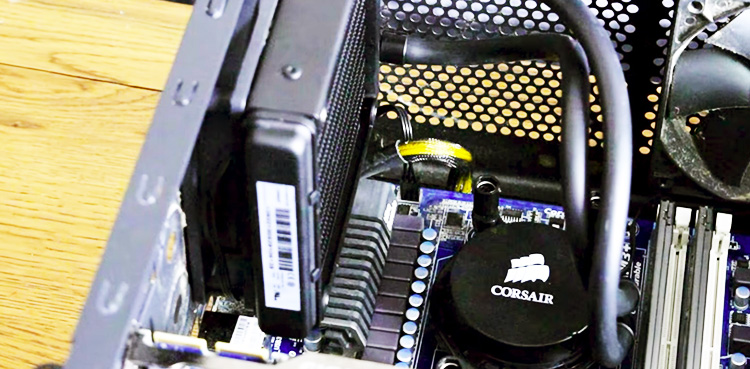 Cooler Type: Liquid Cooling
Supporting Socket: Intel- Intel 1150,1151,1155,1156 & Intel 2011,2066 AMD AM2,3 & 4
Dimension of Fan: 120 x 25mm
Speed of Fan: 1700 RPM
Radiator Dimension: 120 x 152 x 27mm
Noise: 30.32 dBa
Price: $85
Is it worth buying a Budget CPU Cooler?
Most probably yes because a budget cooler can deliver adequate performance within a specific limit of gaming and overclocks. But if budget is not an issue for you, you should pick a perfect aftermarket cooler, then do overclocks intense gaming or whatever you want.
As per my choice from the above options, I personally favor Cry Orig H7 as an excellent budget CPU cooler. Which I have used back in 2017 on my gaming rig with i5 6500, 16gb and Rx480. Overall, It gave a tremendous cooling performance on high-end gaming. If it suits your wallet then go with H7 cooler.
#PCMasterRace #PCEnthusiast
You may also like: Tencent Emulator settings for PUBG Mobile – Fix Lag