Call of Duty Mobile vs PUBG Mobile – Which one is Better
Battle Royale Games are the headline of the industry since 2017. Especially after the fabulous entry of PUBG Mobile which is the most popular title of this era. Many Gamers started preferring this game over the others in First Person Shooting titles. Even many YouTubers created their own gaming channels to stream this Game. While now Activision in collaboration with Tencent Games releases Call of Duty for Mobile. Which is considered to be a tough rival of PUBG Mobile. Soon after its release, Gamers are comparing it with PUBG Mobile to conclude which one is better in terms of both Gameplay and Graphics.
Call of Duty is now officially available for Android and iOs users. It's not a new name in the gaming world. It's a far famous title of Pc Games since 2005. I bet every single gamer who has ever played FPS games has heard this name at least once in a life. Now Call of Duty has been shifted to the mobile platform in competition with PUBG Mobile. The number of Mobile Gamers playing FPS games has rapidly increased in the last 2 years. So in today's topic, we are gonna compare both mobile games with each other to conclude a result which one is better than the other.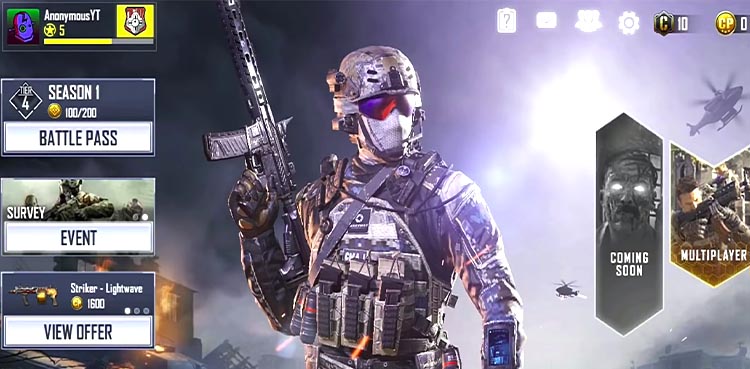 Read Also: Tencent Emulator settings for PUBG Mobile – Fix Lag
Call of Duty Mobile vs PUBG Mobile:
Graphics:
In terms of Graphics, Call of Duty Mobile is one step ahead than PUBG Mobile. It has better graphics than PUBG, which you can notice easily on high-end smartphones. The overall visualization is pretty well in COD Mobile with improved texture detail, Grass, trees, and water detail. Other than that detailing on the player dress and weapons is also tremendous. As Activision Team claimed Call of Duty Mobile Graphics similar to console graphics. Which is absolutely true when you compare its graphics detail with a console.
Game Modes:
COD PC offers a variety of Gameplay Modes. Similarly, Call of Duty Mobile also has a bunch of multiplayer modes including Battle Royale, Team Deathmatch, Free for All, Domination, Search and Destroy e.t.c. On the other hand, PUBG was released only with Battle Royale Mode but after certain updates, they introduced Team Death Match and Zombies mode to engage players in a more exciting way. But those modes could not get more fame as the modes of COD. To be honest I personally favor COD Mobile more in Gameplay Modes over PUBG Mobile.
Maps and Areas:
Activision Department picked some all-time favorite multiplayer maps from various COD versions and included them in Call of Duty Mobile. You will be able to play the game on maps like Crash, Crossfire, Hijacked, Nuketown, Standoff, Killhouse, and Firing Range. Other maps will be added soon in COD as said by Activision Team. Well, on PUBG side you will see only 4 bigger maps including Sanhok, Erangel, Vikendi, and Miramar. These maps have their own specialty with the kind of game strategy you want to implement. Means a full Battle Royale Mode can cross a time limit of 30 minutes in PUBG Mobile.
Weapons and Vehicles:
Weapon Collection is almost the same in both COD and PUBG Game. But Call of Duty Mobile has some extra choice here fro RPG and Drone lovers. Frankly, I learned a lot about guns and their ammo support from PUBG Mobile. Because knowing about guns and their relevant ammo is part of the game to collect resources for survival. Ground Vehicles are also the same in both games with different driving experiences. COD Mobile included helicopter as well as air support.
Controls and Gameplay:
Both COD and PUBG allow TPP (third-person perspective) and FPP (first-person perspective). Shooting style, bullet damage, and recoils are different a bit in Call of Duty Mobile as compared to PUBG. On the control side, COD allows two shooting modes supporting beginners and advanced category players. Like automatic firing when corsair detected enemy on target. While PUBG Mobile only has a single shooting mode. There is also a difference of enemy footprints in COD, it only indicates enemy on the map when it is very close to you.
Theme and Lobby:
Call of Duty Mobile presents an advanced military theme where you feel game character like a professional Army man. Whereas in PUBG mobile, theme is like survival series with sort of old skins and stuff. In the COD Lobby, you will have a professional countdown in the environment. While PUBG lobby has players running here and there punching each other like crazy guys.
Read Also: Gaming Smartphones 2019 – Top 4 Beasts of Gaming
Conclusion: Call of Duty Mobile or PUBG Mobile:
So, after a detailed comparison between both the games. My personal vote is for Call of Duty Mobile in terms of Gameplay and Graphics. Game modes are also more addictive and challenging in COD than PUBG Mobile. Even many PUBG lovers are now spending a number of hours playing COD. There are a lot more chances that this game will easily compete with PUBG Mobile at some stage. Because Call of Duty is not a new name, it has a number of die-hard fans from the starting years of its release. The trend of playing games on smartphones is also increasing. All these circumstances are creating a bright future for Activision Department to uplift COD at the mobile Platform.
You May like Samsung PlayGalaxy Link – Stream Pc Games on Mobile