Ningmei Soul GI6 – Xiaomi is Coming with its First Ever Gaming PC
2 min read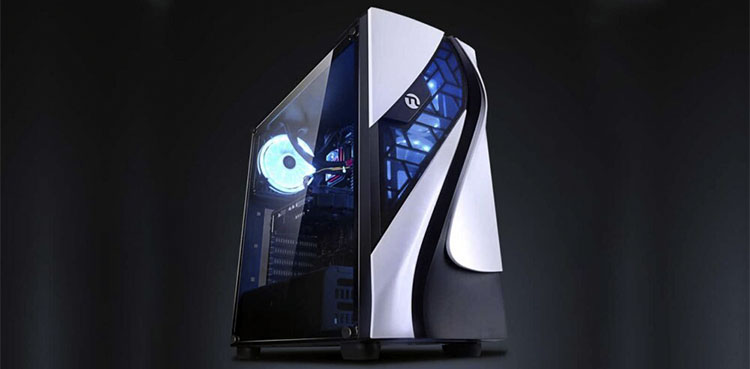 In the current market, Xiaomi has covered almost every category from small to large scale with its products. While now they have future plans to enter the race of manufacturing Gaming PC's. To take the start, Xiaomi is coming with Ningmei Soul GI6 Gaming PC. There will be 3 variants available in this model ranging from $260 to $443.
First will be Share Version, the second will be Fun Edition, and the third will be Enjoy Edition. All three models will be packed with AMD Ryzen 2600 Processor, 8 to 16 GB of RAM, and SSD for storage options. Tower Case will also be the same with Glass Cover at the side and Ningmei logo at front. Dual Fans are already installed at the front for better air-flow.
Read Also: Konami Has Entered the Race of Making Gaming PCs
Share Version
This model will have AMD Ryzen 2600 Processor, RX 550 (4GB) GPU, 8 GB of RAM, and 180 GB of SSD Storage. It's not that High-End Gaming Machine, but $260 makes things acceptable. According to sources, it will smoothly run League of Legends on 120 FPS with High Presets.
Fun Edition
Well, this Model of Xiaomi Gaming PC will also have AMD Ryzen 2600 Processor, RX590 (8GB) GPU, 8 GB of RAM, and 256 GB of SSD Storage. There is only a difference of SSD and GPU in Fun Edition. Which will cost $375 to gamers. It can support PUBG PC on 110 FPS with High Presets.
Enjoy Edition
Enjoy Edition is coming with the same Ryzen 2600 and RX 590 (8GB) GPU. But the RAM will be of 16 GB along with 512GB SSD. This gaming machine will cost user $433. It will have almost similar gaming performance to Fun Edition. Price difference is for upgraded RAM and SSD only.
Read Also: These Buttonless Mobile Game Controllers are Truly one of a Kind
At last, I will suggest Xiaomi to change the names of Variants. To be frank, it's seriously looking funny like FUN Edition. The rest of the things are fine if we compare the price tags with others. Share your thoughts with us regarding the Xiaomi Gaming PC in the comments section below. Stay tuned for more related updates on a daily basis.
For Gaming Fans, I am going to share a small video of my beloved Gaming PC. Don't Miss the video,
The author behind @maticstoday, working as a Digital Marketing Specialist in Codematics Inc. Writing tech-related stuff and delivering solid reviews is in his keen interest. In his free time, You will find Uzair playing video games & that's why most of the topics he writes are based on game-related stuff.